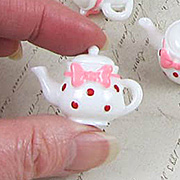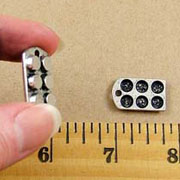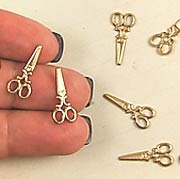 Oh! A sale on the charms section that includes teapots! Well.. teapots always remind me of Alice, so I'm starting a new FREE gift kit today that includes both a teapot AND a little Alice teaparty scene! More on that below…
But first, a new sale! Yay! Household Charms are on Sale at 40% Off!! That includes all kinds of little props: scissors, clocks, perfume bottles (includng some new ones being announced today!) and, of course, teapots.
The sale runs through Monday night, January 22nd. But catch 'em quick cuz quite a few little baubles in there will not be reordered.

Snow Queen or Girl Next Door? by Design Team Member Lora Mahaffey
Ahhh! Oooo! Isn't this little scene in a shadowbox pretty! I love the snowflake flurries, contained in (and exploding out from) the Taj Mahal Shadowbox Lid. And the snippet of the Snowflake Border at the top kinda looks like a crown!
Sometimes appearances can be deceiving. Just a glance at this little box and you might think you're looking at a pretty young woman in cute wintery clothing. And that is partly correct. But she's also got a lot of swirling snow around her and is floating a few inches off the ground. Hmmmm…….
More here than meets the eye. More power and strength than what one might see at first glance. Maybe the Girl Next Door really is a manifestation of the Snow Queen? Don't be deceived by delicacy and a pretty face. She might not Hulk out if you piss her off, but she may have a whole blizzard waiting for those pretty little gloved hands to give the signal and let it rip.
Read more (and see how to put the little scene together!) in Lora's blog post and explore her supply list. Plus, check out the Giveaway for a chance to win them!

NEW Teapot for Alice FREE Gift Kit!
As I mentioned above, we have a new free gift with all orders starting today. Starting with the new Transparent Teapot Charms (which are also part of the 40% off sale)! So many pretty colors! (And don't we need some color in this cold January week?)
You'll get a randomly chosen teapot… Plus, I've made a new mini collage sheet with a bunch of characters from the teaparty in Alice in Wonderland (just a portion shown here).
ALL ORDERS on Thursday through Monday, January 18 ‒ 22 (2018) will receive one of these Teapot for Alice Gift Kits FREE!

Hooray for A Modern Snow Queen Giveaway!
EVERYTHING in Lora's Snow Queen or Girl Next Door? Supply List is included in today's Giveaway!
I'm only highlighting a couple of the NINE items in the supply list/Giveaway:
– Snowy Winter Ladies Collage Sheet (for the image of the girl and the background)
– 4×6 Shadowbox
– Shadowbox Lid – Taj Mahal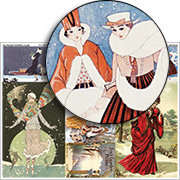 Just click on this Supply List link for photos and links to everything in Lora's artwork, and they're all in the Giveaway!

Plus a bonus: one of the Teapot for Alice Gift Kits.
And a Small Jeweler's Tin, just put on clearance.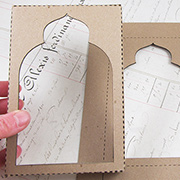 To enter A Modern Snow Queen Giveaway drawing all you have to do is leave a comment BELOW on this blog post TODAY or TOMORROW (the deadline is 11:59 pm PST, Friday Night, January 19, 2018).
AND tell me: A modern snow queen? Maybe your own take on a modern snow queen? Who would she be? You? What will you make from these supplies?
Don't forget to leave your (hello! correct) email address, too, so I can contact the winner; your email address does not need to be made public. Note: I'm offering free shipping, too, but only within the USA. International shipping will still apply.
Please be patient! Spammers try to post crap here a lot so comments are moderated. So if you don't see your post in the comments section, be patient and check back in a few hours before re-posting it, please!
Hey, who won the Spring Spinner Giveaway from Sunday's newsletter? That would be Nadine! Congrats! Check your email for info.
Posted by Leslie, January 18th, 2018