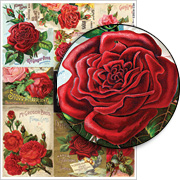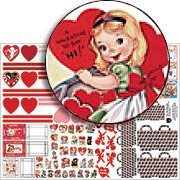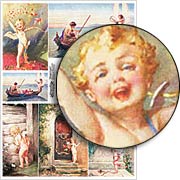 Before we get to the pretty new artwork, new FREE gift and new supplies, a new sale!
I know… it seems too soon but… ALL Valentines & Romance Collage Sheets are on Sale at 50% Off!
Over 40 to choose from! Like the Winged Cupid, Tiny Little Valentines and Red Roses, shown from left to right.
The sale runs through Monday night, January 15th!

Two Shadowboxes by Design Team Member Laura Carson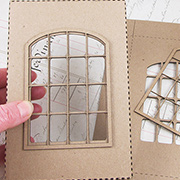 Wow (again)! Laura (too) has made 2 shadowboxes for January… I think the Design Team likes the shadowboxes! Beside the beautiful Snow Queen Shadowbox shown below, there's an unexpected Woman of Mystery Shadowbox (down in the Giveaway section). And Laura has provided step-by-step instructions on how to make both on her blog!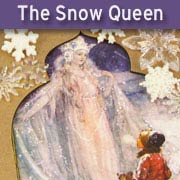 And… the new Snowy FREE Gift Kit (farther below) is inspired by Laura's Snow Queen Shadowbox! But first, back to Laura's blog post:
The inspiration for the first shadowbox comes from this month's kit: The Snow Queen. Through the window you can see a little boy having a magical experience encountering the frosty Snow Queen. She sparkles in the frosty night and the box looks on with wonder. Flanking the window scene are various snowflakes, frosty picks and beads.
Read more (and see many more photos) in Laura's blog post and explore her supply list (for the Snow Queen Shadowbox). Note: more info on the supplies for the second shadowbox (and a chance to win them!) is down in the Giveaway section!

NEW Snowy FREE Gift Kit!
As I mentioned above, we have a new free gift with all orders starting today (and inspired by Laura's artwork)! Laura used the Winter Playground Toboggan Scrapbook Paper in her shadowbox; I've chosen the related Winter Playground 6×6 Paper Pad, which includes 12 different papers… you'll get 3 randomly chosen sheets! I'm showing a couple sets of 3 papers as examples in the photo below.
ALL ORDERS on Thursday through Monday, January 11 ‒ 15 (2018) will receive one of these Snowy Gift Kit FREE! In addition to the papers, I'm adding some Silver Stitched Leaf Ribbon, Iridescent Plastic Pearls and a Clear Acrylic Snowflake (and that last is also in Laura's Snow Queen Shadowbox)!

Hooray for the Mysterious Shadowbox Giveaway!
Oh, I do love this mysterious lady! So much depth and layering and texture… and love the little details like using the negative of the border (chipboard left over when you remove the border) from the Stained Glass Border across the top (painted gold). You can see the border itself at the bottom of the piece.
EVERYTHING in Laura's Woman of Mystery Shadowbox Supply List is included in today's Giveaway!
I'm only highlighting a couple of the 13 items in the supply list/Giveaway:
– Pale Beauties Collage Sheet
– 4×6 Shadowbox
– Shadowbox Lid – Taj Mahal
Just click on this Supply List link for photos and links to everything in Laura's artwork, and they're all in the Giveaway!
Plus a bonus: one of the Snowy Gift Kits.
And a pair of the Long and Thin Bronze Hinges, just put on clearance.
AND these 2 new items:
– Love Story Scrapbook Paper – Twenty One (This would be great for Valentine's Day or Alice in Wonderland projects.)
– Polymer Clay Cane – Red Hearts (slice it up as trims for a paper collage or sugar cookies for a 1:12 scale scene)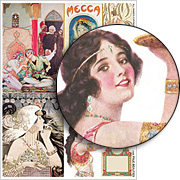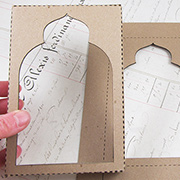 To enter the Mysterious Shadowbox Giveaway drawing all you have to do is leave a comment BELOW on this blog post TODAY or TOMORROW (the deadline is 11:59 pm PST, Friday Night, January 12, 2018).
AND tell me: A Woman of Mystery? Another Snow Queen? An Angelic Shrine? (Those last 2 by Rhonda and Nichola, using the same shadowbox lid.) What will you make from these supplies?
Don't forget to leave your (hello! correct) email address, too, so I can contact the winner; your email address does not need to be made public. Note: I'm offering free shipping, too, but only within the USA. International shipping will still apply.
Please be patient! Spammers try to post crap here a lot so comments are moderated. So if you don't see your post in the comments section, be patient and check back in a few hours before re-posting it, please!
After midnight, I'll randomly pick the winner (via Random.org).
Hey, who won the Orphanage Road Giveaway from Sunday's newsletter? That would be Janet Turner! Congrats! Check your email for info.
Posted by Leslie, January 11th, 2018