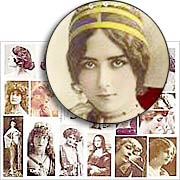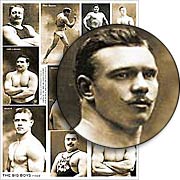 Ok.. a bit distracted here as the Hayward Fault just gave a wake-up call. At least the cats had the good sense to run away. When that fault really goes, I don't know that I'll be emaiing y'all.
Before we get to artwork and new supplies, a new sale!
ALL Tallulah's Collage Sheets are on Sale at 50% Off! Lots of different themes in this section, including one featured in the first project by Nichola…
The sale runs through Monday night, January 8th!

Two Chippy Shadowboxes by Design Team Member Nichola Battilana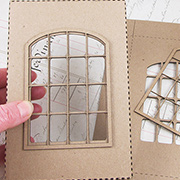 Wow! Nichola made TWO projects today and they are both sooo beautiful! The first one is fairy-themed (adding wings to a bathing beauty… lovely and happily unexpected in January)!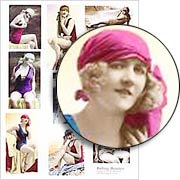 I made two projects using the same chipboard 4×6 Shadowbox as the base.
The first box is a garden fairy theme… because that's what my supplies demand I create. I've used the Shadowbox Lid – Double Pane Window for this piece. You can just peek beyond the pane to see the winged fairy and butterflies inside.
I really prefer these two piece lidded boxes btw. They are soooo much easier to work with than a hinged top boxes.
Read more (and see many more photos) in Nichola's blog post and explore her supply list (for both of her shadowboxes). Note: another beautiful little shadowbox by Nichola is shown down in the Giveaway section! And read on for a FREE gift inspired by Nichola's artwork…

NEW Stars & Shells FREE Gift Kit!
As I mentioned above, we have a new free gift with all orders starting today (and inspired by Nichola's artwork)! Yes, seashells maybe be an odd choice for this time of year. But Nichola's bathing-beauty-as-a-fairy is so perfect (and a welcome splash of color when so many of you are facing a snowstorm).
ALL ORDERS on Thursday through Monday, January 4 ‒ 8 (2018) will receive one of these Stars & Shells Gift Kits FREE! I made a custom mix of gold stars (in numerous sizes), 5mm Clear Iridescent Star Sequins, a few other clear iridescent beads, and 1 each of the 3 colors of the new 22mm Scallop Shell Sequin Mix!


Hooray for the Angels & Stars & Dresden (oh my) Giveaway!
From Nichola: Although different thematically, the exterior of both boxes is bordered with Gold Dresden. Let's face it… that stuff is just magic. I'm not one for resolutions but I think I need more lushness and opulence in my life and I'm sure upping my gold Dresden usage would make my world prettier.
Soooo many pretty options from Nichola's supply list. These are my choices from that list I am including in the Giveaway (with a lot of Dresden!):
– 4×6 Shadowbox (in both projects)
– Shadowbox Lid – Taj Mahal (at right)
– Fairy Wings Collage Sheet
– Angel Wings Collage Sheet (at right)
– Bathing Beauties #1 (Tallulahs) Collage Sheet
– Bouguereau #4 (Angels) Collage Sheet (at right)
– Brass Starburst Charm (at right)
– Double Dot Vintage Dark Denim Blue Scrapbook Paper (at right)
– Gold Dresden Halos (at right)
– Fancy Gold Dresden Rosettes (in both projects)
– Fancy Scalloped Gold Dresden Borders
– Mixed Size Ivory Flat-Back Pearls (in both projects)
– Thin Fleur Dresden Borders – Antique Gold (at right)
Psst! Just click on this supply list link to see photos and links to all of those items.
Plus a bonus: one of the Stars & Shells Gift Kits.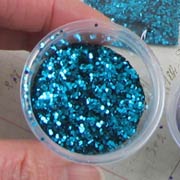 AND these 2 items that would be close alternates for items in Nichola's projects:
– Teal Glitter
– Frosted Berry Picks – Single Stems (see the inside of the garden fairy box above for some berries).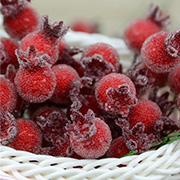 To enter the Angels & Stars & Dresden (oh my) Giveaway drawing all you have to do is leave a comment BELOW on this blog post TODAY or TOMORROW (the deadline is 11:59 pm PST, Monday Night, January 5, 2018). Happy New Year!
AND tell me: Garden Fairy? Psyche and Cupid? (Which project by Nichola inspires you? What will you make from these supplies?)
Don't forget to leave your (hello! correct) email address, too, so I can contact the winner; your email address does not need to be made public. Note: I'm offering free shipping, too, but only within the USA. International shipping will still apply.
Please be patient! Spammers try to post crap here a lot so comments are moderated. So if you don't see your post in the comments section, be patient and check back in a few hours before re-posting it, please!
After midnight, I'll randomly pick the winner (via Random.org).
Posted by Leslie, January 4th, 2018