I feel a wee bit guilty here… showing you chilly colors and images while lots of you are facing REAL winter… but not much to do at this stage in my planning. I hope you're reading this with your feet up, in front of a roaring fire!
Before we dive into the new kit, new goodies, and new artwork there are still some sales from the past week of While the Cat's Away Sales & Giveaways happening!
ALL scrapbook paper is on sale at 40% off !
– ALL Christmas Paper Section (pads and single sheets). Over 40 items!
– ALL Scrapbook Paper: Single Sheets . Over 200 items!
– ALL Scrapbook Paper Sets. Over 30 items!
I'm letting the scrapbook paper sale stay in place! So the new papers in today's newsletter are 40% off! BUT this scrapbook paper sale ends TOMORROW night (January 1st, 2018!) at midnight.
Reminder: Half Price Shipping on ALL orders (for orders shipping to USA) also ends Monday night, January 1st! Only $2.95! Plus FREE shipping on orders over $50! More info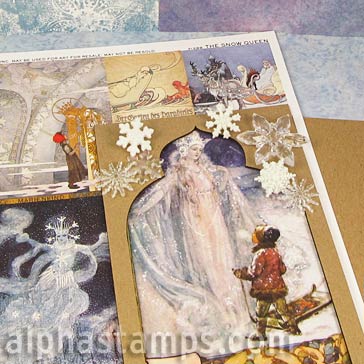 The Snow Queen Kit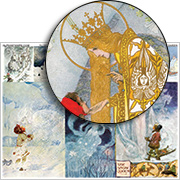 We're still in the wintry territory of last month's kit, but this time with more intense colors, and sparkly snowflakes (3 styles of snowflake embellishments are in this kit).
And, of course, snow queens! So many beautiful images have been painted over the decades to illustrate The Snow Queen by Hans Christian Andersen. I picked some faves for this new collage sheet (and note: 2 of the images are sized large enough to fill the entire area of the new 4×6 Shadowbox — and either of the cute window lids that fit that box… more on those below).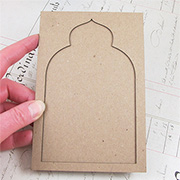 Related to one of those shadowbox lids: a Taj Mahal Window Card is also included in this kit. (The window cards have the same size windows as the shadowbox lids, just in a flatter "greeting card" style.)
Scrapbook Papers:
THREE New 12″ x 12″ papers are included:
– Winter Playground Toboggan Scrapbook Paper (And see below for a related 6×6 paper pad)
– Aqua Blue Sponged Background Scrapbook Paper
– Lavender Fairy Sky Scrapbook Paper

Artwork! See the wide photo below for TWO related projects by Design Team Member Rhonda Secrist Thomas!
Rhonda made both a 3D shadowbox and a window card using the same collage sheet image (but with different embellishments). You can see the 3/4 view on the far right of the photos to see the depth of the 2 options.

More info and photos in Rhonda's blog post, and here's a link to see all her supplies.
More info about the new kit is on The Snow Queen Kit page. And remember to scroll down to the Giveaway on this page for a chance to win a kit plus lots of extras! Plus between here and there, a big bunch of pretty coordinating trims!

Hooray for The Snow Queen Kit Giveaway!
Beside one of The Snow Queen Kits (that includes EIGHT items all by itself!), this Giveaway also includes:
2 more new items also shown in the photo at right:
– Shadowbox Lid – Double Pane Window
– Jack Frost Collage Sheet
and
4 more items not shown in the photo at right (but they are in a row at the bottom of this Giveaway, with photos and links):
– 4×6 Shadowbox (new and to fit that shadowbox lid in the photo)
– Snowy Winter Ladies Collage Sheet (also new)
– Large Snowflake Sequin Mix
– Snowflake Border
and
3 more items from Rhonda's supplies:
– 5mm Thin Silver Snowflakes
– Mini Silver Snowflake Garland – New!
– Silver Glittered Leaf Pick
To enter The Snow Queen Kit Giveaway drawing all you have to do is leave a comment BELOW on this blog post TODAY or TOMORROW (the deadline is 11:59 pm PST, Monday Night, January 1, 2018). Happy New Year!
AND tell me: A Snow Queen? Jack Frost? Wintery Lady? Which of the new collage sheets will you use first?
Don't forget to leave your (hello! correct) email address, too, so I can contact the winner; your email address does not need to be made public. Note: I'm offering free shipping, too, but only within the USA. International shipping will still apply.
Please be patient! Spammers try to post crap here a lot so comments are moderated. So if you donít see your post in the comments section, be patient and check back in a few hours before re-posting it, please!
After midnight, I'll randomly pick the winner (via Random.org).
Hey, who won the French Crowns Giveaway from yesterday's newsletter? That would be Bonnie! (Note: there were 2 entrants named Bonnie — the winner is number 27.) Congrats! Check your email for info.

Posted by Leslie, December 31st, 2017