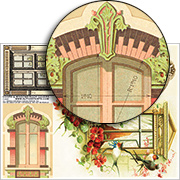 Wow! We have 2 Halloween projects today (both by Design Team Member Laura Carson) and both projects feature ghosts. Before we look at the fun and spooky Halloween art, let's talk new sale!
EVERYTHING in the Paper Theatres Collage Sheets section is on sale for 50% off!
Laura's House Of Ghosts includes lots of windows and other architectural trims (all distressed to look old and abandoned). So I picked out a collage sheet section that includes windows (or curtains)… 87 options! The sale ends Monday night, October 16th! (Where is this month going?!)

House Of Ghosts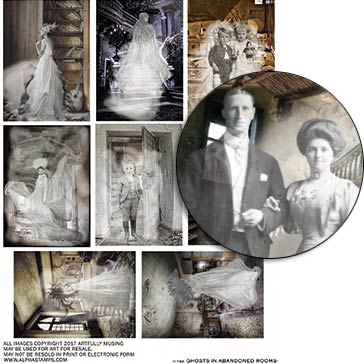 When thinking about projects for this Halloween season, I realized that in the hundreds of Halloween pieces I've made, none of them are Ghost themed so I've rectified that with 2 ghost themed projects and new ghostly image sets.
On the edge of Grimsley Village is crumbling brick house. It's had many residents during its life; some of which have died and now haunt the house.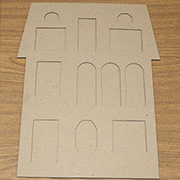 The house is crumbling with piles of bricks blocking the door and holes in the roof…
I love all the distressing Laura did (and tearing away parts of the roof and walls). And the faux metal patina on that Bat Border on top of the roof is so pretty and rich!
Here's a link to Laura's House Of Ghosts supply list. See more photos (and more of Laura's witty prose about each of the ghosts) on her blog post. Don't forget to come back to enter the Giveaway below (which has a photo of Laura's other ghostly project, AND info on the new FREE gift)!


New Goodies! – ALL on Sale! View all new items
The new items today are about equally split between Halloween and Christmas. Let's start with Halloween! The Dark Hollow 12×12 Collection Kit is bound to be a really useful set, with backgrounds of dark, foggy forests (and is used in Laura's second ghost project).

More New Goodies — Mainly Christmas Themed!

Hooray for The Ghost Queen Giveaway!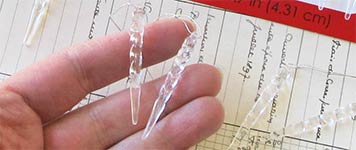 I know! Laura made a whole 'nuther ghost project?! Yes, and it's beautiful! She made an accordion-fold book with the new Dark Hollow 12×12 Collection Kit papers (including a poem she wrote for the project).
I love the crown that's on the cover of the book (also shown in a close-up at far right of the photo trio below). Hint: it uses icicle ornaments!
This Giveaway begins with EVERYTHING in Laura's supply list for The Ghost Queen! (Note: that includes the new digital set of images… if you want to substitute some of the related (printed) ghost collage sheets, that's fine.) You can read Laura's poem and see more photos (plus a link to a tutorial on making accordion-fold books) on Laura blog.


FREE Gable Trim for the Large Haunted Houses!
Now through Saturday night, October 14th!
I had sooo many ideas for additional architectural trims that didn't get used when I designed the Large Haunted House Window Trims… so I had just ONE of them laser-cut as a start on a future set! See the wide photo below for 2 photos of this trim piece (one showing an idea for using it as a fancy pediment).
This exclusive trim piece will automatically be added to ALL orders placed on October 12th through 14th. Plus one will be included in this Giveaway!

To enter The Ghost Queen Giveaway drawing all you have to do is leave a comment BELOW on this blog post TODAY OR TOMORROW (the deadline is 11:59 pm PST, FRIDAY, October 13, 2017)!
You get a choice of questions to answer: what part of Laura's tutorial do you find most inspirational?
OR: What other architectural trims would you like in a future chipboard trims set? (To accompany the gable trim in the new free gift.)
Don't forget to leave your (hello! correct) email address, too, so I can contact the winner; your email address does not need to be made public. Note: I'm offering free shipping, too, but only within the USA. International shipping will still apply.
Please be patient! Spammers try to post crap here a lot so comments are moderated. So if you don't see your post in the comments section, be patient and check back in a few hours before re-posting it, please!
After midnight, I'll randomly pick the winner (via Random.org). So check your mailbox on Sunday morning to see who won and for the next Giveaway and Newsletter!
Hey, who won the Halloween House & Blocks Giveaway? Lisa R! Congratulations! Check your email for more info.

Posted by Leslie, October 12th, 2017