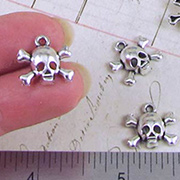 What? Half Scale Day?! Yes, I had many requests for more half scale (1:24) furniture and we have SEVEN new items!! But first: A new sale! EVERYTHING in the Halloween Charms section is on sale for 40% off!
The sale ends Monday night, September 11th!
That includes lots of little things you might used to adorn your Little Ghouls ATCs — yes, the swap is still open (and check out some pieces by the Design Team in the Gallery… the Design Team is participating too so you could receive one of these cute samples!)


Cute kids for Halloween! Remember the Little Haunted House Book that Design Team Member Lora Mahaffey
made in August? Well she's on a roll making Halloween projects and has made ANOTHER adorable fold-out book!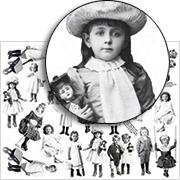 Starting with the same Arch Top House Silhouettes as a base, this time she has used kids from the new Little Sweeties Collage Sheet (and I love all the tinting she has done with Copic pens, and adding props from the Halloween Dress Up Half Sheet).
And as Ms. Mahaffey has the gift of words as well as pictures, here's a bit from her blog post:
I cannot get enough of Halloween. I have been having fun with these little fold-out books and here's another one…this time it's strangely gifted children. Or maybe gifted kidlets who are strange. Whatever. They are all a bit peculiar in one way or another and that makes them interesting.
This kidlet, James-Luce, has got himself a rather interesting sidekick. Both styling with their green top hats. I wonder which one of them is reading that stack of books?
AND Lora has provided a tutorial for using the new Tim Holtz Transparent Alpha Tiles – Halloween to make the STRANGE text on the back of her book.
Read more in Lora's blog post. And see another page from the book down in the Giveaway section, where you can enter to win EVERYTHING on her supply list!


Halloween Mini Papers & Bat Gift Kit!
New FREE gift — through Monday night, September 11th!
Ohh… so many choices for Halloween! I thought some Halloween papers would be useful, that you could cover Arch Top House Silhouettes with, like used in Lora's artwork.
And then I found these plastic bat rings (flexible plastic so easy to cut off the ring part and you'll have a cute, dimensional bat to glue to a project).
For ALL orders I'm including FIVE 4″ x 6″ cuts of Halloween scrapbook papers. I've got a fair amount of 4 of the 5 shown… so there may be some variation when one is gone, but you'll still get 5 different prints. AND the silly bat ring will be included, too.
The Halloween Mini Papers & Bat Gift Kit will automatically be added to all orders placed on September 7th through 11th, so you do not need to do anything special. Thanks!

Hooray for the Strange Kidlets Giveaway!
Yes, I said it! EVERYTHING in Lora's The Strange Kidlets Halloween Fold-out Book Supply List is included in today's Giveaway!
I'm only highlighting a couple of the TEN spiffy items in the supply list/Giveaway:
– New Tim Holtz Transparent Alpha Tiles – Halloween
– Creepy Tree – 8 Inch
– Tiny Dot Dresden Borders – Black
Just click on this Supply List link for photos and links to everything in Lora's artwork, which is also all of the Giveaway items!
To enter the Strange Kidlets Giveaway drawing all you have to do is leave a comment BELOW on this blog post TODAY OR TOMORROW (the deadline is 11:59 pm PST, FRIDAY, September 8, 2017)!
And tell me: What will you make?
Don't forget to leave your (hello! correct) email address, too, so I can contact the winner; your email address does not need to be made public. Note: I'm offering free shipping, too, but only within the USA. International shipping will still apply.
Please be patient! Spammers try to post crap here a lot so comments are moderated. So if you don't see your post in the comments section, be patient and check back in a few hours before re-posting it, please!
After midnight, I'll randomly pick the winner (via Random.org). So check your mailbox on Sunday morning to see who won and for the next Giveaway and Newsletter!
Hey, who won the Little Ghouls Kit Giveaway? Winnie! Congratulations! Check your email for more info.
Posted by Leslie, September 7th, 2017