Note: most of the links on this post no longer work, as we moved to a new Web site in 2018. But you can try searching on the same names (as links below) on the new site.
There's a new Christmas collage sheet sale AND a new FREE holiday tags set, but first…

Wow! What a beautiful telescope! We are winding up the series of newsletters about Laura Carson's Steamtown House with a telescope (and an elevator).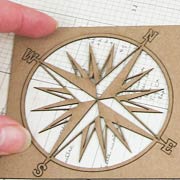 Beside the overall effect (and the suede-lined seat), I love how Laura used the new Chipboard Compass Set (there, at the base of her telescope… looking much richer than chipboard in metallic gold).

From Laura's blog post:

Here we are back at the house on Irongate Street for the last segment of the project. Since H.G is a explorer I thought she might explore the stars as well as the planet, to this end I've a created telescope that sits on the roof.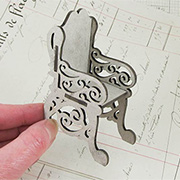 On a clear night you can sit in a comfortable chair lined with burgundy suede. Mounted on the base is a chipboard compass which comes in handy for positioning the telescope.
Both the base and the center section independently swivel. (Aside: see the little animations on Laura's blog of her spinning the telescope!)
Read more (and see TWO video tutorials) on Laura's blog post.
Wait… what's this? A lovely teaser for Halloween artwork by Design Team Member Lora Mahaffey! More info down in the Giveaway section!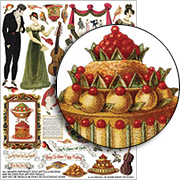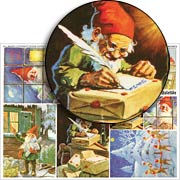 NEW FREE Gift: Mixed Halloween & Christmas Mini Chipboard Tags!
First: I found these cute, miniature chipboard tags (see the wide photos below). There are at least 20 designs in each set (only a few are shown). Who knows what you'll make with them (decorate them and use as a gift tags? make tiny ornaments for a tiny tree? hang from a garland or banner?)
A mixed set of 4 tags will be sent FREE with every order placed August 24th through 26th (this is short-lived… through Saturday night only).
Second: ALL Christmas Collage Sheets on sale for 50% off, now through Monday Night, August 28th! Wow… this is a big group: Over 100 to choose from… like the Christmas Gnomes and Bring Us Some Figgy Pudding Collage Sheets shown above right. Go see them all!

Hooray for the Little Haunted House Book Giveaway!
Did you notice the new colors of Double Dot Vintage Scrapbook Papers announced today (above in the rows of new items). I know that Lora loves this line of papers. So I'm starting the Giveaway list with the 2 I spy in her artwork:
– Orange Citrus
– Wasabi Green
AND I'm adding a sheet of all 3 of the new ones, too!
– Sweet Pear
– Evergreen
– Red Wine
I'm also including TWO sets of the new Arch Top House Silhouettes!
AND these extra trims:
– Black Zig Zag Dresden Borders
– Creepy Tree – 8 Inch (cut up and used throughout the houses)
– Mini Bird Cages Chipboard Set
– Tiny Felt Black Bat Stickers
Be sure to stop by Lora's blog, as she shows how to use linen tape to hinge the house tags into an accordion-fold book.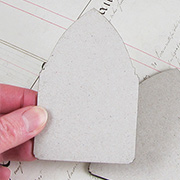 To enter the Little Haunted House Book Giveaway drawing all you have to do is leave a comment BELOW on this blog post TODAY OR TOMORROW (the deadline is 11:59 pm PST, FRIDAY, August 25, 2017)!
And tell me: How will you use your 2 sets of Arch Top House Silhouettes? Maybe you'll make tags or ornaments from the individual houses instead of hinging them into a book? And with all those new red & green papers, maybe you'll make a Christmas themed project?
Don't forget to leave your (hello! correct) email address, too, so I can contact the winner; your email address does not need to be made public. Note: I'm offering free shipping, too, but only within the USA. International shipping will still apply.
Please be patient! Spammers try to post crap here a lot so comments are moderated. So if you don't see your post in the comments section, be patient and check back in a few hours before re-posting it, please!
After midnight, I'll randomly pick the winner (via Random.org). So check your mailbox on Sunday morning to see who won and for the next Giveaway and Newsletter!
Hey, who won The Daystars Giveaway? Michelle! Congratulations! Check your email for more info.
Posted by Leslie, August 24th, 2017