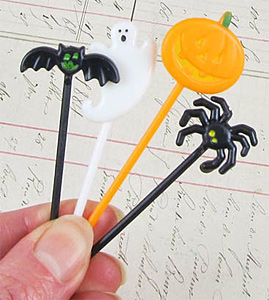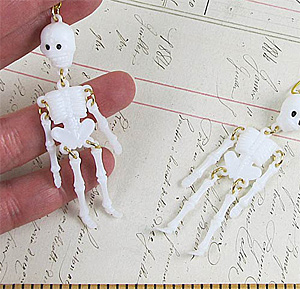 Laura Carson's Steampunk House is getting better and better! Before we gaze in awe over the upstairs boudoir (and a new sale and free images by Laura), here's a reminder about the FREE GIFT ending tomorrow!
Continuing from Thursday and ENDS MONDAY night, August 14th: Silly Props for Halloween FREE Gift Kit
Eye candy! See Kristin Batsel's Night Witch Altered Tin in last Thursday's newsletter to find out why these goodies (and the extra Halloween trims not shown) are related.
Free for ALL orders — through tomorrow night!


Wow… I love how Laura has decorated the 2nd story of her 2-Story Room Box! And I have to confess, I've zoomed into one corner as my mind was spinning from all the pretties (and I have to agree with Laura, "Just like the first floor, she has stuffed the room will all kinds of goodies.")
(Psst! You can view more posts about other rooms in the house.)
Beside the beautiful costumes (and wait till you see below about the new collage sheets and a sale!) AND Laura's tutorial on making faux marble, you can see a couple sections of the new Folding Screen Frame Set (that the clothes are hanging on).
And that folding screen uses 2 of the new Folding Screen Fretwork Inserts: I kinda went crazy designing this one! (Crazy in a good way… I love ornate decoration!) Beside fitting into the Folding Screen Frame Set, you can also use these inserts as a fancy tag (or other dollhouse project, maybe as a wrought iron gate or window).

Moving to the outside of the house, looking in the window at the same second floor scene: look at that beautiful stained glass! And, lucky you: Laura is giving away the image for those stained glass inserts FREE (and the stained glass image fits the Folding Screen Frame Set, too).
Check out the stain glass hanging screens that you can slide to open or closed them, they run on a track made from a straw. The frame of the screens are the same frame I used for the fretwork screen.
So clever! Using a straw as the track!


We're back to the inside of the room, with a closer view of the dresses hanging on the folding screen. Laura designed 2 new collage sheets AND a Steampunk Fashion Digital Download Set (wonderful Victorian/Steampunk-inspired costumes, and they look so dimensional)!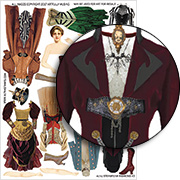 The collage sheets contain Steampunk dresses, boots & hats. In addition I've included body parts for making paper dolls. The images are sized to work with 1:12 scale miniatures.
FLASH SALE! In honor of Laura's fab project, ALL Costumes & Fashion Collage Sheets are on sale at 50% off! Today and tomorrow only (the sale ends Monday night, August 14, 2017).
Here's a link to Laura's supply list for the second floor boudoir (pretty expansive, and it's been cropped to just cover the upstairs room), and stop by her blog to read more, see video tutorials and many more photos.
Note: there's yet another photo of another area in the 2nd floor scene, down in the Giveaway section.


Hooray for the Steampunk Boudoir Giveaway!
I picked out some supplies used in Laura's vanity to include in today's Giveaway:
– Matchbox Vanity Table (the base of the close-up at right and also in the smaller photo at left)
– Raw Brass Box Feet – Cones (clever… Laura used 2 of them on each side of the mirror as the bottom of her lights)
– Fancy Looped Gold Filigree Base (one is the stand for perfume bottles on the left side of the large photo)
– Metal Standing Picture Frame
– Nonbreakable Mirror Material
– Thin Ornate Filigree (on the front of the vanity.. see the small photo)
– 12x8mm Green Glass Rectangular Beads (one is a perfume bottle, in front of the oval mirror on the back of the vanity)
– Matchbox Drawer Fronts Collage Sheet (they are used on the drawers of the vanity, see the small photo at left)
Just click on this Supply List link for photos and links to everything in Laura's artwork, including all of the Giveaway items listed above!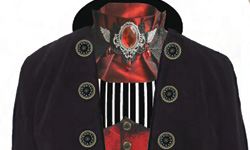 Bonus: both of Laura's new collage sheets! And both are included in the Flash Sale!
To enter the Steampunk Boudoir Giveaway drawing all you have to do is leave a comment BELOW on this blog post TODAY or TOMORROW (the deadline is 11:59 pm PST, Monday Night, August 14, 2017).
And tell me: What will you make from your Matchbox Vanity Table? And what new (or old) technique from Laura's tutorial do you think will be useful?
Don't forget to leave your (hello! correct) email address, too, so I can contact the winner; your email address does not need to be made public. Note: I'm offering free shipping, too, but only within the USA. International shipping will still apply.
Please be patient! Spammers try to post crap here a lot so comments are moderated. So if you don't see your post in the comments section, be patient and check back in a few hours before re-posting it, please!
After midnight, I'll randomly pick the winner (via Random.org). So check your mailbox on Thursday morning to see who won and for the next Giveaway and Newsletter!
Hey, who won the Night Witch Altered Tin Giveaway from Thursday's newsletter? That would be Karen Crawford! Congrats! Check your email for info.
Posted by Leslie, August 13th, 2017