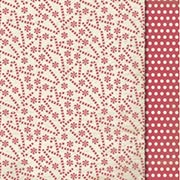 Scrapbook Paper Sale! Wow! ALL 12″ x 12″ Scrapbook Paper is on sale for 50% off!
Over 200 to choose from (including the Christmastime Peppermint Scrapbook Paper at left)!
See below for some Halloween & Autumn highlights from the sale!
View Most Here & More in the Christmas Paper Section.
The sale ends Saturday night, August 5th!


Wow (again)! I love this Spiral Staircase Design Team Member Laura Carson
made from the new Spiral Staircase Kit (and the color palette is so pretty… reminds me of Autumn, which I hope arrives soon as I'm tired of 100 degree heat)!
A worthy addition to Laura's 2-Story Room Box (and I can't wait to see how the top floor is decorated in future posts).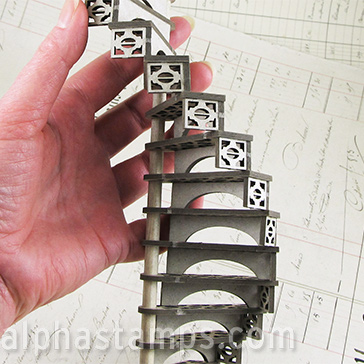 From Laura's blog post:
The staircase starts inside the first floor and spirals up to the front of the second. The staircase design is versatile and can be used outside of the house (as in this example) or inside the house by cutting an opening in the ceiling. For this project, I chose to located the staircase on the outside so that I would have more room for furniture.
There are so many things you can do to add railing. In this example I've used wooden table legs as the spindles and cut pieces of wood chair railing as connectors.
You'll notice 3 more additions to the house on the same blog post: balcony steps, a lighted chandelier, and a spy scope. There's a small preview of the chandelier at left (and it's a beauty)! Laura constructed it with Mini String of Fairy Lights and (a zillion) 1 Inch Glass Bugle Beads or Dollhouse Straws, but is much easier to put together than it might look (and Laura has provided a video tutorial to walk you through the process).
Read more on Laura's blog post. Curious about some item you see in Laura's creation(s)? Check out her supply list! And don't forget to enter the Giveaway to win lots of the supplies used!

More Steampunk: Guest Designer Francine Perri
Take a trip with me under the sea, to swim down with mermaids and find treasures to explore! The Alpha Stamps Guest Designer for August, Francine Perri, started with the Simple 7 Inch x 8.5 Inch Shadowbox as the base for her underwater wonderland.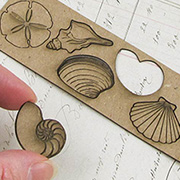 Using the Articulated Mermaid Doll and the smaller mermaid in the Paper Doll Kit as the focal points, Francine surrounded them with Steampunk Gears (large and small), glittering rhinestones, and pearls. Around the outer edges of the shadowbox is a border made of a mix of Chipboard Gears and the Under the Sea Border, with Etched Chipboard Seashells colored like pearls across the bottom.

Halloween Banner Starter Kit (3 random shapes from these 6 options)!
Black chipboard Halloween shapes in a good size… space to decorate and large enough for making a banner! Or you could make tags or ornaments… here are some art ideas from a past swap using these shapes.
You'll receive THREE of the six shapes shown in the photo at left. Random pick which of these you'll receive: Raven, Scaredy Cat, Skull, Pumpkin, Moon, Bat (shown at right).
Free for ALL orders — through Monday night, August 7th!
Need more shapes? All of the shapes are on sale at 50% off!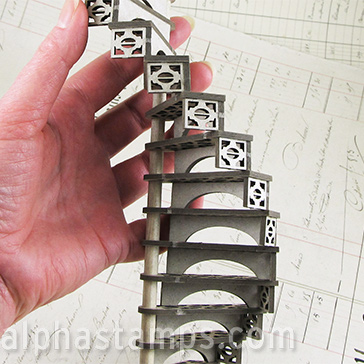 Hooray for the From Steampunk to Halloween Giveaway!
I've picked out some items from everything shown in today's newsletter, for an eclectic mix!
From the items that Laura used in her project (click here to see photos of her entire supply list, but only the ones listed below are in the Giveaway):
– Spiral Staircase Kit
– Symmetrical Bronze Flourish
– 1 Inch Glass Bugle Beads or Dollhouse Straws
From the new items:
– 3D Silver Bird Skull Pendant
– Tim Holtz Halloween Ephemera Pack
From the sale Halloween scrapbook papers:
all FOUR of these sheets from the Wonderfully Wicked Collection!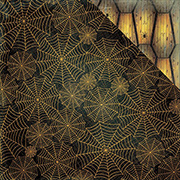 To enter the Steampunk to Halloween Giveaway drawing all you have to do is leave a comment BELOW on this blog post TODAY OR TOMORROW (the deadline is 11:59 pm PST, FRIDAY, August 4, 2017)!
And tell me: What will you make from your Spiral Staircase Kit? You could make a few things… if you make a shorter staircase you could make a fan or some shelving with the leftover fretwork steps.
Don't forget to leave your (hello! correct) email address, too, so I can contact the winner; your email address does not need to be made public. Note: I'm offering free shipping, too, but only within the USA. International shipping will still apply.
Please be patient! Spammers try to post crap here a lot so comments are moderated. So if you don't see your post in the comments section, be patient and check back in a few hours before re-posting it, please!
After midnight, I'll randomly pick the winner (via Random.org). So check your mailbox on Sunday morning to see who won and for the next Giveaway and Newsletter!
Hey, who won the Wednesday's Child is Full of Woe Giveaway? Christine Mikkola! Congratulations! Check your email for more info.

Posted by Leslie, August 3rd, 2017