Note: most of the links on this post no longer work, as we moved to a new Web site in 2018. But you can try searching on the same names (as links below) on the new site.
Wow! What an action-packed newsletter today!
There is artwork in 3 (very) different styles, plus new goodies from silly to … well, they're pretty much all silly today.
And there's a FLASH sale AND a new FREE gift with all orders!
Time to get started!

More mermaids! Yes, it is the theme this month, and Design Team Member Shannon Cooper has created 2 mermaid sisters!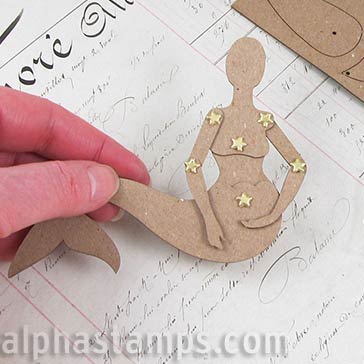 I have been enjoying the Articulated Mermaid Paper Dolls lately, especially when I am feeling creative but am too busy for any quality crafting time. The first doll is Ariel during her Goth stage. She was such a rebel in her youth!
Very unlike her sister, of course. [See wide photo below.]
The placement of the arms can change the appearance of the dolls. Ariel's arms are almost guarding whereas her sister's seem to be open and loving.
I've another hour before we head to the beach. Maybe there's time for one last mermaid doll…
I'm going to jump in here and explain a few things Shannon used AND everything I'm listing is also included in today's Giveaway!
– Articulated Mermaid Paper Doll (both dolls)
– Saucy Witches Collage Sheet (Ariel face)
– Mermaid Tails & Tentacles Collage Sheet (Ariel's sister's face)
– Victorian Bats Collage Sheet (Ariel's skirt)
– Tulle Netting – 6 Inch Wide – Black (Ariel's skirt, too)
– Heavy Double-Sided Crepe Paper – Fuchsia Maroon Red (Ariel's sister's skirt)
– Witchy Little Labels & Ephemera Collage Sheet (Ariel's ouija board)
– Small Rose Buds – Pink-Red-Purple (Ariel's sister is holding them)
– Micro Rounds Brads – Antique Gold, Copper & Pewter (both dolls)
See more photos in Shannon's blog post. And don't forget to scroll down to enter the Giveaway, with everything listed above from Shannon's supplies!


Aw… what a sweet little play set, hidden away in what looks to be a book, by Design Team Member Kristin Batsel. Great for a gift (or surprising a small child when you pull it down from a bookshelf).
I enjoyed using the (ATC size) Hidden Drawer Book Box in my The Little Book of Men project so much that I asked Leslie (Queen of AS) if I could have another one just for fun. I got a brightly colored paper pack and was inspired to do a Spring Garden theme. An image from the Women and Flowers collage sheet was the perfect size and had all the right colors for the cover of the book.
I used some Leafy Green Underbrush for a grassy lawn, and a stick from my yard for a tree. Some tiny leaves from some Miniature Coiled Leaf Stems were glued onto the branch with a little dab of hot glue. The bunting and the birdhouse were cut from the paper that was featured on the sides of the secret drawer, and the pennants in the bunting were attached to the back with dimensional glue dots to give them some depth.
I thought this would be a great playset, so the rabbit and the peg doll are removable.
Now you can take a little garden with you wherever you go!
See more photos in Kristin's blog post. And check out Kristin's supply list).

FLASH SALE!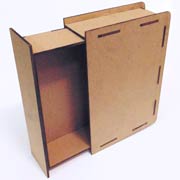 Oh! I was inspired by Kristin's artwork and I've put ALL 5 sizes/styles of Hidden Drawer Book Boxes on sale at 25% off! Sale ends TOMORROW night, Friday, June 16th!

I promised a steampunk cat… and there she is (over at far left)! Plus a loverly cello, too! (And a music stand hiding over there at top left… all made from bits and bobs and included in Laura's tutorial!)
Yes! It's finally here! Laura has released the first of many posts (this summer will be filled with steampunk fun!): Steamtown: Steampunk Miniatures. BONUS: Laura is offering a FREE Watch Parts Collage Sheet, too!


Hooray for the Goth Mermaid Giveaway!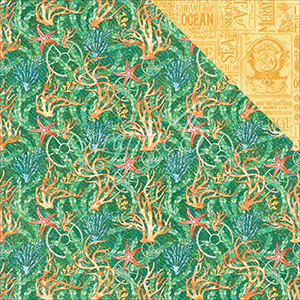 Yep, I've already spilled the beans on what is in the Giveaway (see the info on all NINE items up by Ariel's pic).
BUT… I haven't told you yet what is the New FREE GIFT (free with All Orders through Monday, June 19th)!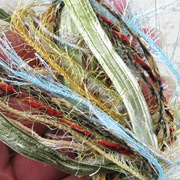 Voyage Beneath the Sea FREE Gift Kit!
All summery in blues and greens, and with a striking orange contrast. Yes, the kit these papers were in last summer has sold out (just this week) but I have a few sheets of some of the papers left (and some coordinating ribbons, AND a charm, too).
It includes a 4×6″ snip of the 4 remaining papers from the collection PLUS the pretty Voyage Beneath the Sea – Steampunk Splash Paper shown at right (sorry, I just took all the remaining sheets!) That size cut is an ample size for a background of an ATC (or 2) from each of those 5 mini sheets.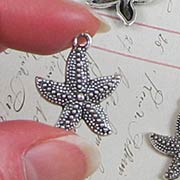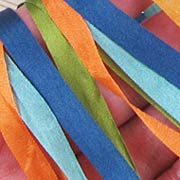 And it includes a custom mix of silky ribbons & furry fibers (my choice) from the backstock for the Summer Sea Silk Ribbon and The Sea Fiber Sets. (Note: both of those sets are also on sale!)
And an Antique Pewter Starfish Charm!
FREE with All Orders through Monday, June 19th! (And one is included in the Giveaway, too!)

To enter the Goth Mermaid Giveaway drawing all you have to do is leave a comment BELOW on this blog post TODAY OR TOMORROW (the deadline is 11:59 pm PST, FRIDAY, June 16, 2017)!
And tell me: Goth mermaid? Sweet sister mermaid? Some other variety of sister or mermaid? What will you make?
Don't forget to leave your (hello! correct) email address, too, so I can contact the winner; your email address does not need to be made public. Note: I'm offering free shipping, too, but only within the USA. International shipping will still apply.
Please be patient! Spammers try to post crap here a lot so comments are moderated. So if you don't see your post in the comments section, be patient and check back in a few hours before re-posting it, please!
After midnight, I'll randomly pick the winner (via Random.org). So check your mailbox on Sunday morning to see who won and for the next Giveaway and Newsletter!

Hey, who won the Master Detective with Extras Giveaway? That would be Jennifer Bumb! Congratulations! Check your email for more info.
Posted by Leslie, June 15th, 2017