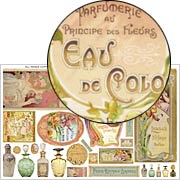 FREE GIFT! In honor of the new Portrait of a Lady collection — and new artwork by Teri Calia (more info on both below…. and both include beautiful perfume bottles) ALL ORDERS on Thursday through Monday, April 27th through May 1st (2017) will receive a Nouveau Perfume FREE Gift Kit including one of the new Art Nouveau Perfume Collage Sheets, AND a Mini Portrait of a Lady Paper Set (a 1/4 sheet cut (6″ x 6″) of all 3 of the new 12″ x 12″ Scrapbook papers)! More info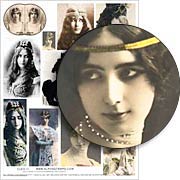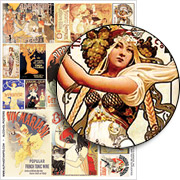 A NEW SALE… actually TWO!
More Art Nouveau images! The Tallulah's AND Art Nouveau Collage Sheets are on sale for 50% off through MONDAY night, too! Over 60 sheets… from Moulin Rouge to Fall and Christmas images. And the lovely Caroline Otero and Cléo de Mérode, too!
The sale ends Monday night, May 1, 2017. See below for a few more highlights or go shopping now:
Tallulah's & Art Nouveau.


Such pretty things today! (Ok… and a crime scene, too… more info on that later.) Beside the artwork (and the new goodies in the artwork), the new Vintaj Metal Patinas are in colors that would work great for a vintage-y, Art Nouveau-inspired project, too!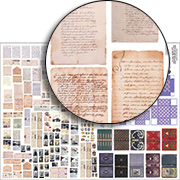 But first… just look at the teeny-tiny, perfectly appointed dresser by Teri Calia! I love all the details, like the tiny bundles of love letters tied in ribbons. And the tiny letters themselves (and tiny perfume bottle labels) are from Teri's new A Lady's Boudoir Ephemera Collage Sheet! Plus those lavender 2-part gift boxes! See a stack of them below.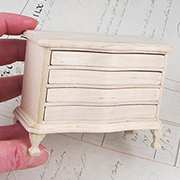 Teri must have spent days painting and sanding the new Unfinished Wooden Dresser… it looks great (and aged like an antique dresser). As you can see, the drawers of the dresser can be opened. The set includes brass hardware (though Teri substituted her own, tiny roses sculpted from polymer clay).
Here's a bit from Teri's blog post (and make sure to visit Teri's post for lots more pictures and more tips):

To create the love letters I simply cut out a bunch of the envelopes from my new collage sheet, folded and glued them, then glued them together to form a stack. I then glued a band of ribbon around them, tied a tiny bow in a matching piece of ribbon and glued it on top of the band.
Tip: I find it's often easier to use two pairs of tweezers in place of my giant fingers when tying a tiny bow. I use 2mm silk ribbon (often sold as an embroidery ribbon) as it is tiny and quite flexible.
There are more new goodies in Teri's artwork (like the Set of Perfume & Lotion Bottles, also shown below in the "New Goodies" section) but I'm going to move on now, as we have more art to enjoy and time is tick, ticking away! One last note: see everything Teri used in her supply list (and enter the Giveaway below for a chance to win lots of those items)!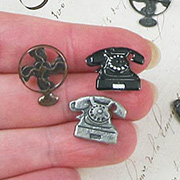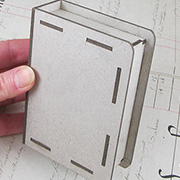 Design Team Member Rhonda Secrist Thomas has made her own murder mystery (at least the outside looks like a book… see photos below) using the Hidden Drawer Book Box – ATC Size — and it fooled 2 of her family members, who thought it opened like a "regular" book (not with the hidden drawer that pulls out from the spine).
I love all the weapons hiding inside (and the crime scene tape, and the body outline). Plus the new metal brads (shown at right) make a good vintage props on the front cover.
Rhonda shares how she made the realistic-looking book pages (around three sides of the box) using cut strips of vintage paper. More info (and tips and more photos!) in Rhonda's blog and/or see her supply list.


Hooray for the Pretty Little Perfumey Things Giveaway!
All those tiny props to choose from… well, I chose mainly perfume bottles (and the tiny comb, brush, hand mirror, etc., from the Victorian Dressing Table Set) for this Giveaway:
– A Lady's Boudoir Ephemera Collage Sheet (New!)
– Tall Bulb Perfume Bottle
– Teardrop Perfume Bottle
– Victorian Dressing Table Set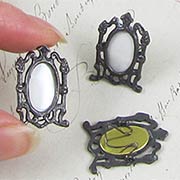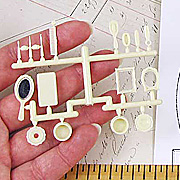 – Victorian Standing Picture Frame
– Tiny Metal Jewelry Box
– Tiny Mixed Sizes Pearl Cabochons
– Tiny Gold Line Stripe Tape
– Burgundy Suede Paper
– 25x18mm Oval Victorian Setting (did you notice it's the tray that the perfume bottles are standing on?)
See photos of everything from Teri's project (including the subset in today's Giveaway) in her supply list.

AND I'm adding one of the Nouveau Perfume FREE Gift Kits!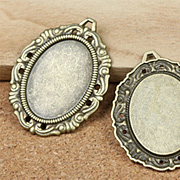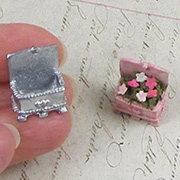 To enter the Pretty Little Perfumey Things Giveaway drawing all you have to do is leave a comment BELOW on this blog post TODAY OR TOMORROW (the deadline is 11:59 pm PST, FRIDAY, April 28, 2017)!
And tell me: What collage or tiny scene will you make with the prize?
Don't forget to leave your (hello! correct) email address, too, so I can contact the winner; your email address does not need to be made public. Note: I'm offering free shipping, too, but only within the USA. International shipping will still apply.
Please be patient! Spammers try to post crap here a lot so comments are moderated. So if you don't see your post in the comments section, be patient and check back in a few hours before re-posting it, please!
After midnight, I'll randomly pick the winner (via Random.org). So check your mailbox on Sunday morning to see who won and for the next Giveaway and Newsletter (and May Kit)!
Hey, who won the Saucy Giveaway? That would be Marie Harrell! Congratulations! Check your email for more info.
Posted by Leslie, April 27th, 2017