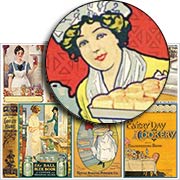 NEW Cookbooks ATC Book Covers Collage Sheet FREE with All Orders!
Today through Saturday, November 19!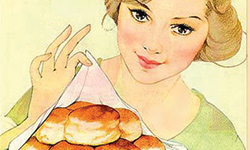 With Thanksgiving around the corner I thought some vintage cookbooks would be useful (with some warm fall colors, too). Note: most of these images fit the cover of the ATC Sized Faux Book Box (a bit larger than an ATC, but they could also be cropped for using on ATCs). Psst! that book box and this collage sheet are both included in today's Giveaway! Read More.


Hee! I do love me some BLACK Christmas projects! 🙂
Design Team Coordinator Miz Bella (Kim Ayers) has gotten into the holiday spirit with an adorable, black Christmas house using the Chipboard House Ornament Kit!
It's that time of year, before Thanksgiving is even here, when some people get all Clark Griswold on us and take out their Christmas decorations. Then they take those decorations and actually decorate. Before Thanksgiving…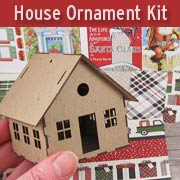 In typical Dreadful manner, the Dreadfuls have gone all out with their decorating this year. Last year the neighborhood Mrs. Kravitz suggested that we may want to consider using a bit more of a festive palette for this year. The Dreadfuls took her advice to heart and hoped that busybody old biddy was happy how they went all out this year. (Although Mrs. Dreadful thought that the vibrant greenery in the window boxes was overdoing it just a tad.)
Here are a few of the things that I did in creating the house: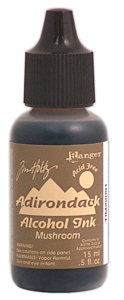 – Foilage was made by snipping off branches from 2 Inch Pine Trees, and then covered in Black Diamond Stickles.
– The snowman was made with Paperclay and his teenie-weenie top hat is made out of a drinking straw and Black Half Round Dresden cut down to fit the top, and slightly larger than the bottom of hat.
– The garland on the trees is made out of a plain silver pipe cleaner, with Mushroom Alcohol Ink rubbed on it to give a tarnished effect.
Clever, clever, clever! All of those tips are good ones!
Here's the link for everything in Miz Bella's The Dreadful's Christmas House supply list and check out her blog for more amusing verbage!


Hooray for the Kiss the Cook Giveaway!
I picked out a mix of items, from today's new goodies to some faves that would make a cute cooking/autumn themed project:
– Kiss the Cook 6×6 Paper Pad New!
– Kiss the Cook Baked Fresh Scrapbook Paper New!
– Cookbooks ATC Book Covers Collage Sheet New!
– ATC Sized Faux Book Box
– A Apple Pie Collage Sheet
– Miniature Baking Set
– Autumn Apples Collage Sheet
– Autumn Labels Collage Sheet
– Polymer Clay Apple Slices (both apple designs)

To enter the Kiss the Cook Giveaway drawing all you have to do is leave a comment BELOW on this blog post TODAY OR TOMORROW (the deadline is 11:59 pm PST, FRIDAY, November 18, 2016)!
And tell me: Art you cooking for Thanksgiving? And what would you make with the Giveaway package? Maybe a mini cookbook?
Don't forget to leave your (hello! correct) email address, too, so I can contact the winner; your email address does not need to be made public. Note: I'm offering free shipping, too, but only within the USA. International shipping will still apply.
Please be patient! Spammers try to post crap here a lot so comments are moderated. So if you don't see your post in the comments section, be patient and check back in a few hours before re-posting it, please!
After midnight, I'll randomly pick the winner (via Random.org). So check your mailbox on Sunday morning to see who won and for the next Giveaway and Newsletter!
Hey, who won the House Ornament or Tiny Ornaments Giveaway? That would be Judy Goodwin! Congratulations! Check your email for more info.
Posted by Leslie, November 17th, 2016