Cute stuff! Teri Calia has created this fabulous little kit, complete with a mini collage sheet, a small strip of heavyweight clear tranparency for inside the box lids, beads, head pins and seed beads… enough parts to put together THREE boxes of 1:12 scale ornaments!
You'll receive enough glass Czech beads for 3 sets of ornaments (which can also be used to trim a tiny tree). It's up to you if you want to put only red, gold or green in separate boxes, or mix them up like in the sample shown.
Includes printed instructions.
Next up: Another adorable project by Design Team Member Betsy Skagen using the Chipboard House Ornament Kit! (See the wide photo below.)
Long before they were trendy, I treasured my putz houses. As a young girl I took these battered Christmas decorations that my family had abandoned and set up a tiny village. Granted, there were only four or five houses, but I loved them.
I never had the budget to add many authentic putz houses to my collection over the years, but my little village grew nonetheless. Frosted trees and 1940s era cars in a variety of scales joined the village. Mid-century children skating and sledding loomed like giant toddlers about to devour the putz homes.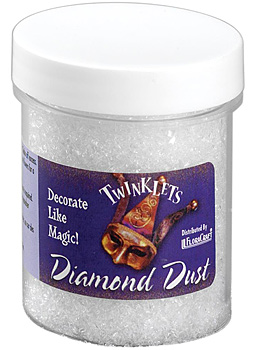 Perhaps the putz house I most treasure is the one I made this year. I stuck true to the simple mid-century style adorned with lots of glitter.
And Betsy's includes a tutorial, including how she got that lovely golden glow in the windows, and…:
Add a little Twinklets Diamond Dust to the windows before the paint dries. I just discovered this Diamond Dust, and wooooohoooo do I love it! I want to use it everywhere. I want to sprinkle it on every art project. Heck, I want to sprinkle it on my children in the morning just to make them a little more pleasant. I definitely want to sprinkle it on my husband when he comes home crabby. I am addicted to this stuff like crack. (Since I am too boring to have ever actually tried crack, this is just a baseless simile.)
Ha! Read more (and see that tutorial) in Betsy's blog. And here's her Supply List, too.

Highlights of Today's New Goodies – ALL on Sale!


Acrylic Christmas Bead Mix


1:24 Antique Brick Wall Sheet


Mini Xmas Tree Ornaments Bead Mix


Retro Xmas Ornament Kit
Posted by Leslie, November 13th, 2016