NEW Halloween Glitter FREE Gift Kit! In honor of today's FLASH SALE on glass bottles (!) AND new apothecary cabinets by TWO Design Team Members, both filled with tiny bottles… here's a little gift kit to get you ready for Halloween!
These kits are FREE for ALL orders, now through SATURDAY night, September 3rd, 2016 (or until the kits are gone)! Learn more.
What did you say? ALL Glass Bottles 20% off today and tomorrow only!!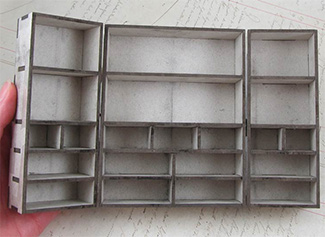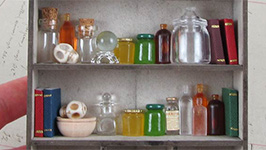 Related to the Apothecary Cabinet for Larger Bottles (announced last Sunday), but this slightly smaller version has shorter shelves and was specifically designed for 1:12 scale bottles. Shown in the photo at left with a big bunch of book and bottle options.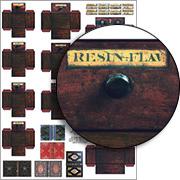 Teri Calia created a new collage sheet with antiqued (ok… pretty corroded) drawers to fold together that fit the Apothecary Cabinet for Smaller Bottles. See the photo below for the drawers put together (in a cabinet Teri lined with Dark Rusty Red Suede Paper).
And bonus! We have artwork by 2 Design Team Members using this new cabinet. Let's start with Don't Go Near the Apothecary by Rhonda Secrist Thomas!
"Any chance that I have to create something odd and a tad dark is a splendid thing."
I would have to agree with that.


Rhonda's post includes lots of photos (including a drool-worthy photo of a corner of her studio) and tips on laying out all the pieces from this new cabinet.
"Don't let all of these pieces intimidate you. It really is quite simple to put together. The first thing I always do is lay out all of my pieces, like a puzzle, so that I am sure I know exactly which piece goes where."
How cool is this! I got the illustration from the collage sheet Little Potions, and recreated it using this tiny bottle from Tim Holtz Tiny Glass Vials set. Then I put it on top of an upside down Tiny Antique Silver 3D Crown to hold it in place like a lab sample.

Learn more in Rhonda's post and see all the goodies she used in her Supply List.
Next up is a completely different project using the same cabinet: Marie Antoinette's Traveling Toilette Steamer Trunk by Tristan Robin Blakeman.
"During the 18th century — the time of excessive, over-the-top, luxurious and extravagant styles and fashions, Marie Antoinette needed a full armoire-sized traveling toilette steamer trunk especially to carry her many perfumes, powders, creams, rouges and paints."
Having just read a book about Marie Antoinette, I knew that every morning her toilette articles were handed to her in a new 2-yard piece of silk fabric which was then given to one of the ladies-in-waiting. I used various hand-dyed ribbons to create the bundles of silk fabric needed to complete the queen's toilette each and every morning.
See everything Tristan used to create his Marie Antoinette's Traveling Toilette Steamer Trunk in his Supply List. And be sure to visit Tristan's blog for lots more info and photos.

Hooray for the Don't Go Near the Apothecary Giveaway!
This was a tough call, but I decided to choose items from Rhonda's Don't Go Near the Apothecary Supply List:
– Apothecary Cabinet for Smaller Bottles
– Set of Doctor Instruments
– Set of Miniature Books
– Snake Oil Labels Collage Sheet
– Even Tinier Bottles
– Witchy Little Labels & Ephemera Collage Sheet
Just click on this Supply List link for photos and links to everything in Rhonda's artwork, including all of the Giveaway items listed above!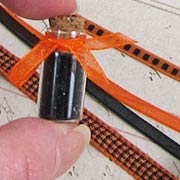 Bonus: One of Halloween Glitter FREE Gift Kits

To enter the Don't Go Near the Apothecary Giveaway drawing all you have to do is leave a comment BELOW on this blog post TODAY OR TOMORROW (the deadline is 11:59 pm PST, FRIDAY, September 2, 2016)!
And tell me: What will you make with the Apothecary Cabinet for Smaller Bottles?

Don't forget to leave your (hello! correct) email address, too, so I can contact the winner; your email address does not need to be made public. Note: I'm offering free shipping, too, but only within the USA. International shipping will still apply.
Please be patient! Spammers try to post crap here a lot so comments are moderated. So if you don't see your post in the comments section, be patient and check back in a few hours before re-posting it, please!
After midnight, I'll randomly pick the winner (via Random.org). So check your mailbox on Sunday morning to see who won and for the next Giveaway and Newsletter!
Hey, who won Mad Scientist Laboratory Giveaway? That would be Marilyn! (We had 2 entries by "Marilyns"… this is the one who wants to "make the cyclops spider guy." Congratulations! Check your email for more info.
Posted by Leslie, September 1st, 2016