Ooh! We have a special treat today! Not only 2 new ATC Shrines (and beautiful artwork using both, by Tristan Robin Blakeman), but also Alice in Wonderland artwork by Guest Designer Shannon Martinson! So much to show that there's a separate blog post all about Shannon's artwork!
And in honor of those new shrines: TWO New Sales! ALL ATCs Collage Sheets are on sale for 50% off AND the ATC Stuff section is on sale for 20% off. That last section has a bit of everything! (Rubber stamps, kits, boxes and shrines to house an ATC (including the new ones)!) Both sales run now through Monday night, June 6th! See the Giveaway below for more info about those snippets of sale items shown at left.


Before he fell down the rabbit hole to work on his Alice in Wonderland triptych project, Design Team Member Tristan Robin Blakeman created two projects using the new ATC Shrine Boxes.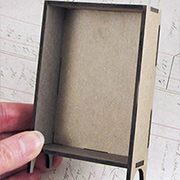 Tristan, the man who has collected enough ATCs to go around the world two or three times, created an ATC to use with the new ATC Shrine with Feet for his first project.
After I glued the shrine together, (tip: I used rubber bands to hold the shrine square while the glue was drying – worked great!) I used left over pieces from my Enchanted Forest Castle and Mini Album project to cover the shrine with.
Once that was finished, I grabbed the Gold Leaf Adhesive Pen with Gold Leaf for the edges of the shrine, added a piece of Gold Zig Zag Dresden Border that had been inked with Mermaid alcohol ink, Mini Paper Blooms, and pieces of the Leafy Corners set.
I finished up with a crown die cut from my stash, cut a chipboard frame in half from my stash (sprinkled with Micro Beads colored with alcohol ink) and glued them to my finished piece.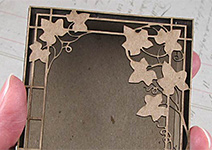 Tristan's second project uses the new ATC Shrine Box that has a snowy winter theme. Rolling around in the snow sounds really good to me right now; since it is 91 here today with humidity creeping in.
"I used alcohol inks and embossing powders to create the background, used a collage sheet image for the focal point, and painted in the clouds myself.
Once that was complete, it was time to add the ATC Ivy Frame. The leaves are covered with 1mm Micro Beads, used Platinum Liquid Pearls to outline all the straight edges and Platinum Stickles for the three decorative dots on the frame.
It was getting more enchanting! I took a pair of wings from the Butterflies Decoupage Paper (I love this paper!) to a vintage plastic bride from my stash. I assembled all the various elements, added Silver Cup Box Feet turned upside down to use as feet and ribbons and bead flowers and millinery flowers buds to the top to finish it up."
2 ATC Shrine Boxes Supply List
Visit Enchanted Revelry for more details, to find out what inspired Tristan's second project and for more photos. And see the Giveaway below for a chance to win supplies from Tristan's projects!


Hooray for the New Shrine & Gold Crowns Giveaway!
I picked out a few items from Tristan's ATC Shrine with Feet supply list:
– New ATC Shrine with Feet
– Ivy ATC Frame
– Flower Stamen – Ivory
– Gold Zig Zag Dresden Borders
– 1mm Micro Beads – Aqua Clear
Then, I chose a couple items I think would make good substitutes for the crown Tristan added to that shrine from his stash:
– Spanish Crowns Collage Sheet
– Large Brass Crown
THEN, the Cigar Box Label ATCs Collage Sheet from the ATCs Collage Sheet Sale, that was shown in the section sale image at the top of this page.
AND FINALLY, one of the Dictionary Clear Stamp Sets (just added to the clearance section! — as are all the other clear stamp sets to make mini booklets!)

To enter the New Shrine & Gold Crowns Giveaway drawing all you have to do is leave a comment BELOW on this blog post TODAY OR TOMORROW (the deadline is 11:59 pm PST, FRIDAY, June 3, 2016)! And tell me: What will you make with your ATC Shrine with Feet?
Don't forget to leave your (hello! correct) email address, too, so I can contact the winner; your email address does not need to be made public. Note: I'm offering free shipping, too, but only within the USA. International shipping will still apply.
Please be patient! Spammers try to post crap here a lot so comments are moderated. So if you don't see your post in the comments section, be patient and check back in a few hours before re-posting it, please!
After midnight, I'll randomly pick the winner (via Random.org). So check your mailbox on Sunday morning to see who won and for the next Giveaway and Newsletter!
Hey, who won Beneath the Sea Giveaway? That would be Victoria! Congratulations!
Posted by Leslie, June 2nd, 2016