Beneath the Sea Kit
The June kit is "Beneath the Sea" with mermaids and treasure chests and sea creatures! I started this kit idea with the combo of steampunk and mermaids from the Graphic45 Voyage Beneath the Sea collection.
Next up: the new Steampunk Seahorse! My own creation! A solid back with an overlay… kind of a Victorian-flourishes-and-steampunk-gears melange. It's laser cut from sturdy, medium-weight chipboard.
Note: The Repubbliche Marinare 12×12 Paper Pad is a good substitute for the sold out kit.
This kit also includes two collage sheets:
– New Treasure Chest Trims Collage Sheet (These are sized for the 3″ wide "Mini Kraft Treasure Chests". These trims, latches, coins, locks (many with skulls) will also work well for other general hardware / steampunk needs. And check out Teri Calia's adorable mini treasure chest below or on this collage sheet page.)
– Mermaids #3 Collage Sheet (Includes many mermaids showing their entire bodies (harder to find than you might imagine.) And in nice, small sizes that work well on ATCs.)
And, of course: a new Mini Kraft Treasure Chest to use that new Treasure Chest Trims collage sheet with.


To get you inspired to play with the Beneath the Sea Kit, we have samples created by two guests: Rhea Freitag and Teri Calia!
Rhea Freitag's Steampunk Mermaid Box
Isn't that beautiful!! Rhea began with the new 3D Treasure Chest: A set of flat, heavy chipboard pieces to make a 3D treasure chest. Double-thick around the top of the lid, to accommodate gluing on metal hinges (or more area for attaching paper hinges).
Rhea used all 3 sizes of the paper pads from the Voyage Beneath the Sea collection. Then a bunch of images from collage sheets that manage to look more dreamy and inviting than you'd think metal steampunk would be.
And, of course, real metal embellishments and bunches of dresden borders. Plus some faux gears, from the new 6×6 Gears Texture Sheet.
See all of the parts in the Steampunk Mermaid Box Supply List. Visit Rhea's Blog for more details and photos.


Pirate's Booty by Teri Calia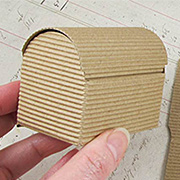 Nicely done! Using a similar color palette as Rhea's chest, Teri mainly used items from the kit, including a Mini Kraft Treasure Chest, covered in a dark treasure chest image from the Treasure Chest Trims Collage Sheet (plus metal chains, a skull and filigree formed into curved handles).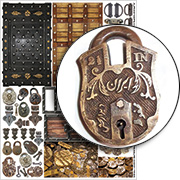 And that background triptych is simple yet stunning: with mermaids from the new Chipboard Mermaids Miniatures painted black, against paper from the Voyage Beneath the Sea Scrapbook Paper. Plus the Under the Sea Chipboard Border painted copper as a low fence/border across the front of the enclosed space.
More info in Teri's blog.

Highlights of Today's New Goodies – ALL on Sale!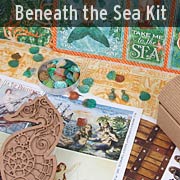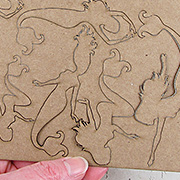 Hooray for the Beneath the Sea Giveaway!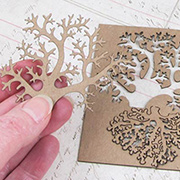 Today's Giveaway starts with… THE NEW KIT: Beneath the Sea!
And then I added a flurry of new chipboard shapes:
– ALL FOUR new stencils (Octopus, Seahorse, Tall Seaweed, Small Seaweed)
– Chipboard Mermaids Miniatures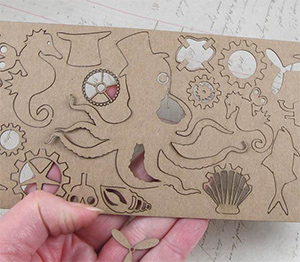 – Seahorse and Seaweed Set – 4 pieces
– Coral Chipboard Set – 4 pieces
– Undersea Steampunk Set
To enter the Beneath the Sea Giveaway drawing all you have to do is leave a comment BELOW on this blog post TODAY or TOMORROW (the deadline is 11:59 pm PST, MONDAY NIGHT, May 30, 2016). AND tell me: What will you make with the Mini Kraft Treasure Chest or Steampunk Seahorse (both in the kit)?
Don't forget to leave your (hello! correct) email address, too, so I can contact the winner; your email address does not need to be made public. Note: I'm offering free shipping, too, but only within the USA. International shipping will still apply.
Please be patient! Spammers try to post crap here a lot so comments are moderated. So if you don't see your post in the comments section, be patient and check back in a few hours before re-posting it, please!
After midnight, I'll randomly pick the winner (via Random.org). So make sure to check back to see who won! And check your mailbox on Thursday morning for the next Giveaway and Newsletter!
Hey, who won the Queen of Hearts Tin Book Giveaway? That would be Barb Macaskill! Congratulations! Check your email for more info.
Posted by Leslie, May 29th, 2016