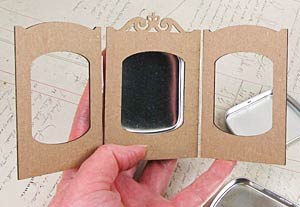 Since we've been having so much fun this month with the regular size Altoid's Tins, let's shink down to the smaller tin… there's a new Small Altoids Tins Triptych Frame!
A cute set of 3 chipboard frames, laser cut from heavy chipboard. Use them singly or hinge them together to make a standing triptych. This set was inspired by artwork by Kristin Batsel and I designed them to fit the Small Hinged Tins. You can also use them as a folding photo frame (or whatever else you can dream up).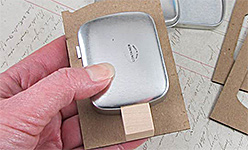 Note: the windows will fit either the lids or the bottoms of the tins. Also, see the new, smaller 5/8″ wood blocks that are a perfect size to help prop up the tins (while gluing or permanently affixed as stands).
So… now we have THREE projects by the Design Team using these cute new frames! And, as you and I would both expect, each artist used the frames in a totally different way!


Let's start with an Alice in Wonderland Triptych by Rhonda Secrist Thomas.
So fun and festive! I like the depth that the little tins behind each window offer. And see that top hat on the top of her triptych, and in the lower left corner of the big photo at right? Rhonda says: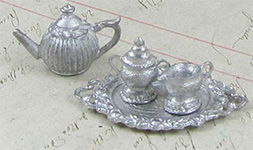 The Mad Hatter's hat looks so dimensional, but it is actually flat and from the Tiny Chipboard Alice Props. I used Distress Stain in Black Soot lightly in the middle and darker on the edges. Then I highlighted it with a white paint pen and a white stamp pad. Little touch of the finger to the pad then dab, dab, dab.
Speaking of dimensional, look how cute that new Mini Cream & Sugar Set looks in that center panel! (And repeated larger in the lower right of the large photo.) Let's add another request to Rhonda's list of miniature faux finishes to show us (when she does part 2 of her "A Place in my Dreams" tutorial)!
Aw… And Rhonda even finished off the backs with antiqued torn paper and card suits painted red (and smaller metal card suits on the blocks).
Here's Rhonda's full supply list, and check her blog post for more photos and lots more tips on making a small triptych.

Next up is a Looking Glass Mini Shrine by Nichola Battilana, inspired by the mirror that inspired Lewis Caroll to write Through the Looking Glass.
The base of this piece uses half of a Small Hinged Tin and just one panel of the Small Altoids Tins Triptych Frame. And you'll never guess how Nichola made those leaf embellishments around the frame:
While I am usually all about tiny floral elements, it's the fake plaster details that are my favorite this time around. Can you guess what they are made from? Hot glue! Normally I'd make these embellishments with Creative Paperclay but I was feeling impatient.
Nichola used 2 new molds, which are both pretty petite (Large Leaves Silicone Mold and Multi-Sizes Leaves Silicone Mold), hot glue, layers of gesso, and white paint.
Held side by side with resin, you can't tell the difference; and adding additional layers of gesso and paint softens the details and makes it look quite like plaster.
AND because I love you (and Leslie asked so nicely) I've made a video of that technique as well!
Thank you, Nichola! Your little mirror is lovely! Here's a link to her supply list, and see more photos in Nichola's blog post.

And our final project for today is The Supporting Cast by Tristan Robin Blakeman!
The supporting cast? As Tristan explains:
I've always been a huge fan of "Alice in Wonderland" (as anybody who has been following my blog for awhile knows all too well — *snicker*), and some of my favorite characters are those minor fellows who only show up for a short time — but help make the story so very enjoyable. So I decided to make an altered mini altoid tin of the Alice in Wonderland supporting cast!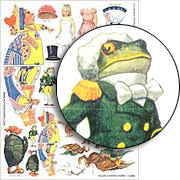 So with much fanfare (and glitter!) Tristan has made tiny shrines for "the wondrous White Rabbit — all dressed in his court finery and blowing his trumpet to announce the Queen", "the knaves who planted the white roses trees by mistake in the Queen of Hearts garden and must hastily scurry around painting all the blooms red so that she doesn't realize their error", and "the often forgotten frog and fish footmen, who are involved with getting the Duchess her invitation to the Queen of Hearts croquet game"!
Visit him at Enchanted Revelries to see more photos and get tips on making a tiny triptych. And see everything Tristan used in his Supporting Cast Supply List.


Hooray for the An Alice Triptych Frame Giveaway!
I decided to choose items from Rhonda's Alice in Wonderland Triptych supply list and it does make a colorful group!
– Small Altoids Tins Triptych Frame
– TWO Small Hinged Tins
– Mini Cream & Sugar Set
– The Mad Hatter Collage Sheet
– 1/2 Inch Loop Braid – Red
– Mushrooms – Red (Back in Stock)
– Rectangular Resin Heart Tarts
– Small Box Latches
– Bronze Playing Card Suits

To enter the An Alice Triptych Frame Giveaway drawing all you have to do is leave a comment BELOW on this blog post TODAY OR TOMORROW (the deadline is 11:59 pm PST, FRIDAY, May 20, 2016)! And tell me: How will you decorate your Small Altoids Tins Triptych Frame?
Don't forget to leave your (hello! correct) email address, too, so I can contact the winner; your email address does not need to be made public. Note: I'm offering free shipping, too, but only within the USA. International shipping will still apply.
Please be patient! Spammers try to post crap here a lot so comments are moderated. So if you don't see your post in the comments section, be patient and check back in a few hours before re-posting it, please!
After midnight, I'll randomly pick the winner (via Random.org). So check your mailbox on Sunday morning to see who won and for the next Giveaway and Newsletter!
Hey, who won A Lady's Secretary Giveaway? That would be Kari Gluski! Congratulations! Check your email for more info!
Posted by Leslie, May 19th, 2016