Note: most of the links on this post no longer work, as we moved to a new Web site in 2018. But you can try searching on the same names (as links below) on the new site.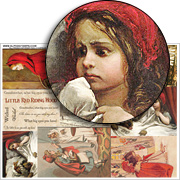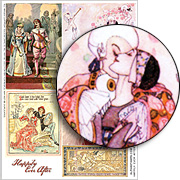 Not only art projects by 2 Design Team Members, I've just put the ENTIRE Brothers' Grimm Fairy Tales Collage Sheets on sale for 50% off now through Monday night, May 2nd!
40 collage sheets from sweet to spooky! And the sale section includes 3 of the new collage sheets announced today!


Hello all. Both Bella and I are a bit under the weather today. Luckily Design Team Members Lora Mahaffey and Tristan Robin Blakeman have created beautiful artwork with the new Enchanted Forest Collection papers. (So you'll be happily mesmerized by the pretty pictures and forgive this short newsletter.)
I created some new collage sheets to coordinate with the new collection — used by Lora for her 2 witty ATC boxes: Fair Maidens and Evil Queens (also using the ATC Sized Faux Book Box that was announced last week).
(I love the little hidden compartment in the back of the Evil Queens ATC Box, filled with bottles of poison…)
Since the Grimm Collage Sheets are on sale, that means the Rapunzel, Evil Queens and Grimm Covers #3 Collage Sheets are new and on sale at 50% off! There are 2 more new collage sheets, too: Fairy Tale Book Covers Collage Sheet (swoon!) and Fair Rosamund Collage Sheet (both of those are also on sale)!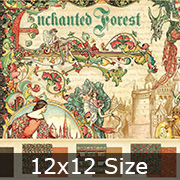 That amazing castle below (with an album tucked away behind those double doors) was designed and hand-made by Tristan! I think he must have used every sheet of paper in that big 12×12 pad! And what attention to detail: from the fairies frolicking on the walkway at the top, to the princesses on balconies on each of the towers.
See more photos and learn more about Lora and Tristan's project in their blogs (click those links on their names). And enter the Giveaway drawing below to win products to make your own Enchanted Forest/Grimm artwork.


Hooray for the Enchanted Forest & Brothers' Grimm Giveaway!
I picked out a mix of items that are new or used in today's featured artwork (or both) to make this Giveaway:
– Fairytale Castle Album
– Enchanted Forest 6×6 Patterns & Solids Pad
– Fancy Rectangular Catch
– Waterhouse Flowers Collage Sheet
– Sleeping Beauty #3 Collage Sheet
– Fairy Tale Book Covers Collage Sheet
– Grimm Covers #3 Collage Sheet
– Rapunzel Collage Sheet
– Evil Queens Collage Sheet

To enter the Enchanted Forest & Brothers' Grimm Giveaway drawing all you have to do is leave a comment BELOW on this blog post TODAY OR TOMORROW (the deadline is 11:59 pm PST, FRIDAY, April 29, 2016)! And tell me: What will you make with all these richly colored goodies?
Don't forget to leave your (hello! correct) email address, too, so I can contact the winner; your email address does not need to be made public. Note: I'm offering free shipping, too, but only within the USA. International shipping will still apply.
Please be patient! Spammers try to post crap here a lot so comments are moderated. So if you don't see your post in the comments section, be patient and check back in a few hours before re-posting it, please!
After midnight, I'll randomly pick the winner (via Random.org). So check your mailbox on Sunday morning to see who won and for the next Giveaway and Newsletter!
Hey, who won Cookies, Chipboard & a Cart Giveaway? That would be Jen C! Congratulations!

Posted by Leslie, April 28th, 2016