Note: most of the links on this post no longer work, as we moved to a new Web site in 2018. However, you can see the supply list items from Rhonda's and Teri's projects that are still available on the new site.
Easter Collage Sheets?! Yes! It is getting to be that time… Spring? It's early spring here, though I know a lot of you are facing fresh snow. So how about some bunnies and chicks and Easter eggs to brighten your day?
ALL Easter Collage Sheets on sale for 50% off now through Monday night, February 29th! (And a bonus: that new Eggs and Easter Collage Sheet (with a preview shown at left… and also included in today's Giveaway) is also included in the 50% off Sale!)


Design Team Member Rhonda Thomas has made an enchanting Fairy House from the Little House Kit and the House Oddities Box.
"I created a little home for fairies with this cool House Oddities Box from Alpha Stamps. It's filled with seven precious house silhouettes that you can decorate as you please.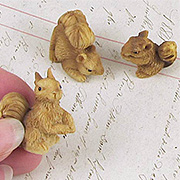 Did I go into the woods to collect moss? Gosh no! I used Sheet Moss to cover the top of the box (by the way, it is super easy to work with) mixed in with some Leafy Green Underbrush. Added to that is some Flower Soft Sweet Pea that makes it look like teeny flowers are in the greenery and there are also tiny rosebuds. Also on top you'll see a cute squirrel, mushrooms and rose leaves.
Inside is a gorgeous fairy standing in a beautiful ball room; and there's also some magical houses that the fairies love to visit.
I loved using the papers from the Provincial Collection to cover the houses with. The colors and designs are so pleasing to the eye, you can't go wrong with using it. The houses are decorated with fairy and flora images from an assortment of collage sheets that you can find listed on my Supply List.
To raise up the Fairy House, Tiny Wooden Peg Dolls were used to create some "legs". (That way it can be put onto a fairy truck and moved to a different part of the forest whenever the mood strikes!)"

Visit Rhonda's blog for more details and photos.

Next up: Design Team Emeritus Teri Calia has come up with hand-made Tiny Pull Toys. (And a flurry of other mini Easter projects, too!) Look at them go with their 4mm and 6mm tiny buttons for wheels; and people — we need to talk about the SUPER DUPER cute animals that are riding on the pull toys.
I almost don't even want to bring to your attention the Hedgehog because well, you know… I need to make sure that I get mine first. It's beyond adorable, after all! The little ducks are darling and the rabbits are smartly dressed with their fancy ribbons around their necks.
Visit Teri's blog for more details and photos AND a tutorial on making some tiny (and super easy) Spring pull toys!


Hooray for the Cute as a Bunny Giveaway!
I picked out a mix of items from Teri's many cute Easter projects (and a few new items) to make this Giveaway:
– Doll Buttons – 4mm Mix
– Mini Duck, Ducklings & Fence Set
– Eggs and Easter Collage Sheet (new and on sale as part of the Easter Collage Sheet sale!)
– 1 Inch Mulberry Paper Rose Leaves
– Tiny 3D Hedgehog
– Micro Rustic Wheelbarrow
– Mini Rabbit Figurine
– Tiny Wicker Basket
– Crowned Winged Heart Charm

To enter the Cute as a Bunny Giveaway drawing all you have to do is leave a comment BELOW on this blog post TODAY OR TOMORROW (the deadline is 11:59 pm PST, FRIDAY, February 26, 2016)! And tell me: Tiny pull toys for Spring? A micro wheelbarrow full of carrots? What will you make with all these items?
Don't forget to leave your (hello! correct) email address, too, so I can contact the winner; your email address does not need to be made public. Note: I'm offering free shipping, too, but only within the USA. International shipping will still apply.
Please be patient! Spammers try to post crap here a lot so comments are moderated. So if you don't see your post in the comments section, be patient and check back in a few hours before re-posting it, please!
After midnight, I'll randomly pick the winner (via Random.org). So check your mailbox on Sunday morning to see who won and for the next Giveaway and Newsletter (AND March Kit Announcement)!
Hey, who won the Houses with Bling Giveaway? That would be Robyn Holway! Congratulations! Check your email for info.

Posted by Leslie, February 25th, 2016