Note: most of the links on this post no longer work, as we moved to a new Web site in 2018. However, you can see the supply list items from Kristin's and Tristan's projects that are still available on the new site.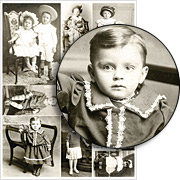 A quick reminder before a cute 3D card by Tristan Robin Blakeman — and new Fairy Garden supplies (!): The 50% off Sale on Children Collage Sheets ENDS TOMORROW NIGHT (Monday, February 22nd)!
Hm… and why are those collage sheets on sale? See Thursday's newsletter for some adorable imps in a convoy by Nichola!
(The More Cab Card Cuties Collage Sheet from the sale section is shown at left. And another is included in the Giveaway below.)


Design Team Member Tristan Robin Blakeman is up with his fabulous creation from the Little House and Odd Houses Add-On Kits: "From my house…" Fold Open Card (with Tutorial).
This is a card that folds flat for mailing, but can unfold and stand up with rows of 3D houses when your recipient receives it! All the houses are from the House Oddities Box (the inside houses without the box).
"On the first row I used the Decorative Window Set that is also available in the Add-On Kit. The gold square window is made from Mini Floral Dresden and the arched four panel window is backed with acetate that I colored with Alcohol Inks. To cover the houses (and all the houses on the card) are from the gorgeous Provincial 6×6 Paper Pad; it was such a perfect palette for this project. The trim that I used on the shorter house, is the Bronze Dresden, however is out sold out but the Half-Round Dresden Borders in Gold is a good replacement.
If you like the pink bling on the middle house (see photo at left), you can make it yourself! Simply take the Mesh Rhinestone Ribbon and color it with an Alcohol Ink. You could also use a Distress Reinker to shade the rhinestones.
For the last row, I chose two houses that were somewhat thinner so that I could have some space between them and not be completely covered by the middle house. I used Zig Zag Dresden Borders in Gold as trim on the house roof on the right. A small gold bead is standing in for the doorknob. Both the red decoration and the balcony were made with a Die Cut Machine. Window Frames & Shutters were used for other windows and most of the shrubbery came from either the Rustic Trees & Foilage or the Bricks, Arches & Climbing Roses Collage Sheets.
Make sure you've given your pieces a good length of time to dry… it's sometimes hard to wait, I know, but I really do let them sit overnight."
From My House Supply List
For directions on how Tristan made the base to hold up the rows of houses, more details and more photos, please visit Enchanted Revelries.


Hooray for the Houses with Bling Giveaway!
I picked out a mix of items from Tristan's "From my house…" Fold Open Card supply list to make this Giveaway (psst! that link is to the supply list, with photos and links to all of these products):
– Brick, Arches & Climbing Roses Collage Sheet
– Gold Zig Zag Dresden Borders
– House Oddities Box
– Mesh Rhinestone Ribbon – White (a whole roll of 10 yards!)
– Oddities Box Doors and Windows Collage Sheet
– Provincial Hedge Scrapbook Paper
– Decorative Windows Set 1:24
– Window Frames & Shutters Collage Sheet

PLUS (not really related to houses or fairies… unless the fairies play tiny games of poker?!) I'm including:
– New Miniature Playing Cards
– Wistful Collage Sheet (one of the collage sheets on sale at 50% off through MONDAY!)

To enter the Houses with Bling Giveaway drawing all you have to do is leave a comment on this blog post TODAY or TOMORROW (the deadline is 11:59 pm PST, MONDAY NIGHT, February 22, 2016).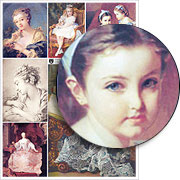 AND TO ENTER THE DRAWING, please tell me: What will you do with all of that bling?
Don't forget to leave your (hello! correct) email address, too, so I can contact the winner; your email address does not need to be made public. Note: I'm offering free shipping, too, but only within the USA. International shipping will still apply.
Please be patient! Spammers try to post crap here a lot so comments are moderated. So if you don't see your post in the comments section, be patient and check back in a few hours before re-posting it, please!
After midnight, I'll randomly pick the winner (via Random.org). So make sure to check back to see who won! And check your mailbox on Thursday morning for the next Giveaway and Newsletter!
Hey, who won the An Impish Convoy Giveaway? That would be Jean Marmo!
And she replied to my query 'What other odd object would you put wheels on?"
Another wonderful creation! Love the wheels! Not sure what else I would use them for!
Congratulations! Check your email for more info.
Posted by Leslie, February 21st, 2016