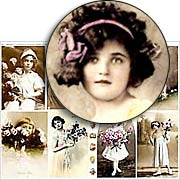 Children Collage Sheets?! Yes! Beside those cherubic faces for spring projects, that section includes the 2 collage sheets Nichola used in her Impish Convoy! (Both are also in today's Giveaway.)
ALL Children Collage Sheets on sale for 50% off now through Monday night, February 22nd! (The Garden Collage Sheet and Flower Girls Collage Sheet from the sale section are shown at left.)
And don't forget to check below for tons of new, fun supplies from Tim Holtz new spring line! New and On Sale!


Rolling in with her offering for this month of Little Houses is Design Team Member, Nichola Battilana. Nichola has created An Impish Convoy that, I think you'll agree, is quite cheeky!
"This month at Alpha Stamps is all about Little Houses. I had a couple of ideas bandying about… but they refused to cooperate and I ended up with this sort of Impish Convoy instead.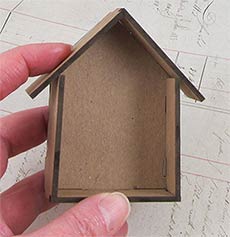 I don't mind that they misbehaved and did their own thing. You can't get mad when projects don't turn out as expected… or don't cooperate at all. Sometimes you just have to go with it. Sometimes THAT is the point ~ to play and enjoy the process of making. To get something… anything!… out and done on that work table. Wheeled house shaped shrines? Why not?!
If you have a pile of "to-do's" in your work pile, maybe a little Impish Convoy is what you need too. A project to make for the sake of making, even if it doesn't make too much sense, to keep you out of trouble, and to drive the rut goblins away."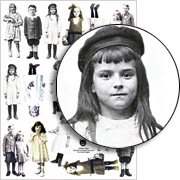 Nichola used Mini Houses numbers 1, 2, 3, and 4 for the bases of her little caravan. The sweet children who wouldn't dream of misbehaving are from the Little Imps and Little Darlings Collage Sheets. There are a lot of choices for your own caravan from those two collage sheets, (which happen to be on SALE!); and if you just can't decide… the entire section of Children Collage Sheets is 50% off!
Once you have your houses put together, painted, papered and full of glitter; it's time to start embellishing! Lovely pink roses, mushrooms, leaves and stars are quick additions that you can add to gussy up your caravan with. (And I'm not sure where those butterflies came from… Nichola has a pile of butterflies just waiting to alight… but here is a list of a ton of Butterfly Options.)
What would an Impish Convoy be without moss covered roofs? I really like how Nichola added in the tiny flowers on top of the roof, it makes me think of Spring.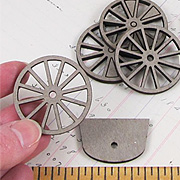 Before you think you're done with your caravan – don't forget to add your 1 Inch Wheels (with 1/8 Inch Dowel) and the 2 Inch Wheels (with 1/4 Inch Dowel). Otherwise your Imps won't be going very far! Speaking of the wheels, Nichola has a bit of advice when attaching them to your project:
"Glue the wheel to the doweling, but make sure the doweling isn't glued to the part that attaches to the project (that's the "D" shaped tab — see the photo at left). If the doweling is too stiff you can sand it down slightly to allow the wheels to roll. Basically, you want the doweling to move with the wheels, not the wheels independently."
An Impish Caravan Supply List
For more photos please visit Nichola at Pixie Hill.


Hooray for the An Impish Convoy Giveaway!
I picked out a mix of items from Nichola's An Impish Convoy supply list to make this Giveaway (psst! that link is to the supply list, with photos and links to all of these products):
– Mini House Shadowbox 2 – 3.25 Tall
– Spoked Wheel Set – 2 Inch
– 1/4 Inch Wooden Dowels
– Provincial Hydrangea Scrapbook Paper
– Little Darlings Collage Sheet
– Little Imps Collage Sheet
– 1/2 Inch Pale Pink Paper Roses
– Flat-Back Gold Star Studs – 12mm
And so you'll have some butterfly choices: a Butterflies & Moths Collage Sheet.

To enter the An Impish Convoy Giveaway drawing all you have to do is leave a comment BELOW on this blog post TODAY OR TOMORROW (the deadline is 11:59 pm PST, FRIDAY, February 19, 2016)! And tell me: What other odd object would you put wheels on?
Don't forget to leave your (hello! correct) email address, too, so I can contact the winner; your email address does not need to be made public. Note: I'm offering free shipping, too, but only within the USA. International shipping will still apply.
Please be patient! Spammers try to post crap here a lot so comments are moderated. So if you don't see your post in the comments section, be patient and check back in a few hours before re-posting it, please!
After midnight, I'll randomly pick the winner (via Random.org). So check your mailbox on Sunday morning to see who won and for the next Giveaway and Newsletter!
Hey, who won the Lots of Little Houses Giveaway? That would be Alma Casiano! Congratulations! Check your email for info.
Posted by Leslie, February 18th, 2016