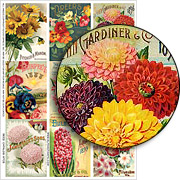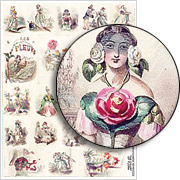 A couple notes before two projects using the new Mini House Shadowboxes: The 50% off Sale on Spring & Summer Flowers Collage Sheets ENDS TOMORROW NIGHT (Monday, February 15th)!
AND the deadline to sign up for the Mad, Mad, Mad House Swap is also TOMORROW NIGHT!
(The Seed Catalog ATCs Collage Sheet and The Court of Flora Collage Sheet from the sale section are shown at left. And another is included in the Giveaway below.)


Design Team Member Shannon Cooper has created 3 super adorable shadowboxes, For the Birds.
"Aren't they sweet? There are 4 Mini House Shadowboxes, I have used boxes 2, 3 and 4 for my projects. They're nice sizes for making a quick and simple gift to someone special.
I chose to paint the shadowboxes with a slate grey paint first, then apply Crackle and let it dry. When it is dry, then add a white topcoat. The interiors of the houses were papered with the beautiful Provincial 12 x 12 Collection, and then the entire thing got a good scrubbing of antiquing fluid.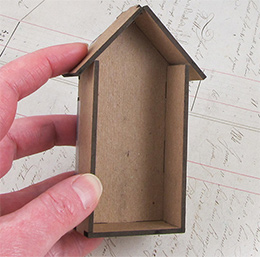 For the inside of the houses, I embroidered birds and NEST on some scrap muslin that was then hung from backyard twigs and glued in place. Houses are people nests, so that is how I settled on the wording for House 2. Acorn Caps make the perfect feet, but only after you sand the tops even so your houses don't topple over! (Lotsa glue helps, too.)
The roofs were covered in Sheet Moss and an Acorn Cap also worked out as a fine house number plaque, with a bit of paint and glitter, a snippet of lace, and one of these really nice Mini Numbers from Vintage Mechanicals.
Finding a nest small enough to fit inside the house was difficult, so why not make one myself? If you ever find the need for a miniature nest, there is a very uncomplicated way to assemble one out of a miniature Bale of Hay."
For the Birds Shadowboxes Supply List
Ooooh I sort of left you hanging there about a very easy way to make miniature birds' nests, didn't I? Never fear… head on over to Shannon's blog for a super easy tutorial and more pictures of her shadowboxes.


Before you rush off to Shannon's blog, first take a peek at Design Team Member Lora Mahaffey's Mini House Shadowboxes, Cotswold Cottages!
"An old English village is such charming place to take a walk in. Most of the buildings, including the houses are built from the stone available nearby and although they all have that commonality, so many are quirky and individual, reflecting the personalities of the folks that live in them.
The houses themselves are little Mini House Shadowboxes in four different sizes and they are adorable. And look… if you peer hard enough through the windows… they've all got little messages inside! Well, you have to turn the houses around, but we are playing with wee houses and pretending! The papers I used are from the Provincial 6×6 Paper Pad including the little messages, which are cute tags at the back of the pad.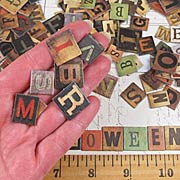 The roofs on these houses are as individual as the the facades! I used some doll house shingles on a couple of them, the letter roof came from Alpha Tiles and the thatch is Sheet Moss. Scraps of Dresden Trim for trimming out the gable ends of the cottages and white acrylic paint went a long way for adding charming little dot details on the Decorative Windows."

Cotswold Cottages Supply List
Visit Lora's blog for more details and pictures.


Hooray for the Lots of Little Houses Giveaway!
Wow! This is a great little Giveaway, with a few bits from both projects shown today:
– Provincial 6×6 Paper Pad (tons of papers in a classic, refined palette, plus the tags Lora used inside her houses)
– ALL FOUR new Mini House Shadowboxes (Wow! Yes, only 3 are shown at right, but I'm including all 4 sizes.)
– The new House Jewelry Pieces (did you notice them used as windows on some of Lora's houses?)
– Miniature Bale of Hay (so you can make your own bird nests, using Shannon's tutorial)

PLUS (not shown in the photos at right) I'm including:
– Flora ATCs Collage Sheet (shown below — one of the collage sheets on sale at 50% off through MONDAY!)
– A set of Mini Bird Eggs (so you'll have something to put in your newly-made nests!)

To enter the Lots of Little Houses Giveaway drawing all you have to do is leave a comment BELOW on this blog post TODAY or TOMORROW (the deadline is 11:59 pm PST, MONDAY NIGHT, February 15, 2016).
AND TO ENTER THE DRAWING, please tell me: What will you put in your little house shadowboxes?
Don't forget to leave your (hello! correct) email address, too, so I can contact the winner; your email address does not need to be made public. Note: I'm offering free shipping, too, but only within the USA. International shipping will still apply.
Please be patient! Spammers try to post crap here a lot so comments are moderated. So if you don't see your post in the comments section, be patient and check back in a few hours before re-posting it, please!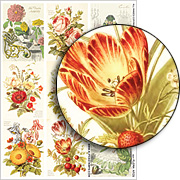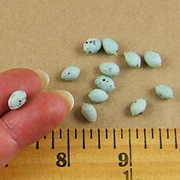 After midnight, I'll randomly pick the winner (via Random.org). So make sure to check back to see who won! And check your mailbox on Thursday morning for the next Giveaway and Newsletter!
Hey, who won the Lover's Tryst Giveaway? That would be Kim Lucak!
And she replied to my query 'What additions to the Paper Flowers section would you like to see?"
Love flowers and the Victorian language of flowers!! I might add roses, pansies, hydrangeas and lilies!!!
Congratulations! Check your email for more info. (And good choices on flowers, Kim! Everyone had great ideas; stay tuned in future weeks as I add more flowers!)
Posted by Leslie, February 14th, 2016