Note: most of the links on this post no longer work, as we moved to a new Web site in 2018. However, you can see the supply list items from Caroline's and Nichola's projects that are still available on the new site. AND the Advent Calendar Shadowbox announced below IS still in stock!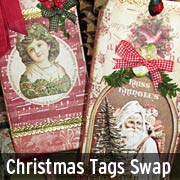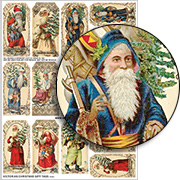 A quick reminder: are you thinking about participating in the Christmas Tags Swap? If so, sign-ups are due by midnight TOMORROW (November 16th).
And as an added incentive: If you participated in the Haunted House Book Swap, one of the new Victorian Christmas Gift Tags Collage Sheets was sent to you as a gift with your swap art!
Everyone who completes the new swap will receive a (new) exclusive collage sheet from Alpha Stamps, too! Plus one lucky player will win $100 of Art Supplies! Read more.


Design Team Member Caroline Ouzts-Hay has created a lovely Angel Wings Advent Calendar Shadowbox complete with TWO tutorial videos. One on how to assemble the Advent Calendar Shadowbox and the other tutorial is on how she created the amazing hanging wings.
"Scrumptious lace! I am in love with this stuff, so of course I had to use it. The laces are the same design just different colors; 1 3/4″ Fancy Venice Lace in Metallic Gold and Ivory.
"Check out how they lay like real feathers! There are also a few real feathers mixed in here and there and I created a video to see how I created the wings for you."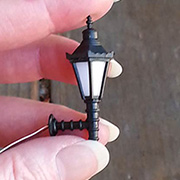 Wow, so gorgeous. I love how instead of having a box for the 25th, Caroline is using the wings as an ornament to hang on the tree on Christmas. Did you notice that the Victorian Coach Lamp actually lights up in the box? Pretty snazzy little set-up Caroline has going on in the box!
"This project could not take a stark black lamp so I brushed on some brown paint and a bit of Lumiere Metallic Acrylic Paint – Metallic Gold. I used this paint all over the project. It is quite bold, to tone it down I applied a minuscule amount with my finger and rubbed it around.
"The back of the shadow box needed to be pretty when the wings were removed so there are a multitude of layers creating the look. Script stamps come in so handy, don't know what I would do without them. This one is the Wendy Vecchi Cling Stamp – Script. I also used two Tim Holtz Stencils in Christmas Text and Festive.

"All of the greenery and flowers in the shadowbox has a sprinkling of Twinklets Diamond Dust. I prefer this product over glitter when trying to accomplish a snow dusting effect because it is semi-transparent."
Angel Wings Advent Shadow Box Supply List
Visit Caroline at her blog and see more pictures, and two video tutorials on how she made her Angel Wings Advent Shadow Box!

Design Team Member Nichola Battilana has created an Pocket and Tag Christmas Countdown Organizer with a rustic twist using the Victorian Christmas Tags Kit. A simple design using a length of burlap with the Mini Red Pip Berry Garland wrapped around the Library Pocket Box and embellished with Laquered Holly and Berry Picks. Such an easy and cute way to display an alternative advent calendar!
Nichola filled the Library Pocket Box with tons of tags and pockets (ok… 24, but they look so festive with all the little ribbons and trims)! (Only about a third are shown below.) Plus Nichola provides a tutorial on creating that shabby chic crackle finish from her whitewashed box! See Nichola's supply list and read more on her blog.


Hooray for the Gold, Green & Red Giveaway!
I picked out a mix of items from Caroline Ouzts-Hay's and Nichola Battilana's supply lists to make this richly colored Giveaway (psst! those 2 links are to the supply lists):
– A Victorian Christmas 3×4 ATC Pad
– Gold Sweeper Fringe
– Mini Red Pip Berry Garland
– Winter Kids Collage Sheet
– Stitched Leaf Ribbon – Moss Green
– Metallic Gold 1-3/4 Inch Fancy Venice Lace
– Large Bronze Fancy Filigree Set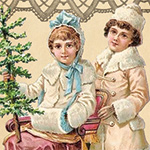 PLUS I'm including BOTH of the new collage sheets: Notes from the North Pole Collage Sheet Set (a wonderful new set by Nichola Battilana) and Victorian Christmas Gift Tags Collage Sheet!
To enter the Gold, Green & Red Giveaway drawing all you have to do is leave a comment BELOW on this blog post TODAY or TOMORROW (the deadline is 11:59 pm PST, MONDAY NIGHT, November 16, 2015).
AND TO ENTER THE DRAWING, please tell me: What would you make with the items in the Giveaway? Are you inspired to make wings with the lace?
Don't forget to leave your (hello! correct) email address, too, so I can contact the winner; your email address does not need to be made public. Note: I'm offering free shipping, too, but only within the USA. International shipping will still apply.
Please be patient! Spammers try to post crap here a lot so comments are moderated. So if you don't see your post in the comments section, be patient and check back in a few hours before re-posting it, please!
After midnight, I'll randomly pick the winner (via Random.org). So make sure to check back to see who won! And check your mailbox on Thursday morning for the next Giveaway and Newsletter!
Hey, who won the Advent Trims & Toys Giveaway? That would be Julie F!
And she replied to my query "If you win the drawing, will you make a tea cottage? Complete with all the foliage and tiny breads? Or what would you make from the Giveaway supplies?"
Yes, would love to make one for my two little grandkids. Both of these are beautiful!
Posted by Leslie, November 15th, 2015