Note: most of the links on this post no longer work, as we moved to a new Web site in 2018. However, you can see the supply list items from Shannon's and Tristan's projects that are still available on the new site.

I'm excited for the Christmas season to get here and it seems that so is Design Team Member Shannon Cooper with her sweet Victorian Advent Shadowbox.
Shannon used the Advent Calendar Shadowbox (which is also in the convenient Advent Calendar Add-On Kit) and the A Victorian Christmas Paper Set to create a delightfully simple project.
"I decided to complement the Victorian themed paper with traditional looking period decorations, including a paper medallion glitter Santa (isn't that what they're called?) and a cut-out image of a little girl that was given a crepe paper dress. There is glitter on that ornament, too, I promise. Gotta have some glitter! The other ornament is exactly what it looks like: a wired pine bough bent into a star, then finished off with a (New!) Silver Reindeer Pendant, and a snippet of ribbon from the Advent Calendar Tags Ribbon Set. The ribbons decorated the numbered boxes nicely, and I still have quite a lot of ribbon left for another project."
How cute is that little girl with her star-studded crepe paper dress?! You can find the supply list for Shannon's Victorian Advent Calendar. Head on over to her blog for more pictures, and also for a glimpse at her feather tree (that she made herself!) decorated with Christmas Collage Sheet images.


Next is Design Team Member Tristan Robin Blakeman, here with his fabulous, over-the-top Nutcracker Advent Calendar.
My Advent Calendar Shadowbox is topped with a Christmas tree and a spread of goodies from Santa — in this case Alpha Stamps had to stand in for Santa and provide the beautiful miniatures!
I started with the smallest of the two trees in the Woodlands Wreath and Tree Set, misted it a light pink (or try out the (New!) ready-made Retro Pink Trees!) and used beads to use as ornaments. I also used some Crystal Accents to give a tree a bit of a sugar-frosted look.
On one side of the tree, among the gifts is a delightful (New!) miniature wooden train, a miniature wooden sled and the small doll is from my stash of vintage toys.
On the other side of the tree, we see a miniature red wagon carrying an adorable (and new!) miniature Jack-in-the-Box. All of the miniatures are available from Alpha Stamps in the Miniature Section — spend some time going through this section as you will find lots of things you will want to put under your tree!
Here's a link to all of those cute miniature toys from Tristan's supplies; and read more (and see more photos) in Tristan's blog.


Hooray for the Advent Trims & Toys Giveaway!
I picked out a mix of items from Shannon Cooper's and Tristan Robin Blakeman's supply lists to make this colorful Giveaway (psst! those 2 links are to the supply lists):
– Lacquered Holly & Berry Picks
– Miniature Red Sled
– Painted Wooden Toy Train Set
– Fancy Gold Holly Berries Mix
– Large Silver Reindeer Pendant
– Advent Calendar Tags Ribbon Set
– Christmas Trees Collage Sheet
– Faux Metal Number Plates 1 to 25
– Wired Pine Needle Stems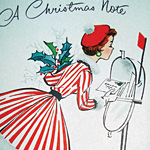 PLUS (not shown in the photos) I'm including BOTH of the new sugary collage sheets by Teri Calia: Sweet Christmas Collage Sheet and Yummy Vintage Christmas Collage Sheet!

To enter the Advent Trims & Toys Giveaway drawing all you have to do is leave a comment BELOW on this blog post TODAY OR TOMORROW (the deadline is 11:59 pm PST, FRIDAY, November 13, 2015)! And tell me: Are you making an advent calendar? And/or: what would you make using all of the items in today's Giveaway?
Don't forget to leave your (hello! correct) email address, too, so I can contact the winner; your email address does not need to be made public. Note: I'm offering free shipping, too, but only within the USA. International shipping will still apply.
Please be patient! Spammers try to post crap here a lot so comments are moderated. So if you don't see your post in the comments section, be patient and check back in a few hours before re-posting it, please!
After midnight, I'll randomly pick the winner (via Random.org). So check your mailbox on Sunday morning to see who won and for the next Giveaway and Newsletter!
Hey, who won the Christmas Tags Kit, Box & Dividers Giveaway? That would be Luanne Shoup!
Congratulations! Check your email for more info.

Posted by Leslie, November 12th, 2015