Note: most of the links on this post no longer work, as we moved to a new Web site in 2018. But you can try searching on the same names (as links below) on the new site.

Wheee! It's just a day after Halloween and we've got beautiful Christmas artwork, TWO kits, the new A Victorian Christmas collection, AND a swap! So this will be brief but filled with eye candy!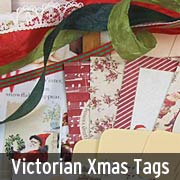 First, a new kit: Victorian Christmas Tags. This kit started with an idea for creating 25 tags in pockets that could be clipped up on a ribbon as an impromptu Advent calendar banner (or "housed" in a desktop box to contain them a bit more… and the same box could be used for displaying Christmas cards, too).
And as you can see in Design Team Member Kristin Batsel's festive artwork, my idea for tags in pockets (in a box) has materialized! (I had dividers with tabs made to work in the same box rotated 90 degrees, but I love the wide display that Kristin made, too.) Note: the box and the dividers are not included in this kit, but are sized to work with the tags and library card pockets that are in the kit.
More info on the Victorian Christmas Tags Kit page.

And more artwork! Next up: a lovely shadowbox by Teri Calia, using the new Advent Calendar Shadowbox! This is a flat kit to put together an adorable wooden shadowbox with a central area (8″ x 8″) for building a scene and 25 cubbies to include little treats for each day of Advent.
Note: 24 cubbies surround the central area, and the 25th is a floating box (you can place it anywhere around the circumference of your central scene you'd like (maybe in the corner… maybe centered on the bottom edge, under a tree… you'll need to decide and glue it in place, but the placement is up to you).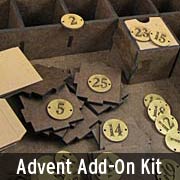 You can see how Teri chose to place the last cubby, under a snowy hill in the bottom right corner. I can't begin to imagine where the Design Team will be hiding that last box in their upcoming projects.
There are also related pre-cut drawers, a new collage sheet AND a kit… more info on the Advent Calendar Shadowbox page.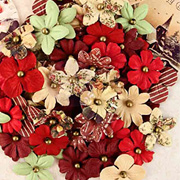 Next up: a Christmas Tags Swap! If you're a kit subscriber, your November kit already has everything you need to participate in this swap. If not, you can buy and kit at a discount (with return postage) on the swap page. (That's where subscribers can sign up for the swap, too.)
Gorgeous swap samples by Rhonda Secrist Thomas are below. See more Design Team swap samples on the swap info page and in the Gallery.
And before I tell you (briefly!) about today's Giveaway: there are bunches of bright and Christmasy new items (like those wee flowers at left), so please forgive my haste and check out the "What's New" section to peruse them on your own.


Hooray for the Advent Calendar Kit Giveaway!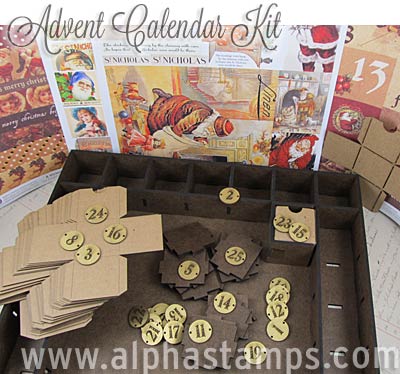 No surprise here! Today's Giveaway is the Advent Calendar Add-On Kit

AND I'm including one of the Autumn Tea Gift Tags Collage Sheets announced in last Sunday's newsletter — and that FREE gift is still on offer! FREE for all orders, regardless of order size! (A whole collage sheet… not just the 2 tags in my snippet!) More info!

To enter the Advent Calendar Kit Giveaway drawing all you have to do is leave a comment BELOW on this blog post TODAY or TOMORROW (the deadline is 11:59 pm PST, MONDAY NIGHT, November 2, 2015). AND tell me: Where would you hide that 25th cubbie?
Don't forget to leave your (hello! correct) email address, too, so I can contact the winner; your email address does not need to be made public. Note: I'm offering free shipping, too, but only within the USA. International shipping will still apply.
Please be patient! Spammers try to post crap here a lot so comments are moderated. So if you don't see your post in the comments section, be patient and check back in a few hours before re-posting it, please!
After midnight, I'll randomly pick the winner (via Random.org). So make sure to check back to see who won! And check your mailbox on Thursday morning for the next Giveaway and Newsletter!
Posted by Leslie, November 1st, 2015