Before Miz Bella tells you about Laura Carson's amazing Ghostmore Manor, there's a new FREE gift! Laura Carson graciously allowed me to borrow some trims & small images from her new Ghostmore Manor Digital Set!!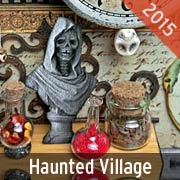 This Ghostmore Manor Gift Sheet is FREE for all orders, regardless of order size (now through October 7th)! If you place an all-digital order, I'll send you the Gift Sheet as a pdf file. See below for 4 variations of sets you can purchase to get Laura's new images (with or without the custom chipboard houses)! AND, don't forget: there's a Haunted Village Intro Page that has all the current links, and will continue to be updated through September and October!


Design Team Member Laura Carson is wrapping up her annual Halloween Extravaganza with Ghostmore Manor. Laura saved the best for last and I don't think you'll be disappointed with the Manor! (See below for wide preview photos of the "outside" and the "inside" of the manor's standing facades.)
"Every village has its haunted mansion, a place that is whispered about and strangers are warned not to go near. For Grimsley Village it's Ghostmore Manor. Some say it's cursed other say it's full of dark magic. Even the dastardly Cadaver and Diggers Undertakers avoid Ghostmore.
"But don't be afraid as I know the mistress of Ghostmore, Isabella who comes from a long line of witches, many of whom are pictured on the walls (that portait shown above is from the Saucy Witches Collage Sheet). There is no dark magic here, only light. Isabella isn't the least bit bothered by the gossip in town and dismisses the townspeople as 'nothing but a bunch skeletons and zombies'."
That sounds JUST like the town I live in; skeletons and zombies clacking and gossiping away over their sweet tea and arsenic…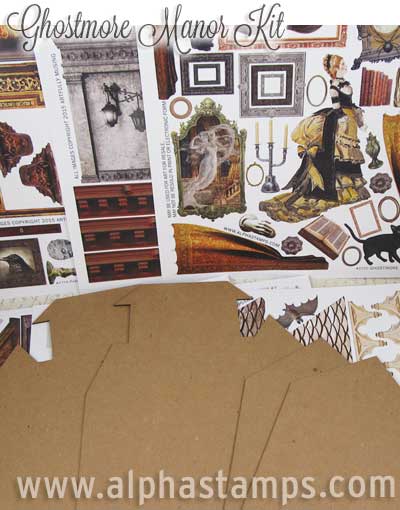 Laura has created a 3D Manor out of the Ghostmore Manor Kit that is phenomenal! (Note: the kit includes all SEVEN collage sheets from the new Ghostmore Manor Collage Sheet Set.) Look at the stairs going up to the front door that Laura created out of Blank Matchboxes; I love how they join up at the top. Also, how about that fancy Wrought Iron Fence and Gate? (See the wide photo below for the fence; the little close-up of the stairs at left is once you've entered the grounds so the fence is behind you.) And once you peek inside of the Manor, there is a whole world waiting for you to explore.
Here's a link to all of Laura's Ghostmore Manor Supplies and plan to spend some time drinking in all the details from the video tutorial on Laura's blog post!

Posted by Leslie, October 1st, 2015