Before TWO new Halloween projects, an announcement and a couple quick reminders:
A message from Laura Carson: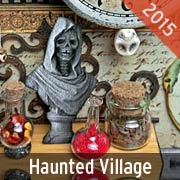 "Sorry all but there is going to be a slight delay in Part 3 of the Haunted Village Event. The technology monster struck this past week and I lost the first half of my video tutorial. So, I'm working to get everything back on track and will post Part 3 on October 1. I think I've saved the best for last and I hope you all think so too!"
In the meantime, see more artwork by entrants in Laura's contest.
And, remember: there's a Haunted Village Intro Page that has all the current links, and will continue to be updated through September and October.
Note: it's our busiest time of year and we're working extra days and hours to get all your orders shipped. If you have an urgent request, please contact John in customer service. Thanks.


Design Team Members Nichola Battilana and Caroline Ouzts-Hay have THREE spooky cute Haunted Houses for you to cluck and cackle over!
Nichola has TWO Haunted Houses, that both have Adorable Little Imps on them that I'm sure all have horrible little habits; like tripping their nanny down the staircase or poisoning their parents when they don't get their way. By accident, of course.
[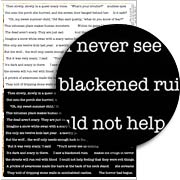 Aside: See all those fabulous snippets of text on Nichola's houses? (And a bit hard to read at that size, but the house in the bottom left says: Then slowly, slowly in a queer scary voice, "What's your trouble?") WELL, Teri Calia was inspired and made a VERY DARK AND CREEPY new text collage sheet: Creepy Words. And it includes the text from Nichola's artwork, too!]
Back to Nichola's artwork: The iron gates are quite fabulous with their "spider webs" and Nichola shares a secret for how you can make them on her blog.
Nichola's Haunted Houses Supply List


Now everyone has skeletons in their closets; but here in the South we like to parade them out on the front porch for everyone to see; one way or another! Caroline's Hidden Skeleton Haunted House has a hidden skeleton right out in front — it looks pretty amazing when lit up from behind, don't you think? (See the narrow photo at left.)
"I went back to some of my old ways and favorite crafting tools, ICE Resin and used it for the cut outs (windows and skeleton opening) and filled them with the resin.
[Another aside: see Caroline's tutorial on how to use ICE Resin to create transparent windows.
"The window features an image from the A Witchy Encore Collage Sheet. She is backed with a bit of decorative paper so she shows pretty when looking from the other side. Iridescent Glass Micro Beads are sprinkled onto the surface of the resin to try to make the "glass" look older.
"To create the window frame I added Textured Sand Paste to a Black Chipboard Window Frame. Let that dry, meanwhile I made the window arch (not really an arch and alas using a sold out mold, sorry. Something from the Architectural Flourishes would work.) and then painted everything."
Caroline's Hidden Skeleton Haunted House Supply List
To see how Caroline's tutorial and more pictures, visit her at her blog.
Posted by Leslie, September 27th, 2015