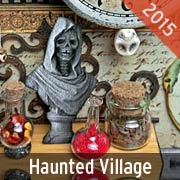 Before TWO new Halloween projects, here are a couple quick reminders: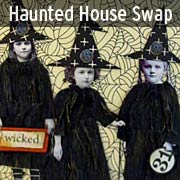 FIRST, Laura Carson's Haunted Village Halloween Event is live!! And not only that: today is PART 2! See more info below. Also, there's a new Haunted Village Intro Page that has all the current links, and will continue to be updated through September.
Are you participating in the Haunted House Book Swap?? Sign up by Monday, September 21st — TOMORROW. Artwork postmarked by Monday, October 26th.
Note: it's our busiest time of year and we're working extra days and hours to get all your orders shipped. If you have an urgent request, please contact John in customer service. Thanks.


Design Team Member Shanna Shands brings you an easy technique for adding texture to your projects using the Haunted House Kit and Add-On Kit.
"There is a new and HAUNTED Kit over at Alpha Stamps! I must say the possibilities with this are endless AND there is a Haunted House Swap going on too!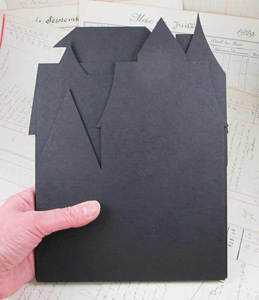 I started with some gesso because you never know what you want to paint; then I got this amazing idea to use some of the stencils to add texture. So I masked off the roof line and got to adding texture.

I used Heavy Gesso for this particular house with the Brick Wall Stencil and then Stone Wall Stencil for another."
Shanna also used the Happy Bat Tavern Set Download and the Strange People Collage Sheet, both which are from Laura Carson's Halloween Haunted Village.
Shanna's Haunted House Supply List
Check out Shanna's blog to see how she colored in the brick and stone facades!


Speaking of Laura's Halloween Haunted Village, guess what? It's time for Part 2!!
The Halloween Haunted House Event continues with Part 2! It's time to check out some of the other fine businesses in Grimsley Village.
First stop is the Black Cat Emporium where you'll find unique, strange and sometimes ghoulish items. If you want to stay the night you can always get a room at the Buzzard Bed & Breakfast and should something unfortunate and final occur, Cadaver & Digger Undertakers will take care of everything.

Before you leave be sure to stop at the Village Square where you can say hello to the Mayor.
Laura never disappoints, and my favorite from Part 2 of the Halloween Haunted Village is the Cadaver & Digger Undertakers. As most of you know by now I have a great love for humor in the macabre and details. Laura captured it with Cadaver & Digger Undertakers; right down to the "Frigid" embalming fluid. (Which happens to really be the real name of an embalming fluid!)
"I see Mr. Cadaver is directing one of his zombie minions. There are rumors in the town that Cadaver and Digger are digging up more than they are burying. I suspect they are the ones supplying Ghoul and Sons Chemists with the skeletons.

You don't suppose that this is where the Retching Toad Eatery's food comes from??? The place looks a bit torturous."
How cute is the zombie "minion" carting around a freshly dug up body? I wonder if I could get a zombie minion to come and clean the boys' room for me? I'd do it myself, but I'm afraid I'd catch a horrible, very unflattering, unidentifiable virus and turn into a zombie myself.
Here's a partial list of supplies for the Cadaver & Digger Undertakers:
– Cadaver & Digger Undertakers Collage Sheet
– Brick Wall Stencil (hm… kind of a theme today)
– More Spooky Windows Collage Sheet
– Miniature Snow Shovel
– Creepy Crawly Scrapbook Paper (with all that lovely sick green on the buildings below)
– Metal Birdcage with Tealight Holder (who is in that cage over on the left side of the wide photo below?)
– Colorful Brain Erasers
– Mini Chipboard Gothic Fence
and click here for all of the supplies with photos and links.
Drag yourself, falling body parts and all, over to Laura's blog to see more Halloween Haunted Village pictures, and of course fabulous tutorials so you can make your own haunted village!

Posted by Leslie, September 20th, 2015