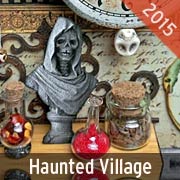 Before new Halloween artwork (and new, tiny Halloween (and Christmas!) goodies), some announcements: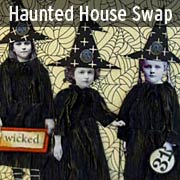 FIRST, Laura Carson's Haunted Village Halloween Event is live!! See last Sunday's newsletter for an introduction, the Haunted Village Event Supplies Section, and Laura's site for the full experience! PLUS, congrats to Shelby Pizzarro for winning the Collage Sheet Giveaway!
Next, are you participating in the Haunted House Book Swap?? Sign up by Monday, September 21st. Artwork postmarked by Monday, October 26th.
The Tiny Halloween Gift Sheets announced in last Thursday's newsletter is still on offer! FREE for all orders, regardless of order size! See a photo down in today's Giveaway section. More info
Note: it's our busiest time of year and we're working extra days and hours to get all your orders shipped. If you have an urgent request, please contact John in customer service. Thanks.

So cute!!! The first of our TWO Halloween-themed projects today is by Kristin Batsel: Halloween Tic Tac Toe!
Kristin cleverly made fit a tic tac toe game in a box (hidden on the back of one of the houses from the Haunted House Black Chipboard Set)… and the game pieces are bats and mummies!
Here's a bit from Kristin's blog post:
There are two things in this crafty world that I really love: Halloween, and toys. Oh, and peg dolls, so make it three. This month at Alpha Stamps, we're doing haunted houses, and after my adventure in making a box last month for my Zombie Cars, I thought it would be fun this month to try my hand at a box that holds a game of tic tac toe.
The lid of the box is the haunted house part, which can be used as a decoration if you don't feel like playing the game. I kept the top relatively flat, but it does have some fun dimension, like the cat eye on the turret, the fuzzy felt bats, and the acrylic black cat on metal fence at the front. The fence is attached with some foam tape so it stands away from the house a bit.
Kristin shows how to make little cubbies for the game pieces, so it looks like the box was made for them. (And explains making the game pieces from tiny pegs.)
Here's a partial list of supplies:
– Tiny Felt Black Bat Stickers (New!)
– Tiny Wooden Peg Dolls
– Haunted House Kit (note: the house shape Kristin used is also in the kit)
– 5×6 Kraft Shadowbox (New!)
– Miniature Rusty Picket Fence
– Moonlit Pretend Halloween Icons Scrapbook Paper
and click here for all of Kristin's supplies with photos and links.
Read more in her Halloween Tic Tac Toe! blog post.

So much is going on in Katie's A Lovely Death artwork, I decided to focus on this small coffin (exquisite in its own right)!
(This is actually Katie's submission from the Cemetery Kit. We've got a little time delay with Katie being in Singapore, but that kit is still perfect for the Halloween season.)
Such a lovely work of art from little bits of paper and glue! (Ok… maybe some wood and metal, too!) I love how the different elements are united (and made to look richer) by the tight palette of colors and use of Silver Gilder's Paste.
Of course, there is much more to peruse in Katie's beautiful shrine. Here's a bit of text from Katie herself:
Allow me to present something a little off, perhaps quite dark to some. My youngest sister has been swearing at the kind of work I've been doing up lately just because she suddenly finds me too morbid and depressing. Haha… As I promised that I'm still in my most right sense of mind, I'm just trying to bring some sweetness out from the very dark – a lovely death…
While reading the papers one fine afternoon, a wedding picture featuring a couple using a coffin as part of their wedding photography concept caught my attention. They are undertakers by profession. I love this very cool idea despite its morbidity! With my admiration of Tim Burton's melancholic fantasies, I started to have this wild idea of doing up a skeleton wedding couple…
And we are all grateful for Katie's wild ideas!
Here's a partial list of supplies (emphasis again on just that little coffin):
– Paper Mache Coffin Box
– Mixed Silver Filigrees
– Wood Skull Cut-Outs
– Gilders Paste – Silver
and click here for all of Katie's supplies with photos and links.
Read more in her A Lovely Death blog post.


Hooray for the Halloween Tic Tac Toe Giveaway!
Nice group! Everything in today's Giveaway is drawn from Kristin's Halloween Tic Tac Toe Supply List:
– 12mm Glass Cat Eyes
– 5×6 Kraft Shadowbox
– Haunted House Kit
– Miniature Rusty Picket Fence
– Moonlit Spider Web Network Scrapbook Paper
– More Skeletons Out of the Closet Collage Sheet
– Old Doors Collage Sheet
– Scary Pumpkins Collage Sheet
– Tiny Felt Black Bat Stickers
Plus one of those cute little Tiny Halloween Gift Sheets

To enter the Halloween Tic Tac Toe Giveaway drawing all you have to do is leave a comment on this blog post TODAY or TOMORROW (the deadline is 11:59 pm PST, Monday Night, September 14, 2015. AND tell me what you'd make from this collection! A Halloween Tic Tac Toe game of your own? Or can you think up another project that would use all of these items?
Don't forget to leave your (hello! correct) email address, too, so I can contact the winner; your email address does not need to be made public. Note: I'm offering free shipping, too, but only within the USA. International shipping will still apply.
Please be patient! Spammers try to post crap here a lot so comments are moderated. So if you don't see your post in the comments section, be patient and check back in a few hours before re-posting it, please!
After midnight, I'll randomly pick the winner (via Random.org). So make sure to check back to see who won! And check your mailbox on Thursday morning for the next Giveaway and Newsletter!
Hey, who won the Moonlit & Haunted House Giveaway? That would be Jackie Neal! (And she replied to my question "In addition to the 130 collage sheets in the Halloween Collage Sheet section, what else would you like to see? More cute kids in costumes? More scary ghouls? What images would you like to make Halloween art with?": holy moly!! you have soo many sheets already to choose from! But I guess I too would like various sizes of skellies, old movie monsters: Creature from The Black Lagoon, The Mummy, Frank, etc. Oh, and I love DOD – so more of that!! Bwaaaaaaahaahaaaa!)
Posted by Leslie, September 13th, 2015