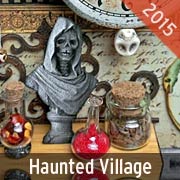 Before Miz Bella introduces some fun Haunted House artwork by Lora Mahaffey, here are a couple quick reminders: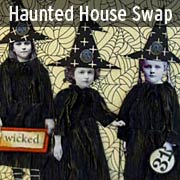 FIRST, Laura Carson's Haunted Village Halloween Event is live!! See last Sunday's newsletter for an introduction, the Haunted Village Event Supplies Section, and Laura's site for the full experience!
NEXT, a new FREE gift, it's all about Halloween! Check down in the Giveaway section of this newsletter for more info.
LAST, are you participating in the Haunted House Book Swap?? Sign up by Monday, September 21st. Artwork postmarked by Monday, October 26th.

Design Team Member Lora Mahaffey brings us a cackle and a hoot with What's In Your Basement, her offering for the Haunted House Kit and Add-On Kit.
"Looks like a little Halloween party is going on on the left side. Some one is reading fortunes… and what's that creepy little clown doing? Maybe he's on his way down to snoop around the basement. If he is, he's in for a big surprise."
How cute and creepy is Lora's house? I'm loving the Moonlit 12×12 Collection Kit that she used on the houses, and also the clowns from the Moonlit Collection Images. Will have to make sure I add that collection to my next order! Also used on the houses is the Rare Oddities Scrapbook Paper.
Speaking of my next order, I am DEFINITELY going to be pre-ordering the NEW Distress color: Wilted Violet! Tim Holtz says: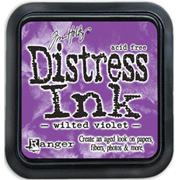 "A bouquet off possibilities await with the latest addition to the distress palette; available in ink pad, reinker, paint, stain, spray stain, and marker. Check out the video below to see the new distress wilted violet color. This vibrant hue of purple is the color many of you have been asking for month after month…" More info below.
Back to artwork at hand (!), Here's the What's In Your Basement Supply List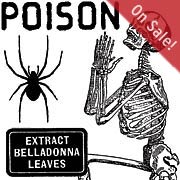 Visit Lora's blog for more pictures and details. And/or see more photos in the Gallery.
One more little Halloween oddity: by request, a Dissection Collage Sheet:
Those proud Victorian doctors… happily posing with their cadavers… hm. Anyway, makes for a welcome, ghoulish addition to Halloween artwork. This is macabre… you are warned.
Oooh! And speaking of Halloween, Leslie just put the entire Halloween Rubber Stamps section On Sale!


Hooray for the Moonlit & Haunted House Giveaway!
Ooo, nice! Short and sweet on the list of items, but these are big items:
– Moonlit 12×12 Collection Kit (1 each of 12 double-sided cardstock sheets PLUS 3 sheets of cardstock stickers)
– Haunted House Kit (3 collage sheets, 2 scrapbook papers, 1 black chipboard house, 1 black chipboard window overlay)

AND, a new FREE gift! I kinda went crazy looking at our large stock of Halloween Collage Sheets and picked out a few that work well shrunk down to 1/4 size! Tiny Halloween Gift Sheets: one of these tiny wonders is FREE for all orders, regardless of order size! If you place an all-digital order, I'll send you a special Halloween Gift Sheet as a pdf file.
(Psst, the images shown are from the Halloween #2, German Expressionist Horror, and Antique Games Collage Sheets.)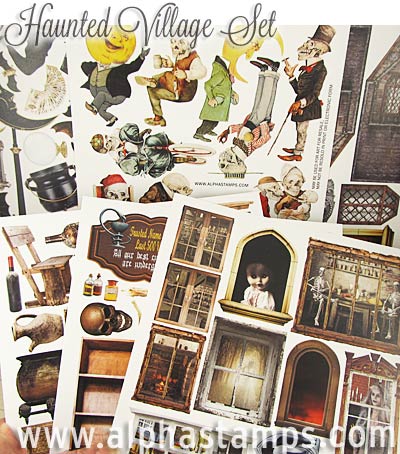 To enter the Moonlit & Haunted House Giveaway drawing all you have to do is leave a comment BELOW on this blog post TODAY OR TOMORROW (the deadline is 11:59 pm PST, FRIDAY, September 11, 2015)! AND tell me: in addition to the 130 collage sheets in the Halloween Collage Sheet section, what else would you like to see? More cute kids in costumes? More scary ghouls? What images would you like to make Halloween art with?
Don't forget to leave your (hello! correct) email address, too, so I can contact the winner; your email address does not need to be made public. Note: I'm offering free shipping, too, but only within the USA. International shipping will still apply.
Please be patient! Spammers try to post crap here a lot so comments are moderated. So if you don't see your post in the comments section, be patient and check back in a few hours before re-posting it, please!
After midnight, I'll randomly pick the winner (via Random.org). So check your mailbox on Sunday morning to see who won and for the next Giveaway and Newsletter!
Hey, who won the Haunted House Kits Giveaway? That would be Laural!
(And she replied to my question "Tell me either (or both): Are you joining the swap? Which establishment in Laura's Haunted Village do you find most inspiring (and why)?": My imagination is running wild!)
Posted by Leslie, September 10th, 2015