Oh my. Oh my, oh my, oh my. There is so much to cover today — I'll do my best to organize it into small, bite-sized morsels. So here's the short list of what's below.
– New Haunted House Kits
– Laura Carson's Haunted Village Halloween Event is live
– Haunted House Book Swap
– Haunted House Kits Giveaway
– Finally, the Fruit Crate Labels Gift Sheet announced in last Thursday's newsletter is still on offer! FREE for all orders, regardless of order size! And did you see Teri Calia's adorable 24 Carrot Farms Produce Stand that inspired this gift sheet? More info


TWO Haunted House Kits — and BIG Collage Sheet Set
This month's kit is a Haunted House! There is an exclusive chipboard house and chipboard window overlay to get you started (and 2 full-size scrapbook papers as possible backgrounds), plus 3 collage sheets with windows and witches that could be inside.
And, I've put together TWO additional kits:
– Haunted House Add-On Kit
and
– Haunted Village Collage Sheet Set (this is HUGE! ELEVEN collage sheets!)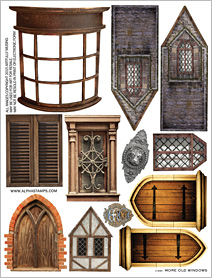 Back to this month's kit, here are some highlights:
– More Old Windows Collage Sheet. The sheet includes gorgeous old windows, sized to match the windows in the Black Chipboard Windows Set for Haunted Houses. Exclusive to Alpha Stamps by Artfully Musing.
– A black chipboard house and black chipboard window overlay (one each from the Large Haunted House Chipboard Set and Black Chipboard Windows Set for Haunted Houses).

Laura Carson's Haunted Village Halloween Event!

The waiting is over… it's time for Laura Carson's Annual Halloween Event, and this year is a Halloween Haunted Village!
"Plan to spend your day shopping at the The Thrifty Witch. Then it is off to the Grizelda's for a new quaff and on to the Retching Toad Eatery for dinner. Ring in midnight at the Happy Bat Tavern. In the morning (if you survive), on your way out of town stop at Ghoul & Sons Chemist for whatever ails you."
If you survive, indeed! You'd never survive me telling you about each and every one of Laura's incredible creations, so I'm picking my favorite one to tell you about; Ghoul & Sons Chemist.
(And note (in the photos at left and right) that Laura has used one of the house shapes from the Haunted House Black Chipboard Set as a building facade, and has built scenes on both sides of the chipboard — for the outside and the inside of the store.)
"A trusted name for 500 years and all of their best customers are underground. You can see the boys are hard at work in the lab.

"The local constable is out for a stroll and inside Mr. Ghoul is busy creating who knows what and I think he's got a skeleton in his cabinet, maybe a secret ingredient of one of his potions."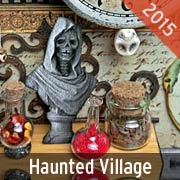 What a choice of potions you have to choose from! Look at that amazing cabinet. I love how Laura filled it up with potion bottles, spell and potion books, the skeleton bones peeking through the bottom of the cabinet, and the ghoul ready to make you whatever you need… for a price of course! Every good ghoul has a working table that is shaped like a coffin as well, don't you think? As well as making sure to have a fabulous poster of an Ouroboros hanging close by.
See Laura's Ghoul & Sons Chemist supply list.
And you can read more about Laura's projects (grab a cuppa first!) on her blog post.
Here are the supply list links for the other stores in Part 1:
– The Thrifty Witch
– Happy Bat Tavern
– Grizelda's House of Beauty
– The Retching Toad Eatery


Haunted House Book Swap!

Spooky Haunted House Books! Paint, mist, distress, glitter, add bats, cats, ghosts, ghoulies, creepy old dolls, witches, monsters or skeletons, use stencils, or whatever tickles your muse's fancy!

Requirements:
Each of your Haunted House Pages must include an Alpha Stamps rubber stamp or collage sheet image. You must also use the 4 chipboard house shapes from the Large Haunted House Chipboard Set, but they're supplied after you sign up!

Deadlines:
Sign up by Monday, September 21st (2015). (The cost includes the 4 Haunted House Pages you'll need plus the cost of postage to send artwork from other swappers back to you. AND you'll also receive a little gift package of spooky bits to get you started with your decorating!)
You can read more about Shannon's Haunted House Book pages (like that cutie at right) on her blog post.
And you can read more about Rhonda's Haunted House Book pages (like those below) on her blog post.

Posted by Leslie, September 6th, 2015