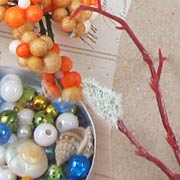 FLASH SALE! In honor of all that pearly/iridescent shininess in Laura Carson's artwork, the ENTIRE Paint, Pens, Colorants section is On Sale for 25% off! That includes lots of options to beautify a mermaid's home, like Liquid Pearls and Lumiere Metallic Acrylic Paints (including some brand new colors of each)! Sale ends Wednesday night, June 25th.
AND there's a new Mermaid Tail FREE Gift Kit, too! Cute! The kit includes one of the Die-Cut Chipboard Mermaid Tails PLUS some pearls, tiny seashells and beads in a ocean-y palette and some sprigs of faux foliage to paint or glitter as seaweed (to try your hand at recreating the pearlescent Mermaid Gardens artwork by Laura shown below)! More info on the FREE kit.


There are two mermaid-themed projects for you today by Design Team Members Laura Carson and Rhonda Secrist Thomas. Both projects are intricate (and colorful for the first day of summer!) and very detailed so let's get to it!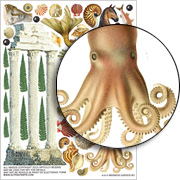 Laura has created three lush Mermaid Gardens along with FOUR NEW Mermaid-Themed Collage Sheets! While they're all quite fabulous, my favorite collage sheet out of the four is Mermaid Garden #2 with the amazing Sea Horse — and the diving helmet that Laura used as a home for the adorable little Ceramic Octopus Bead (see bottom of large photo at right)!
From Laura's step-by-step tutorial:
"The base of each of the 3 pieces is made from a Die-Cut Chipboard Shell. I used various luminescent and iridescent Lumiere and Liquid Pearl paints to color the shells. A great way to purchase small quantities of multiple Lumiere colors is through the Exciter Pack, which includes some of the colors I used and others that would work well for a mermaid or other jeweled colored theme.
"
For the pink shell (shown finished at right, and in-progress at left), I started by painting the center with Avocado Liquid Pearls. I then painted the area above the avocado with Flamingo Liquid Pearls. Above the flamingo liquid pearls, I painted the area all the way to the edge with Petal Pink Liquid Pearls (New Color). I dry brushed the edges with White Opal Liquid Pearls.
"I painted the die-cut chipboard coral first with Pearl Violet Lumiere (New Color) and then dry brush it with Flamingo Liquid Pearls. In addition to the chipboard coral, I added coral and seaweed images from the new collage sheets. And that coral image at left is embellished with white pearl micro beads."
Here is the supply list for all 3 pieces in Laura's Mermaid Gardens. Visit Artfully Musing to see more photos and tutorial details by Laura!

Next up: Rhonda's project is called The Life of a Mermaid Can Be Dangerous! She used the Mermaids Kit and altered an old cigar box to create a stunning display that's sure to lure any young Sea Green Mermaid into a nasty sea elf's trap!
"So many little treasures, you can understand why I made such an elaborate piece. Cheetah Shells, beautiful Sea Glass, Tiny Octopus! and these marvelous Iridescent Glass Micro Beads just add so much mystery with the way they capture the light. I want to cover my studio walls with them!"
Head on over to Rhonda's blog to see how she created all of the texture on the outside of the cigar box, and how she used the new Spellbinders Embossing Folder, Shell Beauty in and on the box as well!

New Products – ALL On Sale! View All New Items
Funny… those Gilded Lily Papers are a perfect match to the colors in Laura's new collage sheets…

Hooray for the Mermaid Garden Giveaway!
I started with these goodies from Laura's Mermaid Gardens (note: that's a link to photos of ALL the supplies… even more than this list):
– Mermaid Garden #1 Collage Sheet
– Mermaid Garden #2 Collage Sheet
– Mermaid Garden #3 Collage Sheet
– Mermaid Garden #4 Collage Sheet
– Die-Cut Chipboard Scallop Shell
– The Sea Fiber Set
– Ceramic Octopus Bead
– Lavender/Pink Bead Mix (just put on sale!)
– 1mm Micro Beads – Royal Blue ClearMermaid Garden Giveaway
– 1mm Micro Beads – White Pearl
– Clear Acrylic Bead Sprays – Asymmetrical
– Iridescent Glass Micro Beads in Bottle
– White Pearl Mix in Tin
– Mixed Flat Back Pearls (hiding in that little square paper mache box … you'll get that box, too)
Then, a sheet of the new Boardwalk Drift Scrapbook Paper (2 sheets are shown in the top of the photo… love that seahorse pattern on the flipside — or is that the front side? that rough, faded summer wood pattern is pretty cool, too.)
And one of the Mermaid Tail FREE Gift Kits!
To enter the Mermaid Garden Giveaway drawing all you have to do is leave a comment on this blog post TODAY or TOMORROW (the deadline is 11:59 pm PST, Monday Night, June 22, 2015. AND tell me which line of products in the Paints/Colorants Section you like working with best… could be Liquid Pearls or Lumiere Metallic Acrylic Paints or Distress Markers or ?? Here's a link to the whole section to take a look.
Don't forget to leave your (hello! correct) email address, too, so I can contact the winner; your email address does not need to be made public. Note: I'm offering free shipping, too, but only within the USA. International shipping will still apply.
Please be patient! Spammers try to post crap here a lot so comments are moderated. So if you don't see your post in the comments section, be patient and check back in a few hours before re-posting it, please!
After midnight, I'll randomly pick the winner (via Random.org). So make sure to check back to see who won! And check your mailbox on Thursday morning for the next Giveaway and Newsletter!
Hey, who won the Sand, Shells & Sea Giveaway? That would be Elizabeth H! (And she commented: "I love all the stuff. I would make a mermaid shadow box.") Please check your email for my message about getting your mailing address.

Posted by Leslie, June 21st, 2015