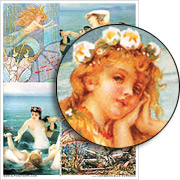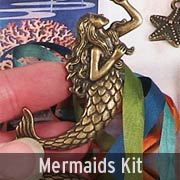 A Summer/beachy sale reminder before jumping to the new things: because of this month's Mermaids Kit, the ENTIRE beach theme section is on sale; including collage sheets, rubber stamps, charms, ribbons, paints, stains… over 150 summer products! ON SALE through TONIGHT, June 18th (and remember: all the collage sheet are on sale, too). FREE Beach-Themed Collage Sheet with every order! Pick your own from this large group or Leslie will pick one for you (just type your beach collage sheet choice into the comments section when you check out). That sheet at right is the Beachy Postage & Words Collage Sheet… just one of 47 to choose from! (And one used by Caroline in her artwork today!)


Design Team Member Caroline Ouzts-Hay used the Mermaids Kit to create an ethereal Mermaid Faux Stained Glass Window.
"This piece was inspired by the absolutely amazing Sea Glass Sets now available at Alpha Stamps. I used a bit from each color set; Blue and White, Green and Yellow, and Red and Brown.
Chipboard bits are one of my favorite things to work with and these were sea-themed (as you know anything ocean related is one of my favorite things to create with). The gold piece is the Large Coral Die-Cut Chipboard. The green bit is the Seaweed Stem Die-Cut Chipboard, and the blue pieces are from the Small Coral Die-Cut Chipboard Set. I painted them using Lumiere Paints – Metallic Gold, Pearl Blue and Halo Blue Gold.
The finishing touch, that I just couldn't resist, is the Large Bronze Mermaid Pendant Charm."
If you haven't ever used the Lumiere Paints, you really should give them a try. Gorgeous metallic paint that spreads smoothly and stays flexible. Lumiere's are a perfect choice for fabric and leather, but also stunning on surfaces like paper, photos, wood, shrink plastic and even Styrofoam. The high pigmentation provides excellent coverage, even on dark backgrounds. Can't decide on a color to try out? Then try out the Lumiere Metallic Acrylic Paint – Exciter Pack — it has NINE tubes to try out! Including my most favorite of all Lumiere Paints ever – Halo Pink Gold!
For your consideration is the Mermaid Faux Stained Glass Window supply list. Plan on visiting Caroline's blog to learn about the techniques she used to create the rest of the Mermaid Faux Stained Glass Window.


Hooray for the Sand, Shells & Sea Giveaway!
I started with these goodies from Caroline's Mermaid Faux Stained Glass Window (note: that's a link to photos of ALL the supplies… even more than this list):
– Sea Glass – Red & Brown (a whole bag… not just the few shown!)
– Large Bronze Mermaid Pendant Charms
– 1/2 Inch Bronze Starfish Charms
– Antique Brass Conch Shell Charm
– Bronze Octopus Charms
– Vintage Mermaids Collage Sheet
– Caribbean Blue Mermaids Collage Sheet
– Cheetah Shell Mix (a whole bag… not just the few shown!)
– Summer Sea Silk Ribbon Set
Then these NEW items:
– DIY Kraft Mini Envelopes Set
– Wood ATC Box with Slide Lid
And a couple more beachy things:
– Coarse Sand in Glass Bottles
– Iridescent Rainbow Spheres in Tube
And finally, ALL of the items just put on Clearance:

– Dimensional Mini Seashells (this one is shown in the main photo… the others shown at right)
– 30mm Black Sewing Buttons
– Lightweight Gold Box Clasp Set
– Gift Box Charm – Corner Loop
– Baby Rattle Charm
– Bird Nest Charm – Antique Silver
– Ornate Curved Floral Brass Filigree

To enter the Sand, Shells & Sea Giveaway drawing all you have to do is leave a comment BELOW on this blog post TODAY OR TOMORROW (the deadline is 11:59 pm PST, FRIDAY, June 19, 2015)! AND tell me what you'd make with this group of items!
Don't forget to leave your (hello! correct) email address, too, so I can contact the winner; your email address does not need to be made public. Note: I'm offering free shipping, too, but only within the USA. International shipping will still apply.
Please be patient! Spammers try to post crap here a lot so comments are moderated. So if you don't see your post in the comments section, be patient and check back in a few hours before re-posting it, please!
After midnight, I'll randomly pick the winner (via Random.org). So check your mailbox on Sunday morning to see who won and for the next Giveaway and Newsletter!
Hey, who won the Starry Giveaway? That would be Helen! (And she commented: "I love the clown valentine collage sheet. Many clown items have an 'ick' factor to me, but these are so adorable!") Please check your email for my message about getting your mailing address.
Posted by Leslie, June 18th, 2015