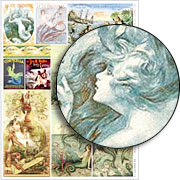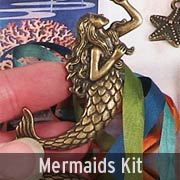 A Summer/beachy sale reminder before jumping to the new things: because of this month's Mermaids Kit, the ENTIRE beach theme section is on sale; including collage sheets, rubber stamps, charms, ribbons, paints, stains… over 150 summer products! ON SALE through Thursday night, June 18th (and remember: all the collage sheet are on sale, too). FREE Beach-Themed Collage Sheet with every order! Pick your own from this large group or Leslie will pick one for you (just type your beach collage sheet choice into the comments section when you check out). That sheet at right is the Beachy Postage & Words Collage Sheet… just one of 47 to choose from! (And one used by Nichola in her lovely shrine today!)


Design Team Member Nichola Battilana has two projects for you this week!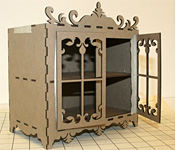 First up is the gorgeous Mermaid Shrine using the Curio Cabinet Shrine Kit. Let's talk about this AMAZING cabinet! It is shipped as a flat kit, and is laser cut from heavy chipboard. Easy to assemble using any type of craft glue (and your choice of paper tape hinges or metal hinges to finish the doors). The finished size is approx 8″ wide x 8-1/2″ tall x 4-1/2″ deep.
As you can see, it is a nice big size to work with — you can take the shelf out as Nichola did and layer up a shrine or diorama inside of it, or leave the shelf in and display trinkets, baubles, or do what I'm going to do with it. Make a little doll house out of it!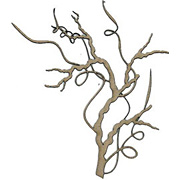 Using images from the collage sheets in the Mermaids Kit, Nichola set them against Coral and Seaweed Stem Chipboard.
"My mermaids that I fussy cut from Mermaids #3 Collage Sheet sit upon painted chipboard coral. Staggering the placement of these pieces helps with the depth perception. On the exterior I've draped Summer Sea Silk Ribbons as a sort of banner. It helps with the dreamy quality and is a bit like fantasy seaweed. A few stamped Brass Scrolls and Adhesive Pearls finish off the the piece with a bit of treasure trove flair."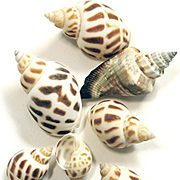 Here is the Mermaid Shrine Supply List. Visit Pixie Hill to find out how Nichola painted the outside of the shrine to match the Unearth Copper Patina Scrapbook Paper that is available in the Mermaids Kit!
The second one, An Utterly Nonsensical Wishing-Go-Round is simply, not for the faint of glittered-heart but sure to make you smile.
Using the Giant Display Spool ( the center column is 7″ tall!) along with the String Alongs – Moon & Stars and the Chipboard Celestial Shape Set Nichola put together a bit of magic and finished it off with just the right amount of glitter. Which of course in our book at Alpha Stamps is — it's never enough. Add a little bit more!
An Utterly Nonsensical Wishing-Go-Round Supply List.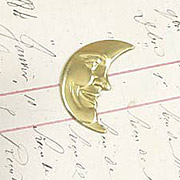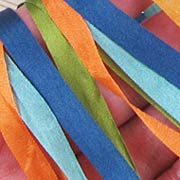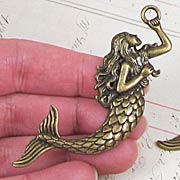 Hooray for the Starry Giveaway! (And a few moons, too!)
I kinda went freeform with this one… starting with a couple of items Nichola used, but then just pulling things I like within the theme And ALL on Sale!
– 3D Star Spacer Beads (New!)
– Bronze Slider Beads – Fancy Stars (New!)
– 1 Inch Brass Star No Loop (New!)
– Star Tinsel
– 18mm Wooden Stars
– 2 Inch Gold Star Ornament
– Rusty Star Ornament Set
– Miniature Star Garland
– Gold Dresden Stars
– Moon & Stars Collage Sheet
– Clown Valentines Collage Sheet
– I've Been Mooned Collage Sheet
– Theatre Clouds Collage Sheet
– Man in the Moon – Raw Brass
– Star Trellis Filigree – Raw Brass
– Etched Star Charms
– Comet Matchbox Label Rubber Stamp (hey, that stamp is On Sale for 25% off!)
To enter the Starry Giveaway drawing all you have to do is leave a comment on this blog post TODAY or TOMORROW (the deadline is 11:59 pm PST, Monday Night, June 15, 2015. AND tell me what you'd make with all of these starry items — or which of them you like best.
Don't forget to leave your (hello! correct) email address, too, so I can contact the winner; your email address does not need to be made public. Note: I'm offering free shipping, too, but only within the USA. International shipping will still apply.
Please be patient! Spammers try to post crap here a lot so comments are moderated. So if you don't see your post in the comments section, be patient and check back in a few hours before re-posting it, please!
After midnight, I'll randomly pick the winner (via Random.org). So make sure to check back to see who won! And check your mailbox on Thursday morning for the next Giveaway and Newsletter!
Hey, who won the Voyages Extraordinaires Giveaway? That would be Maryellen! (And she commented: "Oh a lovely travel composite – I also like it with the folding folder from Tim Holtz from the last giveaway.") Please check your email for my message about getting your mailing address.

Posted by Leslie, June 14th, 2015