FLASH SALE! I was inspired by all the crazy colors and retro housewives in Teri's artwork, so the ENTIRE Household Charms Section is On Sale! (Note: These items are a little broad for the word "charms," lots of items for hearth & home are grouped here!) Bunches of new things have been added to this section — over 50 items On Sale! Some new things are highlighted below (like that fab cocktail shaker)! Those little Miniature Wine Bottles at right are also included in today's Giveaway! The sale ends Friday night (June 5, 2015) at midnight PST!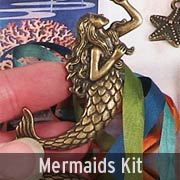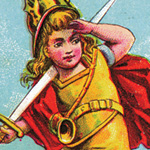 PLUS: in honor of the new Mermaids Kit, the ENTIRE beach theme section is on sale; including collage sheets, rubber stamps, charms, ribbons, paints, stains… over 150 summer products! ON SALE through Thursday night, June 18th (and remember: all the collage sheet are on sale, too). FREE Beach-Themed Collage Sheet with every order! Pick your own from this large group or Leslie will pick one for you (just type your beach collage sheet choice into the comments section when you check out). That cutie at left is from the Children at the Beach Collage Sheet… just one of 47 to choose from!


Today we have dueling artists, Design Team Member Kristin Batsel and Teri Calia fussing over who is going to put their bon-bons down first to get up and change the channel!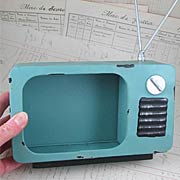 Both Kristin and Teri used the same (New and On Sale!) Altered Metal Television that comes already nice and distressed in a cool retro-blue color, and both have completely different themes.
Kristin created Ocean TV and went with the Mermaid Kit theme and has the Small Coral Die Cut Chipboard Set all glittered up with some Christmas Red Stickles. Pretty clever use and placement of the Blue Sea Glass to mimic waves around the dancing mermaids from the Caribbean Blue Collage Sheet.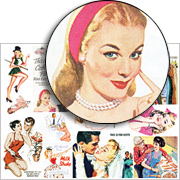 View the Ocean TV supply list, visit the Gallery and then head on over to visit Kristin's blog to pay her a visit.
Teri created a Kitschy Bitch TV Shrine along with two new Collage Sheets, Kitschy Vintage Advertisements and Vintage Vixens!
She also used one of my favorite color palettes: red, turquoise and black. AND don't you think that the Tim Holtz Letterpress Wood Letters are a perfect match for the Altered Metal Television? KITSCHY spelled out on top of the TV with the Tiny Silver Crown on top of the 'K' is so cute! The (New!) Asparagus Fern Garland sets everything off nicely as well.
Tune in to the Kitschy Bitch TV Shrine supply list before you switch channels to check out more pictures in the Gallery, or pay Teri a visit at her blog.
And Teri also made a couple cute (and quick and easy!) charms with the same new Kitschy Vintage Advertisements Collage Sheet and the new Antique Bronze Square Pendant with Glass (also included in today's Giveaway)!


Hooray for the Crazy Housewives Giveaway!
I started with these goodies from Teri's Kitschy Bitch TV Shrine (note: that's a link to photos of ALL the supplies… even more than this list):
– Kitschy Vintage Advertisements Collage Sheet
– Bitchy Words Collage Sheet
– Vintage Vixens Collage Sheet
– Basic Black Dots & Checks Scrapbook Paper
– Asparagus Fern Garland
– Tim Holtz Mirrored Stars
– Tiny Antique Silver 3D Crowns
– Mulberry Paper Cherry Blossoms
– Mushrooms – Red
– Sweet Paris Wooden Frame Set
– 1-1/2 Inch Red Paper Roses
Plus an Antique Bronze Square Pendant with Glass, like the one Teri made her retro charms from (photo above).
And these two examplars from FLASH SALE:
– Miniature Wine Bottles (cuz really… how else did these housewives get so crazy?)
– Miniature Copper Frying Pans
And finally, a couple turquoise-colored ribbons (and both are on sale, as ALL the ribbons are On Sale!):
– Aqua Mini Pom Pom Fringe
– Turquoise Ruffled Satin Ribbon

To enter the Crazy Housewives Giveaway drawing all you have to do is leave a comment BELOW on this blog post TODAY OR TOMORROW (the deadline is 11:59 pm PST, FRIDAY, June 5, 2015)! AND tell me what you'd make with this lively group of items!
Don't forget to leave your (hello! correct) email address, too, so I can contact the winner; your email address does not need to be made public. Note: I'm offering free shipping, too, but only within the USA. International shipping will still apply.
Please be patient! Spammers try to post crap here a lot so comments are moderated. So if you don't see your post in the comments section, be patient and check back in a few hours before re-posting it, please!
After midnight, I'll randomly pick the winner (via Random.org). So check your mailbox on Sunday morning to see who won and for the next Giveaway and Newsletter!
Hey, who won the Mermaids Island Giveaway? That would be Mary Helene! (And she commented: "Love the gorgeous collage papers and would make such lovely cards.") Please check your email for my message about getting your mailing address.
Posted by Leslie, June 4th, 2015