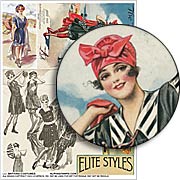 We have a NEW FREE collage sheet offer starting today: a FREE Beach-Themed Collage Sheet with every order! Pick your own from this large group or Leslie will pick one for you (just type your beach collage sheet choice into the comments section when you check out). That pretty one on the right is the Bathing Costumes Collage Sheet… just one of 47 to choose from!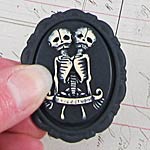 PLUS: in honor of the new Mermaids Kit, the ENTIRE beach theme section is on sale; including collage sheets, rubber stamps, charms, ribbons, paints, stains (omg… see Shannon's artwork below for those new Lindys Mermaid Seashells sets sprayed over the new coral chipboard)… over 150 summer products! ON SALE through Thursday night, June 18th (and remember: all the collage sheet are on sale, too). Note: if you order any of the Beach Collage Sheets, we'll try to give you a free one that doesn't duplicate your order (so you'll have a surprise).
AND today is the final day of the Freak Show Cameo FREE Gift Kit offer! Free for all orders over $50. More info in last Thursday's Newsletter.


Design Team Member Shannon Cooper has created TWO lovely mermaid-themed projects! The first (shown at left) is Dr. Kilkealy's Bouvet Island Mermaid.
"Dr. Kilkealy is a peculiar man. He's a recluse, has a brilliant mind, and is in love with a mermaid. For the past ten years he has lived on the remote Bouvet Island, where he has observed and befriended the mythological merpeople, and has devoted his life to mermatology. During his studies, his affections toward one mermaid in particular, Aina, has proven rewarding both monetarily and emotionally. Aina, knowing Dr. Kilkealy's research needed funding to continue, agreed to be shipped off as a sideshow attraction in order to keep him on the isolated island. As distressed as he was, Kilkealy affirmed his love and wrote letters to Aina daily. And our lonely Aina sat on display, reading heartfelt letters from him, anticipating the day of her return and the embrace of the man she loves."
So sweet! And not only that beautiful little shadowbox, but Shannon shares a second mermaid project with a step-by-step tutorial for using the new Lindys Stamp Gang Embossing Powder Set – Mermaid Seashells and Lindys Stamp Gang Starburst Sprays – Mermaid Seashells! (See the wide photo below.)
You can see both projects by Shannon on her blog post. And/or see the other new goodies Shannon used in her supply lists: Dr. Kilkealy's Bouvet Island Mermaid and Sea Maiden. AND more photos in the Gallery.
But don't forget to come back and enter the Giveaway, below, as it includes lots of supplies from Shannon's artwork (plus today's new kit)!

NEW Mermaids Kit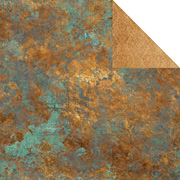 This month's kit is all about Mermaids! From the color contrast of turquoise and orange to the silk ribbons and bronze charms, I'm sure you'll find something to inspire a Summer art project.
Among all the gorgeous copper and turquoise colors in this kit are two new scrapbook papers:
– Unearth Copper Patina Scrapbook Paper (swoon!)
– True North Sky Map Scrapbook Paper
AND a new Summer Sea Silk Ribbon Set, chosen to coordinate with this kit.
PLUS, three bronze charms (ok… "charm" may be a bit too small a word) including a beautifully detailed mermaid (oh my, love this)!
More info is on the Mermaids Kit page.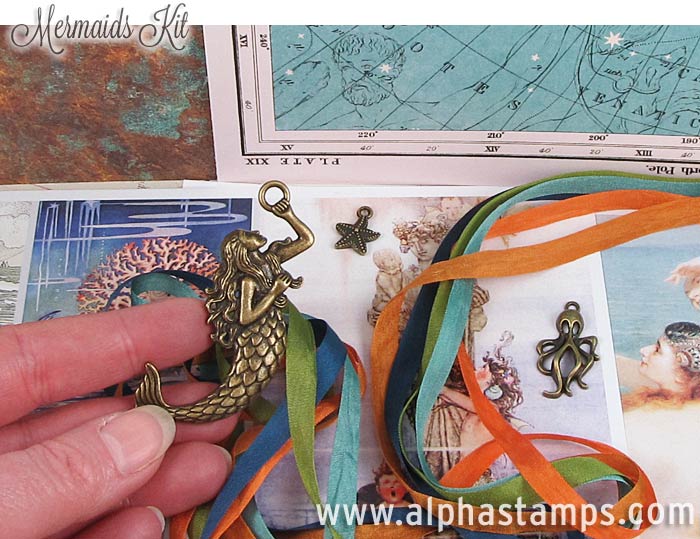 Hooray for the Mermaids Island Giveaway!
I started with today's Mermaids Kit.
Then I added these goodies from Shannon's Dr. Kilkealy's Bouvet Island Mermaid (note: that's a link to photos of ALL the supplies):
– The Deep Blue Sea Collage Sheet
– Have a Seat Collage Sheet
– Thin Looped Dresden Borders – Light Blue
– Wide Scalloped Dresden Border Set
– Small Paper Theatre Boxes
– Small Coral Die-Cut Chipboard
– Large Coral Die-Cut Chipboard
– Iridescent Glass Micro Beads in Bottle
To enter the Mermaids Island Giveaway drawing all you have to do is leave a comment on this blog post TODAY or TOMORROW (the deadline is 11:59 pm PST, Monday Night, June 1, 2015. AND tell me what you'd make from the items in this Giveaway.
Don't forget to leave your (hello! correct) email address, too, so I can contact the winner; your email address does not need to be made public. Note: I'm offering free shipping, too, but only within the USA. International shipping will still apply.
Please be patient! Spammers try to post crap here a lot so comments are moderated. So if you don't see your post in the comments section, be patient and check back in a few hours before re-posting it, please!
After midnight, I'll randomly pick the winner (via Random.org). So make sure to check back to see who won! And check your mailbox on Thursday morning for the next Giveaway and Newsletter!
Hey, who won the Sideshow Giveaway? That would be Jean Marmo! Please check your email for my message about getting your mailing address.
Posted by Leslie, May 31st, 2015