Psst! Miz Bella here, and I'm taking over this newsletter!
Design Team Member Lora Mahaffey is trying to buttuh mah butt right up before she calls me a biscuit; with her creation Love, Death, and Roses (made with old doll parts.) Four of my most favorite things!
Lora ran with the more subtly-colored papers from the Star-Crossed Collection to create her sweet little ode to Love and Death in 3 separate pieces (those papers are just so varied… that distressed honeycomb pattern is grand).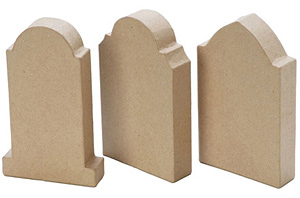 And Lora made her shrines from what else? The Paper Mache Tombstone Set!
The Paper Mache Tombstone Set is really versatile. If you'll remember, Teri Calia created the Edgar Allan Poe Gravestone Triptych; and yours truly created the Divinity Shrine out of the same set. But I digress, back to Lora's project! A few helpful hints from Lora:
"A couple of quick notes… these awesome tombstones are paper mache and about an inch thick. For the one at left I cut a hole in it, to inset the hand holding the heart. I put a block of cardboard scrap inside the bottom of the tombstone to elevate the hand to the right height and glued it down. Easy peasy!
All the banners were printed on stiff white scrapbook paper, cut to the shape they are and then aged up with paint.
The bases the tombstones are sitting on are all scrap chipboard I covered in matching paper, painted and then glued to the bottom of each tombstone."
Check out the gorgeous 1-1/2 Inch Red Paper Roses, 7/8 Inch Fancy Fan Black Lace and one of my favorites, A Gilded Life – Love Wings Pendant — all On Sale! It all meshes together beautifully, don't you think?
Take a peek at Lora's supply list before you do dance macabre on over to Lora's blog for more pictures and also Lora's musings on Love, Death, Roses and Tattoos.
And (oh, my!) check out the gorgeous Death & Roses Giveaway (below) that Leslie pulled together, inspired by Lora's artwork! AND (I know… there's more?) Leslie got inspired by the red roses and brass filigree in Lora's piece and created the Filigree & Roses FREE Gift Kit, too!


Hooray! A Death & Roses Giveaway!
In addition to just about EVERYTHING in Lora's Love, Death, and Roses supply list (Psst! that's a link to a list all the items, with photos)…
I added all of these New items:
– Tiny Burgundy Paper Roses
– Mini Rose Buds – Burgundy
– 1 Inch 2-Tone Brown Paper Roses
– 20mm Red Heart Buttons
– 40x30mm Black Oval Setting
– 25mm Round Antique Bronze Setting
– 18x13mm Oval Filigree Settings
– 40x30mm Resin Skeleton Woman Cameo (not new… but she fits in the new black setting)
– 18×13 Resin Cameo Set (not new either… fits in (and shown with) the new 18x13mm Oval Filigree Settings)
And these goodies that screamed at me that they wanted to join the party:
– Thin Ornate Filigree
– 47mm Antique Gold Filigree
– Skeleton Slides Collage Sheet
– Skeleton Slide Mailers Collage Sheet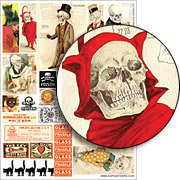 And one of the Filigree & Roses Gift Kits!
To enter the Death & Roses Giveaway drawing all you have to do is leave a comment BELOW on this blog post TODAY OR TOMORROW (the deadline is 11:59 pm PST, FRIDAY, January 16, 2015)!
Don't forget to leave your (hello! correct) email address, too, so I can contact the winner; your email address does not need to be made public. Note: I'm offering free shipping, too, but only within the USA. International shipping will still apply.
Please be patient! Spammers try to post crap here a lot so comments are moderated. So if you don't see your post in the comments section, be patient and check back in a few hours before re-posting it, please!
After midnight, I'll randomly pick the winner (via Random.org). So check your mailbox on Sunday morning to see who won and for the next Giveaway and Newsletter!
Hey, who won the We're All Mad Here Giveaway? That would be Kim Lucak! Please check your email for my message about getting your mailing address.
Posted by MizBella, January 15th, 2015