Note: most of the links on this post no longer work, as we moved to a new Web site in 2018. But you can try searching on the same names (as links below) on the new site.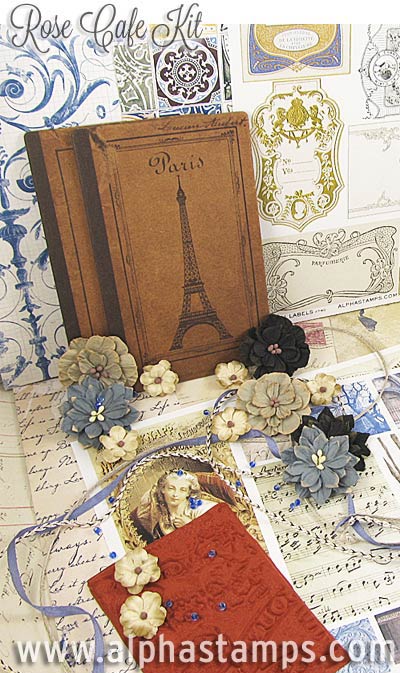 Hey, it's Day 7 of the While the Cat's Away Giveaways! And today's theme is Rose Cafe.
I really like this group. The scrapbook papers that started my process are so much prettier than I expected. And any chance to trot out a vintage French theme is fine by me. Plus (to go with the old letters and envelopes on a couple of the papers), I found a rubber stamp with French handwriting (not in the kit, but see below for a photo/link).
Starting with the big items in the kit:
Rose Cafe 12×12 Collection Pack
A big set that includes 18 double-sided 12″ x 12″ papers (2 each of 9 sheets) and a sheet of cardstock stickers, in a beautiful mix of French blue, tile designs and yellow roses.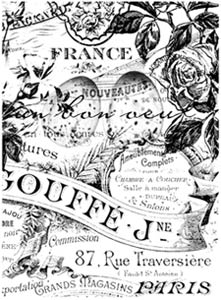 French Floral Collage Rubber Stamp
An Alpha Stamps exclusive collaged stamp; just a bit larger than an ATC (so you can stamp a full bleed off the edges of your ATC).
TWO new sets of velvety mulberry paper flowers:
– Teastained Dahlias – Nightfall
– Petite Teastained Cream Pansies and Leaves
Paris Printed Book Covers
Beautiful, heavy chipboard covers with printing (that looks like a vintage leather book… the embossing is only printed but looks real). Punch holes for binding or use "as is" for an accordion-folded book.
See the Rose Cafe Kit page for a detailed list of all the items and more photos.


Here's how these While the Cat's Away DAILY Sales and Giveaways work: I've gathered items around a theme and put together a Giveaway Kit that will be awarded to one lucky person.
To enter the Rose Cafe Kit Giveaway drawing all you have to do is leave a comment BELOW on this blog post TODAY OR TOMORROW (January 1st or 2nd, 2015) by midnight Friday night (PST). (Happy New Year!)
Don't forget to leave your (hello! correct) email address, too, so I can contact the winner; your email address does not need to be made public. Note: I'm offering free shipping, too, but only within the USA. International shipping will still apply.
Please be patient! Spammers try to post crap here a lot so comments are moderated. So if you don't see your post in the comments section, be patient and check back in a few hours before re-posting it, please!
After midnight I'll randomly pick the previous day's winner. So make sure to check back THIS SUNDAY to see who won and to see what's in the January Kit!
Hey, who won the Time Traveler's Memories Kit Giveaway? That would be Kristie! Please check your email for my message about getting your mailing address.
More info on the Holiday Closure & Giveaway Rules (including how you can get entered twice in each day's drawing).
And please remember: Our offices are now closed. The whole "While the Cat's Away" theme is 'cause I'm the only one here! For more info about shipping (which will start when the staff are all back on 1/5/15) and the sale in general, please see the While the Cat's Away…" Daily Giveaways: Year 7! overview page.
A final note: Even though our offices are closed, orders for DIGITAL Collage Sheets and Digital Images are still fulfilled in real time!
Posted by Leslie, January 1st, 2015