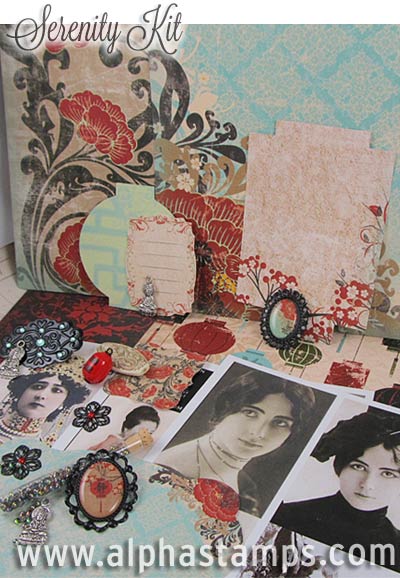 Hey, it's Day 5 of the While the Cat's Away Giveaways! And today's theme is Serenity.
I love the dark, rich colors in this kit. I started with three 12″ x 12″ scrapbook papers (with patterns including peonies — or maybe those are stylized poppies? — and paper lanterns). Then added coordinating black-enameled metal pendants (more like cabochons as they're flat on the back and have artwork already glued in… a set of 5 including some filigree ones with rhinestone highlights) and a set of die-cut cardstock journaling cards (a big set in various sizes… 21 pieces).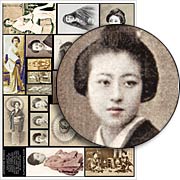 Beside those papers, journaling cards and black metal bits (which are only available in this kit), I've used up the remaining stock on some items for this kit, like the Red Chinese Lantern Jingle Bells.
The kit also includes 3 collage sheets, that have just been put On Sale:
– Japanese Women Collage Sheet
– Cleo de Merode ATCs Collage Sheet
– Caroline Otero Collage Sheet
See the Serenity Kit page for a detailed list of all the items and more photos.


Here's how these While the Cat's Away DAILY Sales and Giveaways work: I've gathered items around a theme and put together a Giveaway Kit that will be awarded to one lucky person.
To enter the Serenity Kit Giveaway drawing all you have to do is leave a comment BELOW on this blog post TODAY (December 30, 2014) by midnight (PST).
Don't forget to leave your (hello! correct) email address, too, so I can contact the winner; your email address does not need to be made public. Note: I'm offering free shipping, too, but only within the USA. International shipping will still apply.
Please be patient! Spammers try to post crap here a lot so comments are moderated. So if you don't see your post in the comments section, be patient and check back in a few hours before re-posting it, please!
After midnight I'll randomly pick the previous day's winner. So make sure to check back tomorrow to see who won and to see what's on offer for Day 5 of the Sales & Giveaways!
Hey, who won the Beach House Cards Giveaway? That would be Lavender Dreams! Please check your email for my message about getting your mailing address.
More info on the Holiday Closure & Giveaway Rules (including how you can get entered twice in each day's drawing).
And please remember: Our offices are now closed. The whole "While the Cat's Away" theme is 'cause I'm the only one here! For more info about shipping (which will start when the staff are all back on 1/5/15) and the sale in general, please see the While the Cat's Away…" Daily Giveaways: Year 7! overview page.
A final note: Even though our offices are closed, orders for DIGITAL Collage Sheets and Digital Images are still fulfilled in real time!
Posted by Leslie, December 30th, 2014