Psst! Miz Bella here! Leslie's caught a cold so I'm taking over this newsletter!
First off is the "Tag of the Month" by Tim Holtz for December: A wintery, glittery, and frosty Christmas Tag (actually 2!) using lots of fun elements like the Tim Holtz Frosted Sheets (I love the snowy effect by embossing these sheets with the New! Snowfall & Falling Trees Embossing Folder Set), the Christmas Nostalgia Cling Stamp Set, Grungeboard Basics-Plain, and the Movers & Shapers Base Die – Tag and Bookplates. AND the ENTIRE supplies list is On Sale! Here's the detailed December Tag Tutorial.
Next, Design Team Member Rhea Freitag decided to go a different route with her December Houses and paired the Glitter Houses Add-On Kit with the New! Tim Holtz Artful Dwellings Die Set. It would be awfully cute displayed up on a mantle, don't you think?

Rhea incorporated all kinds of elements and added lots of layers with different products such as the Christmas Collage 6×6 Paper Pad (also in the Add-On Kit), Gold Zig Zag Dresden Borders, and Muse Tokens.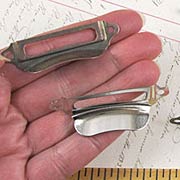 I think each time you look at Rhea's Glitter Row Houses you'll find something you missed the last time you looked at it — all part of the fun of a piece like this! The Label Pulls over the door as Santa's nameplate is a clever use of it and by layering some of her embellishments Rhea was able to create depth and adornments for her little houses.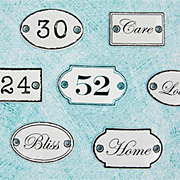 Here are the all the embellishments and supplies and you can find more pictures at Rhea's blog.


I have long wanted a Bathtub Madonna Shrine planted right up in my front yard. Of course, I'd have more luck getting Slim Daddy to get tattooed than I would talking him into putting a shrine in our front yard. WHAT would the neighbors think? So the only way to get one, was to make my own mini-version.
After getting one of the New! Antique Silver Madonna Pendants and looking at the set of Paper Mache Tombstones I thought, hmmm. If I cut an opening in one of these, it would almost look like a bathtub shrine. So I did! When you cut into the tombstone, there is a layer of chipboard inside that works perfectly for lining the sides on the inside of the shrine, so don't throw it away! Paint it with White Gesso, age it with Deco Art Perfect Crackle and then do a quick wash with Metallic Distress Stain – Antiqued Bronze.
The Antique Ornate Frames are perfect for working with Epoxy Clay to create a "bed" for the pendant.
Add assorted Charms, Paper Roses and then paint here and there with Inka Gold. There you have it. Your own miniature bathtub shrine! And here's a link if you'd like to see exactly which supplies I used.


Hooray for the Christmas with Tombstones Giveaway!
Yes, this one is a little odd. But with that beautiful shrine Miz Bella created using the Paper Mache Tombstones, I don't think they should be relegated to "only" Halloween (not that you guys don't like to buy Halloween goodies all year 'round!)
First, let's start with all of these items from Rhea's Glitter Row Houses (note: that's a link to the supply list with links and photos):
– Glitter Houses Add-On Kit (yep, just one link… but that's a lot of items!)
Next, these additional goodies from Bella's Divination Shrine:
– Antique Silver Madonna Pendant
– 3D Skull Charm – Bronze
– Skull Connectors
– Paper Mache Tombstones Set
– Antique Ornate Frames
Then, a set of the Tim Holtz Frosted Sheets (since I'm so enamored of that embossed snow effect). You can see one of the sheets leaning against the tombstone in the upper left of the photo.
To enter the Christmas with Tombstones Giveaway drawing all you have to do is leave a comment BELOW on this blog post TODAY or TOMORROW (the deadline is 11:59 pm PST, MONDAY NIGHT, December 15, 2014).
Don't forget to leave your (hello! correct) email address, too, so I can contact the winner; your email address does not need to be made public. Note: I'm offering free shipping, too, but only within the USA. International shipping will still apply.
Please be patient! Spammers try to post crap here a lot so comments are moderated. So if you don't see your post in the comments section, be patient and check back in a few hours before re-posting it, please!
After midnight, I'll randomly pick the winner (via Random.org). So make sure to check back to see who won! And check your mailbox on Thursday morning for the next Giveaway and Newsletter!
Hey, who won the Glitter Houses Giveaway? That would be Dottie! Please check your email for my message about getting your mailing address.
Posted by Leslie, December 14th, 2014