Before I hand off this intro to Miz Bella (Kim Ayers), I have to say that I'm enjoying all the varied artwork from the Design Team today (from Halloween to Christmas… including some artwork by Miz Bella herself).

(And, don't forget: TODAY, October 26th is the final day of the BIG 3-section-spanning Halloween Sale!)


Well my ghoulies, it's that time already! We are wrapping up the most favorite month of the year here at Alpha Stamps and getting ready to start having some fun with Christmas & winter holidays!
First lets take a look at the Goblin Tag that Design Team Member Rhea Freitag made using the October 2014 – Goblins Kit. Rhea said:
"It is getting to be that time of year when creepy crafts are all I seem to be making. This is certainly the case for this month's project for Alpha Stamps October Kit, Goblins! Of course I chose an image that was not too spooky and still had a beautiful element to it."
It is a beautiful tag isn't it? It looks like the goblins from the Goblins Collage Sheet are trying to bribe the young maiden to do something quite naughty I'm sure; as you know what greedy, debauched little creatures they are.
I love the embellishments she used, particularly the New and On Sale! Antique Bronze Owl Charms and the Filigree Corner Die Set that Rhea rusted up with the Alcohol Ink Fall Set. Oooh, and the Petite Teastained Purple Pansies and Leaves that are Back in Stock and On Sale! More pictures of Rhea's Goblin Tag are on her blog.
Also from the October 2014 – Goblins Kit are 3 Goblin ATCs from Laura Carson (2 of the 3 are shown at right). Laura warns of not entering Goblin Hollow or the Dark Forest because you may meet the Goblin King. Just follow the path of Laura's deliciously demented mind and that's exactly where you'll find yourself!
Goblin Hollow is overseen by Mysterious Bird and Dead Tree Cut-Outs; who knows what is creeping around in the Sheet Moss.
Oh no! It's the Goblin King! Aiyeeeeee, don't look into his eyes! Just like my children – if you stare into their eyes for too long, the next thing you know – you're doing their diabolical bidding. (True story.) Laura used Bat Cut-Outs that she painted for his headpiece; along with twigs coming out of the top and a Resin Owl who waits for the Goblin King's next command. Which is, head on over to Laura's blog to see the Dark Forest!

Speaking of Laura's blog, be sure while you're there to check out her Halloween Blog Party! See that super-cute, dolled-up Altered Metal Frame – Clock? It's the one to your left, that has the clock face made from Bat Cut-Outs and the clock hands are Antique Bronze Bird Skull Pendants (!), with the lounging Plastic Skeleton in front of it. Guess what? She's giving it away so be sure to enter the drawing here for a chance to win!
The last Halloween offering is a trio of cute Halloween tags made by Design Team Member Kristin Batsel. Don't they just make you smile when you look at them? Kristin used Double Dot Chevron Scrapbook Papers and images from the Crepe Paper Halloween Collage Sheet for the backgrounds. The main images she used are from the Little Witches, Hello Pumpkin and The Black Cats Collage Sheets. (Hey, check the Giveaway below: not only has Leslie included almost everything in Kristin's tags (plus a good helping of items from Laura's ATCs and Rhea's tag, too) but the Mini Pom Pom Fringe is now on Clearance at 50% off!)


My most favorite, favorite creatures to use in holiday projects are the Brownies. I love them, as well as vintage pixies and vintage knee hugger ornaments (another one of my obsessions, you know that I'd sell my mother for a really good lot of them!)
I've been wanting to make something with the 8×8 Wooden Shadowbox that has the 8×8 Wooden Insert – Round Windows for quite a while and thought I'd make one using the Holiday Brownies Rubber Stamp Set.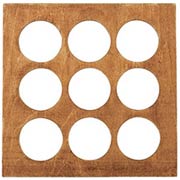 Uh-oh, it looks like one of the Brownies wasn't paying attention. Seems he took a little spill as he was pulling his Christmas tree from the Retro Bottle Brush Tree Set – Green home in Miniature Red Wagon! Maybe his Miniature Ice Skates were too big, or perhaps he took a few too many nips of the eggnog. Whatever it was, he sure is cute!
Each window in the 8×8 Wooden Insert – Round Windows has either Tinsel or Mini Pine & Berry Garland wrapped around it. Isn't the Bronze Deer Charm in the middle window cute? Other elements that I really liked using are the Lacquered Holly & Berry Picks, Art Ingredients Glass Glitter – Platinum and the Holly Berry Garland that edges the outside of the shadow box.
Put your ice skates on and check out the full list of components that I used, and don't forget your eggnog if you want to browse for Christmas Tag ideas in the Gallery!


Hooray for the Wicked Times Giveaway!
Wow… there are SO MANY collage sheets in this prize package, I had to take extra photos to show them all:
– Crepe Paper Halloween Collage Sheet
– Little Witches Collage Sheet
– Hello Pumpkin Collage Sheet
– The Black Cat Collage Sheet
– Goblins Collage Sheet
– Green Goblins Collage Sheet
– Falling Leaves Collage Sheet
– Book Spines and Labels #2 Collage Sheet
– Goblin Trees Collage Sheet
– Halloween Carnival Games #4 Collage Sheet
And, of course, the New and On Sale! Wicked Times 12×12 Paper Set (which led to the name of this Giveaway)
AND, I added all of these goodies from Laura's Clock:
– Antique Bronze Bird Skull Pendant
– Ceramic Burnt Umber Owl Bead
– Miniature Pumpkin
– Plastic Skeletons
Finally, I added all of these items — new or newly added to the Clearance Sale:
– Antique Bronze Owl Charms
– 3/8 Inch Ric Rac Ribbons – Orange
– 1/8 Inch Edge-Stitched Ribbons – Periwinkle
– 1/8 Inch Edge-Stitched Ribbons – Purple
– 3/8 Inch Iridescent Ribbons – Moss Green
– Mini Pom Pom Fringe – Black
To enter the Wicked Times Giveaway drawing all you have to do is leave a comment BELOW on this blog post TODAY or TOMORROW (the deadline is 11:59 pm PST, MONDAY NIGHT, October 27, 2014).
Don't forget to leave your (hello! correct) email address, too, so I can contact the winner; your email address does not need to be made public. Note: I'm offering free shipping, too, but only within the USA. International shipping will still apply.
Please be patient! Spammers try to post crap here a lot so comments are moderated. So if you don't see your post in the comments section, be patient and check back in a few hours before re-posting it, please!
After midnight, I'll randomly pick the winners (via Random.org). So make sure to check back to see who won! And check your mailbox on Thursday morning for the next Giveaway and Newsletter!
Hey, who won the Mini Crate & Candy Canes Giveaway? That would be Susan Z! Please check your email for my message about getting your mailing address.

Posted by Leslie, October 26th, 2014