I'm handing off the intro to Miz Bella (Kim Ayers) again, as she is on a roll! Then stay tuned for some new Halloween items, a recap of Thursday's newsletter (which also had some fun little Halloween items — and an adorable Halloween FREE Gift Kit that's still available), and a NEW Giveaway!

Design Team Member Jeanne Draachreider has come up with an incredible tutorial on how to use the Tim Holtz Resist Paper Stash – Motif with a variety of Distress Inks.
Jeanne has put together quite the tutorial along with some fabulous photos AND she gives you her secret for how she always prints her images that she uses in her artwork. You all know I just adore secrets. Here's a one for you… Jeanne used scrapbook paper with digital images (and printed her images over the new resist papers)!
Next in her tutorial posting is using the New and On Sale! Hocus Pocus Black Magic Paper, used with the New and On Sale! Tim Holtz – Embossing Folders – Halloween Words & Cobwebs. This paper is amazing! It is sandable 80# cardstock with a color core (and a canvas texture on one side). Don't be fooled by the black surface: with a little sanding (hint: sand over an embossed design), tearing or antiquing, you can uncover the vivid core colors hidden beneath!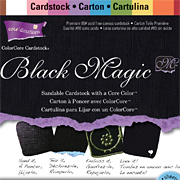 After that quick how-to, Jeanne wraps up her trinity of tutorials with the Hybrid Digital Image. Jeanne says:
My method here was to combine a vintage photo, an image from the Edgar Allan Poe Collage Sheet, and a scanned image of the Arsenic & Lace Scrapbook Paper – Skull and Crows. I realize not everyone is proficient with Photoshop or Elements but thought I'd throw this in here for fun. It's not a tutorial but just to show you how you can combine different elements into your art work.
Well, it's not a tutorial but it is a great layout and can get your creative muse flying! I love the layout — and I won't tell you what makes it so cool (hint: an unnatural effect of light). You'll have to find it for yourself but when you realize what it is you'll want to be able to do what Jeanne does!

Check out Jeanne's Supply List (we contrained it to "just" the items on her 2 Poe tags — ha!) and then you can find a ton more pictures and inspiration on her blog.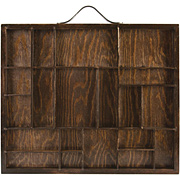 But once again, wait! Here's a little more eye candy to spank those eyeballs and to feed your muse with. Design Team Member Rhea Freitag has created an Eerie Tale Letterbox Tray using all sorts of goodies in the New and On Sale! Letterblock Printers Tray.
A few of the items you'll find in the tray are An Eerie Tale Chipboard Die-Cuts, Ornate Metal Key Holes – Antique Brass and my favorite, Teastained Dahlias – Shabby Beige. There is so much going on… check out the two close-ups on the bottom of the photo at left to see more details, like the little Tiny Round Bottle, Brown Mushrooms and Acorn Buttons — all of which are also in today's Giveaway!
This is a nice change for Halloween (or Fall) decor, don't you think? With all of that paper foliage, ou could tailor your own shadowbox to fit any season. You can see pictures of all the compartments on Rhea's blog.


Hooray for the Halloween Tags & Trims Giveaway!
Ok… I admit I might have gone a little crazy. But after seeing Jeanne's Poe Tags (and all the goodies in Rhea's shadowbox) I starting pulling items to embellish manila tags… then veered off into the land of everything orange and black.
Under all those fibers and charms are 3 each of 3 sizes of manila tags:
– Ginormous
– Large
– Extra Large
Then I added these goodies from Jeanne's Poe Tags (that's a link to the supply list with links and photos):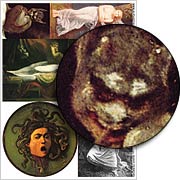 – Night Terrors Collage Sheet
– Edgar Allan Poe Collage Sheet
– Black Alphabet Beads
– 7/8 Inch Fancy Fan Black Lace
– Black Seam Binding
– Orange Seam Binding
– Halloween Fiber Set
– Noxious Fumes Fiber Set
Next, I included these items Rhea included in her shadowbox: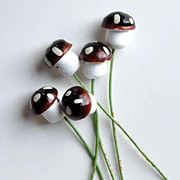 – Tiny Round Bottles
– Acorn Buttons
– Orange and Brown Mushrooms
– Antique Brass Spider Web
– Brass Bat Charms
– Pumpkins Button Set
And a couple (!) more related goodies that were calling out to me: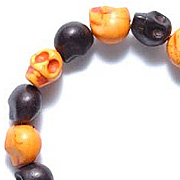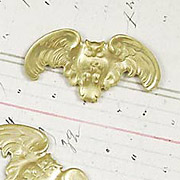 – Brass Owl Stamping
– 3D Skull Charm – Silver
– Bronze Bat Pendant
– Antique Silver Spider Pendant
– Antique Metal Keys
– Resin Owls
– Sunflower Buttons
– Dead Tree Buttons
– Skull Bracelet
(And since the ENTIRE Halloween Theme Section is On Sale!, pretty much all of the Giveaway items are On Sale!, too!)
To enter the Halloween Tags & Trims Giveaway drawing all you have to do is leave a comment BELOW on this blog post TODAY or TOMORROW (the deadline is 11:59 pm PST, MONDAY NIGHT, September 15, 2014).
Don't forget to leave your (hello! correct) email address, too, so I can contact the winner; your email address does not need to be made public. Note: I'm offering free shipping, too, but only within the USA. International shipping will still apply.
Please be patient! Spammers try to post crap here a lot so comments are moderated. So if you don't see your post in the comments section, be patient and check back in a few hours before re-posting it, please!
After midnight, I'll randomly pick the winners (via Random.org). So make sure to check back to see who won! And check your mailbox on Thursday morning for the next Giveaway and Newsletter!
Hey, who won the Halloween Votives & Poe Giveaway? That would be Christi Conley! Please check your email for my message about getting your mailing address.
Posted by Leslie, September 14th, 2014