Wow! Laura has created an amazing array of altered bottles (with lots of different techiniques for coloring the glass and also tips for Applying Vellum & Transparency Film)… and she's provided a video tutorial! And also in this newsletter: new items (tons of filigree, all used by Laura on her bottles), new goodies added to the clearance section, and two FREE offers! First, I'll let Bella take the lead and introduce Laura's project (well… at least one of them)!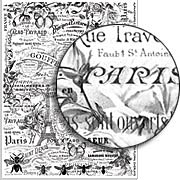 Look at all of these gorgeous perfume bottles that Laura Carson has designed! With me being a magpie and easily distracted by pretty, shiny things I do believe I must only focus on one bottle or alas! I will be all over the place darting from bottle to bottle.
I pick… the Clear Bottle with Vellum Collage Image! (That's the bottle on the top left of the large photo at right.) Laura has taken a triangle shaped bottle and covered it in French Floral Overlays Collage Sheet that has been printed on vellum. Applying vellum — we all hate doing it but love the outcome. Laura will explain in a video tutorial how she applies the vellum!
Next! Laura used On Sale! Foundations Box Feet to stand her bottle on. You can get an idea from the box feet that the bottle Laura used is a good sized bottle as the box feet are pretty large and hefty. Adorned with Back in Stock Rosary Chain – Silver and Jet (one of my favorites!) there is an On Sale! Plaquette hanging with a faceted teardrop.
Add a piece from the New and On Sale! Filigree Embellishment Set – Old Silver at the top center enhanced with a "rhinestone" button (that you just know Laura created herself with some Clear Adhesive Acrylic Jewels over one of the filigree pieces from the New and On Sale! Mixed Silver Filigrees!)
Tie a bow with some of the On Sale! Black Crepe Ribbon and you have just made yourself a lovely bottle. (And, did you know? ALL of the ribbons are On Sale?!)
Wait. Almost forgot about the bottle stopper. Looking at the bottle stopper it looks as if… you know what? This is just ridiculous. The woman made a bottle stopper out of an On Sale! Wooden Egg Cup! I just can't look at this one bottle anymore. I'm off to check out the other FOURTEEN bottle samples that Laura has created and I'm going to watch her video again for more secret techniques. Seriously, fifteen samples of drop-dead-gorgeousness and one of them has an egg cup as a stopper. It's just not normal — I wonder what other crazy things are on her blog post?!
Psst… Leslie taking over again. I just have to say something about the other bottle in that large photo above (the top right bottle, plus a close-up at right)!
(Behind that loverly pendant (large charm?) Laura made from a recolored Brass Baby Bee Charm in a Jeweled Oval Pendant Frame) Laura applied the French Floral Overlays Collage Sheet (transparency version, so that frosted glass shows through) AND the 7/8 Inch Fancy Fan Ivory Lace by running them throught the Xyron 510 – Creative Station to apply an even (and dry) layer of adhesive. Clever.
Hey, don't forget to scroll down for today's Giveaway! It includes elements from both of these highlighted bottles, plus 4 of the items just added to the Clearance Section. (And it includes the announcement of who won the last Giveaway!)
Note: last Thursday we announced a FREE Gift Kit, and that offer is still on: a Pearly Blue FREE Gift Kit is FREE for all orders over $20! More info and a photo are below.


Hooray! A Silver & Pearls Giveaway!
I started with many of Laura's altered bottles supplies:
– French Floral Overlays Collage Sheet (both transparency AND clear stickers)
– 7/8 Inch Fancy Fan Ivory Lace
– Slope Shoulder Glass Bottles – Large
– Jeweled Oval Pendant Frame
– Antique Silver Key & Keyhole Set
– Egg Cup
– Mixed Silver Filigrees
– Clear Adhesive Acrylic Round Jewels
– Clear Adhesive Acrylic Teardrop Jewels
– Mixed Flat Back Pearls (about a zillion!)
– Crepe Ribbon – Black
(Here's a repeat of both of Laura's Supply Lists: Clear Bottle with Vellum Collage Image and Frosted Bottle (that one above with the bee pendant/charm) so you can get links/photos of all of those things)
And then I added 4 things I thought just worked well with the group:
– 1/2 Inch Scalloped Black Lace
– Glass Teardrops with Loops – 15mm Black
– Black Round Beads with Brass Loops
– Large Fancy Oval Bead – Silver
AND 4 items just added to the Clearance Section (that's 80% off!!):
– Dazzles Snowflake Stickers (that page also shows them used on an earlier altered bottle project by Laura)
– Silver Picture Trays (and though they're not in the Giveaway, the Antique Brass version is on clearance, too)
– Victorian Square Glass Jar (hey, go try out one of Laura's altered bottle techniques!)
– Tiny Pewter Bee Beads
To enter the Silver & Pearls Giveaway drawing all you have to do is leave a comment BELOW on this blog post TODAY OR TOMORROW (the deadline is 11:59 pm PST (that's Pacific Standard Time!!), MONDAY NIGHT, June 9, 2014).
Don't forget to leave your (hello! correct) email address, too, so I can contact the winner; your email address does not need to be made public. Note: I'm offering free shipping, too, but only within the USA. International shipping will still apply.
Please be patient! Spammers try to post crap here a lot so comments are moderated. So if you don't see your post in the comments section, be patient and check back in a few hours before re-posting it, please!
After midnight, I'll randomly pick the winner (via Random.org). So make sure to check back to see who won! And check your mailbox on Thursday morning for the next Giveaway and Newsletter!
Hey, who won Thursday's Look at that Hair Giveaway? That would be Bobbie Kangas! Please check your email for my message about getting your mailing address.

Posted by Leslie, June 8th, 2014