Psst… Miz Bella here; I'm taking over this newsletter!
Design Team Member Rhea Freitag is up this week with a fabulous little creation for you made with something new that Alpha Stamps is carrying!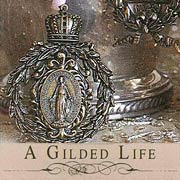 First, I know you just can't stand it so I'll tell you what the new products are. I'm SO excited to announce that we now have the gorgeous Bezels and Pendants from A Gilded Life! Excuse me for a sec while I swooonn! There goes my paycheck — and you all know by now to hush so Slim Daddy doesn't find out. I have him thinking that everything I order just appears from the magic art fairy.
Plus, those gorgeous new metal items AND the How-To-Booklet are all in their own section AND Leslie put them all On Sale!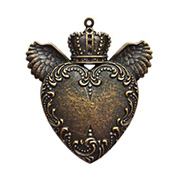 Now on to what Rhea created for you! It is so simple and quick! Think of who needs a present because you'll want to make them, I just know it. Rhea made a Winged Heart Shrine using the ATC Hutch Shrine Kit and instead of painting it, she covered it with Tissue Tape – Symphony. According to Rhea, it made for a fast cover and the Gilders Paste – Silver that she used just glided right over it.
Rhea used the quite magnificent A Gilded Life – Love Wings Pendant – Gold as her focal point inside of the hutch. This is no tiny little pendant — but a solid, cast metal piece, that is approximately 2-1/4″ wide x 2-1/2″ tall. In fact all of the Gilded Life Bezels and Pendants are cast metal which makes for a very nice base to build upon, distress, embellish, UTEE or to make jewelry with. Don't you love how the heart looks as if it's floating? I'll let Rhea tell you how she got the heart to have the illusion that it is floating in the box. I know! I'm such a tease.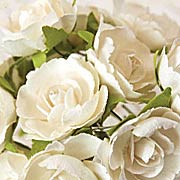 Moving on, if you look closely at the background of the heart you can see that it is from the Tim Holtz Printed Tissue Roll – Music & Butterflies and then Rhea added images from the Gypsy Charms Mini Collage Sheet and Butterflies Collage Sheet. I love how the circular lines on the round collage sheet image give the illusion of a clear cabochon.
A few Tim Holtz Metal Corners here, Ornate Metal Keys there, add an Ornate Metal Label Holder and top it off with beautiful, New Soprano White Paper Roses, and there you have it. A lovely gift for giving or for yourself!
C'mon over here and sneak a peak at the components that Rhea used, then to find out what else is involved in creating the Winged Heart Shrine, glide yourself on over to Rhea's blog and/or see more photos in the Gallery.
By the way, please note that the Evil Queen would not let me order (hoard) any of the Bezels or Pendants until after you all have seen them first. See how she is?!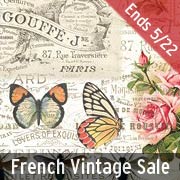 Ok… "Evil Queen" here… trying to wrest the newsletter back from Bella! Before I show you a few of the new A Gilded Life pieces (plus tell you about the new FREE gift kit, new items added to the clearance section, AND today's Giveaway!), there is more art to show!
Remember that lovely Altered Book by Laura Carson that we featured last Sunday? Well, staying with the book theme, Laura has also made a trio of bookmarks! (Don't worry… I can still count; just ran out of room so you'll have to view all three on Laura's blog post!)
And with all the brass bees and fleur de lys in Laura's bookmarks (and the crowns and way-French influence in A Gilded Life), I've gathered a Little Metal Bits FREE Gift Kit with wings, keys, crowns and fleurs! (And some of the charms and collage sheets from both of today's artworks are included in the Giveaway below!)
Hey, don't forget: The French Vintage Theme Sale ends on May 22nd — THAT IS TODAY!)

New Additions to the Clearance Section View All

Hooray! A Bees & Bookmarks Giveaway!
Beside the frenzy of EIGHT collage sheets shown at right (all used in either Laura or Rhea's artwork — those links on their names are to their supply lists), I also included one of the New Little Metal Bits FREE Gift Kits (actually… more than 1, as I included all the color options available) AND these additional mostly-metal goodies:
– A Gilded Life – Ribbon Wreath Pendant – Gold New and On Sale!
– Giant Brass Bee On Sale!
– Brass Fleur de Lys w/Loop (Set of 3)
– Large Fleur de Lys with Loop On Sale!
– 4-Leaf-Top Key – Antique Pewter
– Antique Metal Key
– Tiny Glass Spheres in Bottles – Golden Yellow On Sale!
– Egyptian Wings On Sale!
– Large Brass Flying Bee On Sale!
– Large Brass Key Charms (Set of 2)
See below for another photo.
To enter the Bees & Bookmarks Giveaway drawing all you have to do is leave a comment BELOW on this blog post TODAY OR TOMORROW (the deadline is 11:59 pm PST, FRIDAY, May 23, 2014).
Don't forget to leave your (hello! correct) email address, too, so I can contact the winner; your email address does not need to be made public. Note: I'm offering free shipping, too, but only within the USA. International shipping will still apply.
Please be patient! Spammers try to post crap here a lot so comments are moderated. So if you don't see your post in the comments section, be patient and check back in a few hours before re-posting it, please!
After midnight, I'll randomly pick the winner (via Random.org). So make sure to check back to see who won! And check your mailbox on Sunday morning for the next Giveaway and Newsletter!
Hey, who won the Paris & Butterflies Giveaway? That would be Marilyn Fishwick! Please check your email for my message about getting your mailing address.

Posted by MizBella, May 22nd, 2014