Leslie here with a quick note: Miz Bella's going to lead off this newsletter with an introduction to two new projects, both using the On Sale! ATC Book Box.

Aaaahhh May Day! Flowers, Spring festivals, the maypole, Queen of the May and Beltane. It's time to get your Spring on, people — regardless of the fact that Mother Nature is off her meds with the crazy, stormy weather we've been having! To help you get in the Spring mood, Design Team Members Kristin Batsel and Lora Mahaffey have each created two cheery creations with the On Sale! ATC Book Box.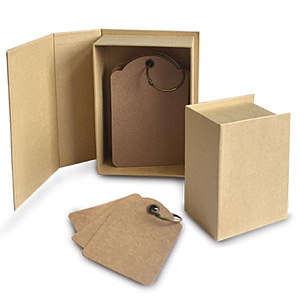 Kristin created her ATC Book Box as a Bee Shrine for a friend of hers. On the cover Kristin has a floral bouquet with a background of papers from the New and On Sale! Chalk Studio 2 6×6 Paper Pad and a cute Brass Baby Bee Charm that seems as if it's ready to come in for a landing on the flowers. Do you like how Kristin's box looks like it has "pages" on the side? She achieved that effect by using the striped side of the Botanical Tea Fields of Flowers Scrapbook Paper.
(Psst! Sadly, the paper with the bouquet the Kristin used on the front cover is sold out, BUT see below for a new collage sheet full of bouquets that Leslie designed to fit the ATC Book Box cover. And that New Bouquets Collage Sheet is also included in today's Giveaway and in the FREE May Day Gift Kit!)
Open up the box, and, oh wow — what do I see… a honeycomb! Kristin used the Tim Holtz Stencil – Honeycomb along with some ink for that effect. On the right side of the box Kristin added a faux front for the inside niche, then a large Victorian Bee Charm within the niche and Word Band – Observations that were both given a copper patina. A faux front! A fabulous place to hide things like secrets written on little bits of paper! Or perhaps a little vial of cremains of someone or something that you really liked (or maybe didn't like so much!)
Annnnyways, behind that faux front Kristin painted the interior a metallic copper color for reflectivity, and added a LED Tea Light that give a great effect when lit up. For the finishing touches, Kristin embellished the tags that come with the ATC Book Box with the New and On Sale! Darjeeling Mini Pearl Daisies and the On Sale! Woodcut Beehive Stamp. You'll need to buzz on over to Kristin's blog to see these tags. Then, check out Kristin's supplies list.

There once was a girl who wanted an adventure… she sailed away with her maps and her charts and her name was Bella. Wait! I am daydreaming! This is the adorable Travel Album that Lora created with the same ATC Book Box, and it is just dreamy.
Lora used the Vintage Voyage Kit to cover and embellish her box, and you'll find that Lora's creation has a little story to tell.
There are a couple of really cute things that I just love about this book box. The first is the cover with the sailor girl image from The Fourth of July Collage Sheet extending her arm off the box and holding a rolled up map. Second, I love the inside compartment that houses the embellished tags. Lora covered the tags with Maritime Paper Collection and enhancing them with cut-outs.
Wait… what is that ribbon at the top, behind the tags? Pull on that ribbon and you'll find another faux front! Hmmm. Could it be that Kristin and Lora schemed to both create faux panels? You're right, not those two. They're way too sweet to scheme. *snork*
Lora created a full partition out of paper-covered chipboard with a ribbon loop to remove it. Tug on the pull and what do you know?! There behind the partition is an empty bottle of rum (one can not cackle properly without a bottle of booze you know!) and rolled up secret treasure maps made from the Maritime Paper Collection! Trust me, you'll want to see all the details I'm babbling about at Lora's blog (and you'll also be wanting Lora's supplies list).


Hooray! A May Day Floral Giveaway!
Nice! Starting with all 3 (full size) collage sheets from the FREE May Day Gift Kit:
– Bouquets Collage Sheet
– Flora ATCs Collage Sheet
– Seed Catalog ATCs Collage Sheet
Then, lots of the goodies Kristin used in her Bee Shrine:
– ATC Book Box
– Chalk Studio 2 6×6 Paper Pad
– Woodcut Beehive Rubber Stamp
– Medium Bee Charms
– White Plastic Pearls (Strands)
(Here's the full supplies list so you can get the individual links.)
Plus, a set of the adorable (and back in stock) Turquoise Mushrooms (and a set of the brand new Mini Rose Buds – Cream-Pink-Brown!)
AND, not in Kristin's artwork (but related and ALL On Sale!):
– Foliage Bees Epoxy Stickers
– Tiny Glass Spheres in Bottles – Turquoise
– 19mm Daisies (in Orange, Red and Yellow)
– Printed Canvas Ribbon – Bees
– 3/8 Inch Velvet Ribbon – Light Aqua
To enter the May Day Floral Giveaway drawing all you have to do is leave a comment BELOW on this blog post TODAY (the deadline is 11:59 pm PST, May 1, 2014).
Don't forget to leave your (hello! correct) email address, too, so I can contact the winner; your email address does not need to be made public. Note: I'm offering free shipping, too, but only within the USA. International shipping will still apply.
Please be patient! Spammers try to post crap here a lot so comments are moderated. So if you don't see your post in the comments section, be patient and check back in a few hours before re-posting it, please!
After midnight, I'll randomly pick the winner (via Random.org). So make sure to check back to see who won! And check your mailbox on Sunday morning for the next Giveaway and Newsletter!
Hey, who won the Coloring Giveaway? That would be LoriSW! Please check your email for my message about getting your mailing address.
Posted by Leslie, May 1st, 2014