Happy Spring! In honor of Spring and the ongoing Sale on the ENTIRE Paper Flowers (and Leaves) Section (which ends this Sunday, March 23rd), we've created a new FREE Happy Spring Gift Kit! More info on that and today's Giveaway are below. But first we have artwork from THREE talented ladies. And since one of them is Design Team Coordinator Miz Bella (Kim Ayers) (and she can't write the intro to her own artwork!), I'll lead off (and then hand over the introductions to Bella, who has the gift of gab!).
That clever Miz Bella realized that the original size of the On Sale! Cabinet Card Frames fit perfectly as pocketed pages in one of the Tim Holtz Worn Book Covers and used them to make a French Corsets Book. Very nice! Bella used lots of the pieces from the French Corsets Kit, then added tons more trims (from metal filigree to carved cabochon flowers, paper doilies, lace and seam binding). Here's a link to all of the many goodies Bella used in her book.
More photos are on Bella's blog post.
Now handing this introduction off to Bella:

Teri Calia has created a fabulous little Corset Tag Book from 3 of my favorite things — seam binding, fancy trim and vintage ads of women in corsets. Couldn't you just play all day making things with those three elements?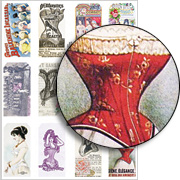 In fact, that clever cat of a girl Teri has also created not one but TWO new collage sheets for the book! Corset Advertisements and Corset Tags both provide great inspiration not only for the tag book, but couldn't you see them being used on cards, postcards, ATCs, handmade book pages, or . . .?!
(And since the Victorian Collage Sheets section is On Sale! through this Sunday, March 23rd, those 2 new sheets are on sale, too!)
The Curious Bird Seam Binding Set sets off the images with the On Sale! Garment District 6×6 Paper Pad perfectly, don't you think? To enhance the colors of some of the images, Teri used the Copic Sketch Markers – Bird Toy Set. Finish off the book with the Pink Sweeper Fringe and you have a gorgeous gift to give someone! (And most of those items are also included in today's Giveaway!)
More info and photos are on Teri's blog. And here is Teri's supply list.
Next up, Design Team Member Rhonda Secrist-Thomas has come up with a sweet little hanging ornament made out of the On Sale! Die-Cut Chipboard Corset. It's the perfect Spring ornament with it's lovely Old Fashioned Roses and On Sale! Green Stitched Leaf Ribbon draped over the corset form.
Hey, speaking of the corset — to make it Rhonda hand wove Black, Pink and Cream Seam Binding! The corset is embellished with the Teardrop Fused Pearls – (Strands) and tied-off with Silk Ribbon. I think that in addition to being an ornament, it could also be a lovely card or gift tag. Just adhere decorative paper to the back to write on and pop it into an envelope!
I can't tell you how she was able to make the woven seam binding fit the shape of the corset — but if you head on over to her blog you'll be able to find out how she did it. It's so easy! You can find the blog post here.
You can see more photos of all of these projects in the Gallery.


Hooray! A Spring Flower Sale Giveaway!
Nice! Not only bits and pieces of the supplies from all three of today's artwork, but these new items, too:
– Tiny Paper Roses – Red White Variegated
– Tiny Paper Roses – Creamy Yellow
– Mulberry Paper Cherry Blossoms
– Tiny Half Round Crowns
– Corset Tags Collage Sheet
– Corset Advertisements Collage Sheet
Plus a couple random items I thought matched the set:
– Nature Die-Cut Adhesive Borders
– Manila Tags – Small (the size of the tags in Teri's new collage sheet)
– Antique Queen Mask Charm
– Pink Paper Roses
And a Happy Spring Gift Kit!
To enter the Spring Flower Sale Giveaway drawing all you have to do is leave a comment BELOW on this blog post TODAY (the deadline is 11:59 pm PST, March 20, 2014).
Don't forget to leave your (hello! correct) email address, too, so I can contact the winner; your email address does not need to be made public. Note: I'm offering free shipping, too, but only within the USA. International shipping will still apply.
Please be patient! Spammers try to post crap here a lot so comments are moderated. So if you don't see your post in the comments section, be patient and check back in a few hours before re-posting it, please!
After midnight, I'll randomly pick the winner (via Random.org). So make sure to check back to see who won! And check your mailbox on Sunday morning for the next Giveaway and Newsletter!
Hey, who won the Wanton Corset Giveaway? That would be Laura! (Note: # 118 on the comments… more than one person named Laura entered.) Please check your email for my message about getting your mailing address.

Posted by Leslie, March 20th, 2014