Hey, it's Day 7 (the final day!) of the While the Cat's Away Giveaways! And today's theme is Florals.
They barely show, buried under all that colorful swag, but at the base of today's Giveaway is the New and On Sale! Flora Paper & Sticker Set. It's a nice big set (2 each of 6 double-sided 12″ x 12″ sheets and a 6″ x 9″ sheet of coordinating stickers) — similar to the Love Letters Paper & Sticker Set from last Saturday's Love Letter's Giveaway.
Then I added 3 more New and On Sale! Scrapbook papers, also with floral elements in common:
– Birdie Darling Scrapbook Paper (such a riot of color!)
– Sentimental Scrapbook Paper (with an ornate peacock and banner illustration) and
– Seedlings Scrap Sheet (with silhouetted color images, ready to cut out, including butterflies, mushrooms, birds, fairies…)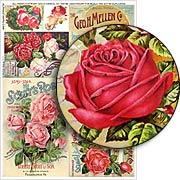 Then, since the theme was set, I picked out four coordinating collage sheets AND put the ENTIRE Summer Flowers Collage Sheets Section On Sale! The four sheets in the Giveaway are:
– Pink Roses Collage Sheet
– Flora ATCs Collage Sheet
– Green Leaves Collage Sheet
– The Language of Flowers Collage Sheet

Hooray! A Florals Giveaway! In addition to all the papers mentioned above, I've added more (very colorful) goodies (all On Sale!), including:
– Purple/Cream Variegated Roses (I love how the colors in the 3 sets of paper flowers work together!)
– Pink Paper Roses
– Purple Iris Paper Flowers
– Purple and Green Acrylic Flower Mix
And the pink, purple and red palette continues with ribbons (also On Sale!):
– Broken Heart Red Fiber Set
– Variegated Silky Rayon Ribbons (in pink, purple and green)
Finally, I threw in a couple random items from the "sold out or samples bin" (a 6×6 double dot paper pad and a sheet of rose Dresden scraps).

Here's how these While the Cat's Away DAILY Sales and Giveaways will work: I've gathered items around a theme and put together a Giveaway Kit that will be awarded to one lucky person.
To enter the Florals Giveaway drawing all you have to do is leave a comment BELOW on THIS blog post TODAY (January 1, 2014) by midnight (PST… that's West Coast so you Easterners have extra time).
After midnight I'll randomly pick the previous day's winner. So make sure to check back tomorrow to see who won and/or on Sunday to see what's next on offer!
Hey, who won yesterday's Giveaway? That would be Penny Shukan!

More info on the Holiday Closure & Giveaway Rules (including how you can get entered twice in each day's drawing).
And please remember: Our offices are now closed. The whole "While the Cat's Away" theme is 'cause I'm the only one here! For more info about shipping (which will start when the staff are all back on 1/2/14) and the sale in general, please see the While the Cat's Away…" Daily Giveaways: Year 6! overview page.
A final note: Even though our offices are closed, orders for DIGITAL Collage Sheets and Digital Images are still fulfilled in real time!
Posted by Leslie, January 1st, 2014