Hey, it's Day 6 of the While the Cat's Away Giveaways! And today's theme is Garment District.
I took my cue from the New! Garment District Papers for a Vintage Sewing-Themed Giveaway (and BIG Vintage Sewing Theme Sale!) And Teri Calia also took that vintage sewing cue for her adorable Sewing Notes Book!
Teri started with the cute, little Mini Book – Tag, then mixed in a fair amount of black, along with the pinks and blue/greys (and it may be hard to see, but also some of the Metallic Distress Paints for an antique gilded look — applied through the Tim Holtz Dot Fade Stencil for a quick way to add texture).

This new paper collection has beautiful french ads and ephemera, mixed with dress forms, shoes and hats, and pinks roses scattered throughout.
And since the new papers have a bit of a steampunk style, I've included the New and On Sale! Steampunk Metal Stick Pins in the Giveaway, too!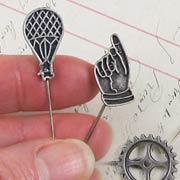 See Teri's full Supply List. And/or view more photos in the Gallery.
Today's Giveaway includes ALL of the New and On Sale! Garment District Paper Collection (12 x 12s and the 6×6 pad), EVERYTHING in Teri's Supply List (including the Tim Holtz Dot Fade Stencil and Set of 3 Metallic Distress Paints), plus a big bunch of coordinating sewing-themed elements (so scroll down to see another photo and learn how to enter the contest).


Hooray! A Vintage Sewing Giveaway! In addition to everything on Teri's Supply List (and the 12 x 12 Garment District papers), I've added a tons of goodies (all On Sale!), including:
– Pear-Shaped Pearl Stick Pins
– Acrylic Flower Mix – 1930s Housedress
– Tiny Wire Clothes Hangers
– 2×2 Colored Envelopes (Red & Pink)
– Modern Romance Mini Floral Bags
– Kraft Gift Bags with Seals – Newsprint
– Sweetly Sewing Collage Sheet
– Buy Our Thread Collage Sheet
– Steampunk Metal Stick Pins
– Mini Wooden Clothespins
– Resin Button Set
– Victorian Cameo Buttons
And so many ribbons, they have their own photo, below:
– Marie Fiber Set
– Tan Measuring Tape Twill Tape
– Yellow Measuring Tape Twill
– Fire Engine Red Tape Measure Trim
– Mint Seam Binding
Here's how these While the Cat's Away DAILY Sales and Giveaways will work: I've gathered items around a theme and put together a Giveaway Kit that will be awarded to one lucky person.
To enter the Vintage Sewing Giveaway drawing all you have to do is leave a comment BELOW on THIS blog post TODAY (December 31, 2013) by midnight (PST… that's West Coast so you Easterners have extra time).
After midnight I'll randomly pick the previous day's winner. So make sure to check back tomorrow to see who won and to see what's on offer for Day 7 (the final day!) of the Sales & Giveaways!
Hey, who won yesterday's Giveaway? That would be Jeanne Draachreider!
More info on the Holiday Closure & Giveaway Rules (including how you can get entered twice in each day's drawing).
And please remember: Our offices are now closed. The whole "While the Cat's Away" theme is 'cause I'm the only one here! For more info about shipping (which will start when the staff are all back on 1/2/14) and the sale in general, please see the While the Cat's Away…" Daily Giveaways: Year 6! overview page.
A final note: Even though our offices are closed, orders for DIGITAL Collage Sheets and Digital Images are still fulfilled in real time!
Posted by Leslie, December 31st, 2013