Hey, it's Day 5 of the While the Cat's Away Giveaways! And today's theme is Alice in Wonderland.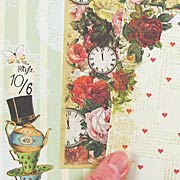 Because, really… what's a week's worth of themes without Alice?!
And, look at that stunning Curious Alice Journal by Teri Calia! The is so much going on in this journal… tags with festive ribbons, that 3D top hat on the cover (cleverly cut in half), and abundant use of the wacky and colorful New and On Sale! Mad Tea Paper Collection!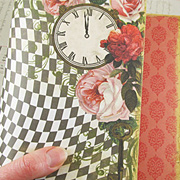 This new paper collection is great… mixing up things you'd normally expect with Alice in Wonderland (teapots, top hats, pocket watches) with some unexpectedly Valentine-ish things (like a gorgeous field of red and pink roses — and two sheets of ephemera reprints).
And since it's an Alice theme (AND Teri designed SEVEN new Alice Collage Sheets (!), ALL Alice in Wonderland Collage Sheets are On Sale! That's a HUGE section!
See Teri's full Supply List. And/or view more photos in the Gallery.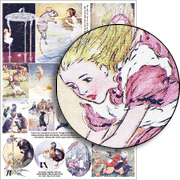 Today's Giveaway includes ALL of the new Mad Tea Paper Collection, ALL EIGHT Alice Collage Sheets Teri used (!) (which includes SIX of the new Alice collage sheets), coordinating ribbons, and a worn cover journal so you can make a project like Teri's (so scroll down to see another photo and learn how to enter the contest).


Hooray! An Alice in Wonderland Journal Giveaway! Beside all the new papers and collage sheets mentioned above, I've added:
– A Tim Holtz Journal Worn Book Cover (so you can make a journal like Teri's)
– A set of Ornate Metal Keys (not in Teri's book but they look like a good Alice supply to have)
– Aqua, red and black Mini Check Ribbons (also used by Teri on her tags)
– ALL SIX colors of the lovely Metallic Iridescent Ribbons that Teri also used on her tags: Narrow Green and Peach and 4 Additional Colors
– A set of 1/2 Inch Red Paper Roses (not in Teri's book either, but what's Alice without some red roses?)
Here's how these While the Cat's Away DAILY Sales and Giveaways will work: I've gathered items around a theme and put together a Giveaway Kit that will be awarded to one lucky person.
To enter the Alice in Wonderland Journal Giveaway drawing all you have to do is leave a comment BELOW on THIS blog post TODAY (December 30, 2013) by midnight (PST… that's West Coast so you Easterners have extra time).
After midnight I'll randomly pick the previous day's winner. So make sure to check back tomorrow to see who won and to see what's on offer for Day 6 of the Sales & Giveaways!
Hey, who won yesterday's Giveaway? That would be Sharon K!
More info on the Holiday Closure & Giveaway Rules (including how you can get entered twice in each day's drawing).
And please remember: Our offices are now closed. The whole "While the Cat's Away" theme is 'cause I'm the only one here! For more info about shipping (which will start when the staff are all back on 1/2/14) and the sale in general, please see the While the Cat's Away…" Daily Giveaways: Year 6! overview page.
A final note: Even though our offices are closed, orders for DIGITAL Collage Sheets and Digital Images are still fulfilled in real time!
Posted by Leslie, December 30th, 2013