Note: most of the links on this post no longer work, as we moved to a new Web site in 2018. But you can try searching on the same names (as links below) on the new site.
Hey, it's
Day 3
of the
While the Cat's Away Giveaways
! And today's theme is
Love Letters
.
And for all of you who would like a jumpstart on making artwork for 2014: Caroline is hosting a swap called Lovesick – A Sweetheart Book Swap on the Yahoo Group! Her swap will be using pages from the On Sale! Sweetness Chipboard Book. More info is on the Yahoo Group (and more info about what supplies Caroline used for her valentines is here, here and here).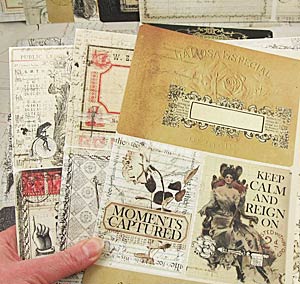 Today's Giveaway (and much of Caroline's artwork) got their inspiration from the beautiful designs (and tight color palette) in the New and On Sale! Love Letters Paper & Sticker Set! It's a big set for a small price: A nice selection of collaged images from vintage ephemera. It includes 2 each of 6 double-sided 12″ x 12″ sheets and a 6″ x 9″ sheet of coordinating stickers.
Before I get carried away pointing out more things in the Giveaway, let me get to today's Sale items:
– ALL Valentines & Romance Collage Sheets are On Sale! That's a HUGE section!
and
– The ALL Cherubs/Hearts Rubber Stamps are On Sale!
And Teri Calia designed a new Love Letter Tags Collage Sheet to coordinate with the new Love Letters Paper & Sticker Set (it's also On Sale! and included in today's Giveaway!)

December 29th Update:
The Love Letters
Giveaway Winner is Kathy Udlinek!
Hooray! A
Love Letters Giveaway
! Beside that BIG
Love Letters Paper & Sticker Set
(and the
Sweetness Chipboard Book
being used in Caroline's swap), I've picked out some collage sheets (and a few trims in that red and tan palette) to get you ready for making some valentines:
–
Love Letter Tags Collage Sheet
–
Victorian Sentiment Collage Sheet
–
Women in Red Collage Sheet
–
Fragonards Lovers Collage Sheet
–
Pink Roses Collage Sheet
–
Winged Cupid Collage Sheet
–
Tiny Red Paper Roses
–
Red Jewel Flowers
–
Kraft ATC or Gift Card Envelopes
Here's how these While the Cat's Away DAILY Sales and Giveaways will work: I've gathered items around a theme and put together a Giveaway Kit that will be awarded to one lucky person.
To enter the Love Letters Giveaway drawing all you have to do is leave a comment BELOW on THIS blog post TODAY (December 28, 2013) by midnight (PST… that's West Coast so you Easterners have extra time).
After midnight I'll randomly pick the previous day's winner. So make sure to check back tomorrow to see who won and to see what's on offer for Day 4 of the Sales & Giveaways!
Hey, who won yesterday's Giveaway? That would be Carol DuBois!
More info on the Holiday Closure & Giveaway Rules (including how you can get entered twice in each day's drawing).
And please remember: Our offices are now closed. The whole "While the Cat's Away" theme is 'cause I'm the only one here! For more info about shipping (which will start when the staff are all back on 1/2/14) and the sale in general, please see the While the Cat's Away…" Daily Giveaways: Year 6! overview page.
A final note: Even though our offices are closed, orders for DIGITAL Collage Sheets and Digital Images are still fulfilled in real time!
Posted by Leslie, December 28th, 2013